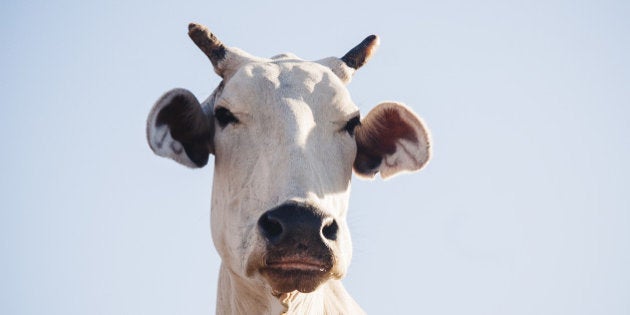 In Rajasthan's schools, students have a new chapter to study. Besides learning how to covert fractions to decimals and reproduction in plants, the students of class V are now going to be taught lessons from the Gau Mata.
According to a report in Times Of India, the Vasundhara Raje government, which has a ministry dedicated to cows has come up with an idea to train them young.
The government schools have now revised their Hindi textbooks to include a chapter on cows, err...Gau Mata. In the chapter, Gau Mata 'writes' to the young kids, addressing them as 'my sons and daughters'.
"I give every individual strength, intelligence, long life, health, happiness and prosperity. Those who feel (my importance) consider me as their mother and I love them like my offspring," Gau Mata writes in her letter.
It also tells the students the benefits they can earn if they consider cow as their "mother".
And, what's a letter without illustration, right? So the chapter is filled with images of Hindu gods within a bigger picture of a cow to somewhat indicate that cow is the mother of all.
The letter from Gau Mata also lists her contribution to society. She produces "the elixir of life in the form of milk, butter and ghee." Her "urine and excreta produces medicines, fertilisers and pesticides" and she also "purifies environment by breathing."
Rajasthan, the only state government in the country which has a ministry dedicated to cows, has been charting out plans to clamp down on cattle smuggling and starting a one-of-its-kind "sanctuary" for cows so that they can 'eat and live in peace'. The Ministry also plans to introduce a helpline number for cattle in distress.