Breaking down stereotypes, Afroz Begum and Jahan Aara have become the first women Qazis in Rajasthan after completing a two-year training course from Mumbai-based Darul Uloom-i-Nisawa.
Begum and Aara, both aged around 40 years, said they passed the test to become Qazis on completion of their training and will now focus on women's issues.
"We are first women Qazis in Rajasthan. We completed training from Darul Uloom in Mumbai. Our families supported us completely and now we will work for women," Begum, a mother of five, told PTI today.
She said the local community has encouraged them but there were objections from some religious leaders and male Qazis.
"We will solemnise Nikaah and perform all the duties of a Qazi. It is a male-dominated area. If there are objections, we would like to sit and discuss the matter with the Qazis and others," she said.
"We learned about the rights bestowed on women by Quran.
We will not only solemnise Nikaah, but also work for the rights of women," Aara said.
Meanwhile, there were mixed reactions from the Muslim community to the news of their appointment as Qazis.
"Their interpretation of Islamic law is wrong and their becoming Qazis is an unusual thing. It does not fit into the social set up," Khalid Usmani, the city Qazi said, adding the duo was just trying to draw attention.
Secretary of Jamaat-e-Islami Hind, Mohammad Iqbal said, "As per Islamic law, there is no requirement of a Qazi to solemnise a Nikaah. It's a matter of consent and acceptance...in the presence of two witnesses.
"Therefore, it is not a big issue that the Qazi who is solemnising the Nikaah is a man or a woman. But the issue is about the breaking of certain Islamic laws which a woman Qazi may do," he said.
Welcoming the move, another muslim cleric Syed Noorul Haque of Ajmer said: "There is nothing objectionable about it.
They can do it and to understand them, one needs to understand the fundamentals of Islam. When Razia Sultan can become a ruler, why can't these woman become Qazis?"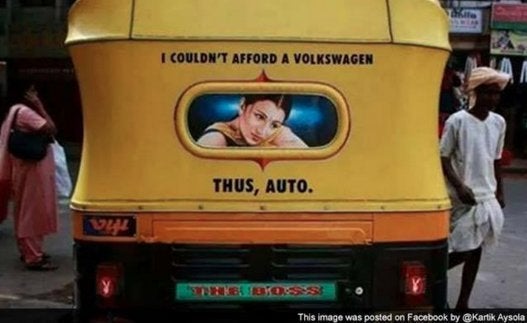 Bumper Stickers In India
Popular in the Community