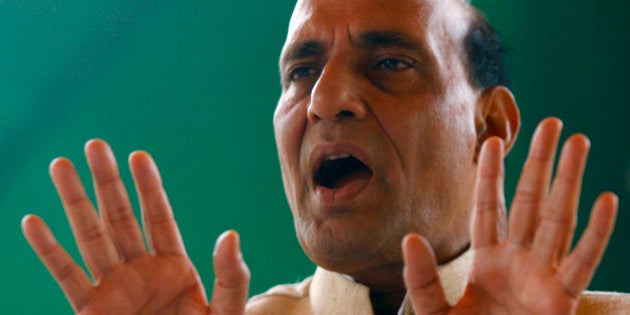 Home Minister Rajnath Singh has accused Pakistan of trying to destabilise India, a day after militants ambushed a CRPF convoy in Kashmir killing 8 personnel, and said a central team will look into possible lapses which may have led to the incident.
He also said security forces have "standing orders" not to fire the first bullet, but "not count bullets while retaliating".
A three-member team of Home Ministry officials will visit Kashmir on Tuesday to find out if there were any lapses involved in the attack in Pampore, the deadliest on security forces in recent years, in which eight CRPF personnel were killed and 21 injured.
The team will look into the possible increase of cross border Infiltration and practices being followed during the movement of paramilitary forces convoy in Jammu and Kashmir.
Jammu and Kashmir Chief Minister Mehbooba Mufti while condemning the incident and paying tributes to the deceased CRPF personnel, said the people of the state were the "worst sufferers" of such attacks as these deprive them of development and employment.
Observing that such attacks "defame" the state, she highlighted that the strike had been carried out during Ramzan, the holy month when "people should be seeking forgiveness and expiation for past sins" and "making sure not to hurt others."
Strongly condemning the militants, Mehbooba said,"They not only defame the state but I think they also bring discredit to the religion behind which they take shelter to perpetrate such acts."
"An attempt is being made by these terrorists and our neighbouring country to destabilise India," Singh said in a clear reference to Pakistan but without naming it.
"I want to praise the bravery of our security men. I salute their courage. Terrorists attacked them (security men) deceitfully. But our security men killed those two terrorists successfully," he said addressing a function in Fatehgarh Sahib in Punjab to mark the 300th martyrdom anniversary of legendary Sikh Warrior Baba Banda Singh Bahadur.
Later addressing a function in Ranchi, Singh said India will win against terrorism.
"We will win against terrorism," he said addressing a BJP event where he voiced deep pain over yesterday's incident.
He recalled an order he had given after the killing of five citizens by Pakistani Rangers a-year-and-half ago.
"I told them we will not fire the first bullet, but when we come under attack don't count bullets while retaliating ....that standing order remains in force," he said.
Defence Minister Manohar Parrikar, in an apparent reference to Pakistan, said India seeks peace "but from the position of strength and not from the position of weakness".
He said the attack is a "fallout of frustration" as he cited the records of last one month during which 25-30 terrorists have been gunned down after their infiltration from Pakistani side.
While suspecting that Standard Operating Procedure (SOP) might not have been followed by the CRPF contingent yesterday, he said,"I am pained that eight jawans were killed. Why, how it happened and whose fault it was, it will be clear after an enquiry."
Rajnath Singh said he has asked the Home Secretary to send a team to Pampore "to look into any lapses so that we can correct it in the future and our jawans do not face martyrdom in such incidents."
The team, to be headed by Secretary (Border Management) Sushil Kumar, is to submit its report at the earliest. The other officials are Special Secretary (Internal Security) Mahesh Kumar Singla and Joint Secretary Gyanesh Kumar.
After the attack, CRPF has moved about half-a-dozen heavy-armoured mine protected vehicles (MPVs), which were earlier used for anti-Naxal operations, to Kashmir Valley to effectively secure its troops deployed there.
Popular in the Community