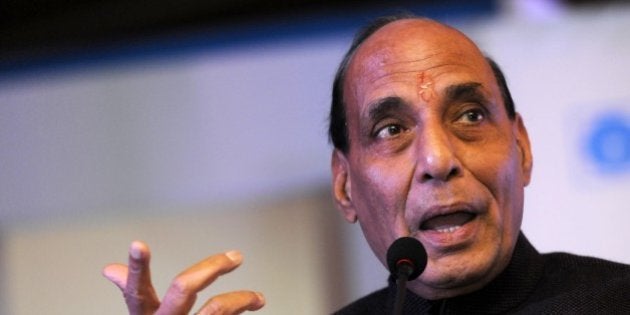 Home Minister Rajnath Singh did not say Narendra Modi was India's "first Hindu ruler after 800 years".
The late Ashok Singhal of the Vishwa Hindu Parishad did.
Outlook Magazine has "sincerely" apologized for the mix-up and its lack of diligence.
When CPM MP Mohammad Salim brought up Rajnath's comment in the Lok Sabha, Rajnath said, "Never before in my long political career did I feel so hurt."
And then to punch the point home he added, "If a home minister gives such a statement, he has no right to remain in office."
That was a pretty strong clue that Rajnath knew he was on strong ground. And the news magazine quickly backtracked and published its regret. The Home Minister's sullied honour has been restored. The remark has been expunged. And the media has admitted its lack of due diligence.
But it leaves one nagging question. This was not a case of a made-up statement. It was a case of mistaken identity. Ashok Singhal who made the statement died recently. He told the World Hindu Congress in Delhi that 800 years after Prithviraj Chauhan, Delhi was back in the hands of a "swabhimani Hindu". Several union ministers attended the Congress. Singhal's statement was met with loud applause. It's not like high placed ministers rushed to disavow it or as they say in coy newspaper-speak "distance themselves" from it. It was Singhal's "mann ki baat" and apparently his audience's as well given the applause. Everyone understood what Singhal meant. He was not talking about religion as a checkbox that might apply to an Atal Behari Vajpayee or a P V Narasimha Rao. He was talking about a "garv se kaho" religious pride. "Khoya hua raj wapas aa gaya (a lost kingdom has returned)" said Singhal.
After Singhal's death the subject of his statement, the Prime Minister, eulogized him as "an inspiration for generations". "I was always fortunate to receive Ashokji's blessings and guidance," said Modi going well beyond the polite boilerplate obligatory tribute to the recently departed. Senior VHP leader Vishnu Hari Dalmia had asked that Modi "gift" the Ram temple at Ayodhya to Singhal.
While the media's mess-up is egregious, what should give the BJP pause is that it was so easy for lawmakers, not just "presstitutes" to believe that a Rajnath Singh could have made the statement. It was easy because the party has sold Modi not just as the personification of a Gujarati asmita but also Hindu pride. Of course there are plenty of inveterate Modi foes who will believe every slander, every half-truth about the man they want to demonize. But the BJP and its allies in the RSS and VHP routinely provide enough fuel to fan the flames. What's at issue here again is whether Rajnath Singh made the statement not the sentiment of the statement itself.
Rajnath is aggrieved and rightly so but when he says "If a home minister gives such a statement, he has no right to remain in office" would be apply the same yardstick to his colleagues?
The Telegraph lists a few of the more outspoken colleagues Rajnath has. Culture minister Mahesh Sharma, who called APJ Abdul Kalam a "great man" despite being a Muslim. Haryana chief minister Manohar Lal Khattar who said Muslims can live in India but they have to stop eating beef. Or Niranjan Jyoti who famously asked her audience to decide if they wanted a government of the Ramzadon or haramzadon. Some of those people have apologized, often half-heartedly. Some have claimed they were misquoted. Some had doubled down in defence. All of them remain in office.
What Rajnath Singh seems to be doing interestingly is quietly positioning himself as the unModi. If the great complaint against Modi has been his silence against "intolerant" acts, Rajnath went beyond simply saying that he did not make the statement. He put his personal prestige at stake, threatening to resign if it was true. He's done it before. When rumours were circulating about his son fixing deals he had threatened to quit politics and sit at home if allegations, however small, were proven against him and his family. He is the minister who seems to be intent on projecting an image of Rajdharma in contrast to many of his colleagues who react to charges with bristling belligerence or defensiveness. In a political establishment which usually wants to work overtime to project closeness to the PM, Rajnath seems determined to keep his distance. When the government decided to move L C Goyal from the post of Union Home Secretary, and Singh was asked about it, he retorted, "I don't know. Ask the Prime Minister." Digvijaya Singh called Rajnath an "object of pity" who was not even aware of the arrest of Chhota Rajan in Bali because the government was being "run through the PMO".
It's not for nothing that Mohammad Salim who brought up the Outlook story also said "I have high regard for Rajnathji.. I have no qualms about him. In fact, I would have been happy if he became the Prime Minister instead of Modiji."
Sanjay K. Jha reports in The Telegraph, "Rajnath sat smiling. But many faces on the treasury benches appeared uneasy." Salim might have tried to put Rajnath Singh and through him the Modi government in a spot. But actually it just burnished the image Rajnath Singh has been striving to build, the one he alluded to when he said, "The country knows, even the minorities know, Rajnath Singh cannot make such a statement."
Whether he intended it or not, unspoken in that was a challenge that could be addressed as much to his party as to Mohammad Salim.
The country knows Rajnath Singh cannot make such a statement.
Could the likes of Mahesh Sharma and Giriraj Singh say the same about themselves?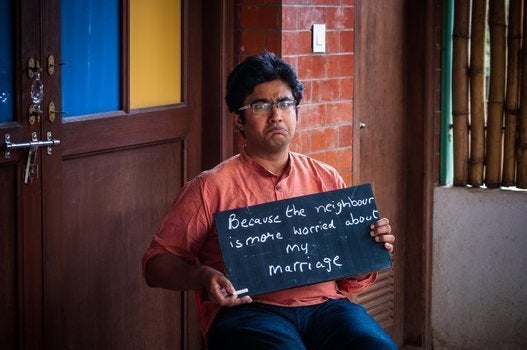 Happily SIngle campaign