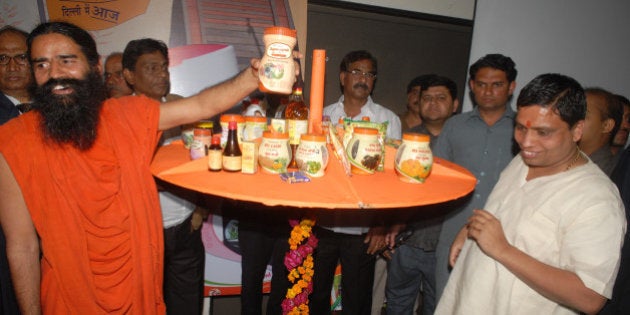 Baba Ramdev's brand is at its highest point ever, if sales of Patanjali Ayurveda are any indication. Along with his growing profile and popularity of his brand of televised yoga, his business empire, selling ayurvedic products and medicines for a range of ailments, has also mushroomed.
The company is owned by Patanjali Yogapeeth, a trust founded and headed by Ramdev. Sales are on track to reach Rs. 2,000 crore this fiscal, up from Rs. 450 crore in 2012. The company was started in 2007.
And all this has been achieved with almost zero spend on advertising. But the high-profile yoga exponent is the greatest champion of his own brand, always visible whether he is dabbling in politics or trying a hand at wrestling.
Patanjali Ayurveda makes consumer products such as soaps, oil and breakfast cereals. They are pitched as 'swadeshi' and adhering to traditions of ayurvedic products. The products were first launched in 2007, and was barely noticed. In five years, the business had sales worth Rs. 450 crore, and this year, according to this report, the turnover is expected to touch Rs. 2,000 crore. That would mean a 67 percent jump from the previous fiscal, something that other consumer goods firms would love to have.
The business operates through dedicated franchise stores, which have grown to about 4,000 now from just 150 in 2012. Baba Ramdev surely did not fail to see how popular his brand had become, and some products also became available in the open market.
Unlike other consumer brands that spend 20-30 percent of their sales on advertising, Ramdev hardly spent anything at all. And that might actually have contributed to its success. "Baba Ramdev is the brand ambassador for the products, which is a big advantage. Instead of advertising, he has de-branded the products so they seem superior and which need no further marketing. Literally all of his followers use them, and he has shown great skill in monetizing each of them," Harish Bijoor, brand expert and CEO, Harish Bijoor Consults, said.
Bijoor says that starting with a dedicated franchisee model helped. "His brands have grown phenomenally through word of mouth and word of usage. The franchisee model has made the product appear limited in quantity and exclusive. The products claim there are no chemicals and very significant efficacy levels which appeals to consumers," he said.
The products are also priced low and the packaging is not as good as that of other FMCG products. That saves costs for Patanjali. That alone wouldn't have worked, but does when combined with Ramdev's own brand positioning in yoga services, his appearances on television with the products, and the policy of de-branding.
Some of the products are now available outside of dedicated stores, in chains such as Reliance Fresh. But there too, the products have a special kiosk, making it appear exclusive. The products will be available in more chains going forward, said Aditya Pittie, CEO, Pittie Group that is the Mumbai distributor for Patanjali's products. Sales at such modern retail chains, which also include Big Bazaar and Hyper City, currently contribute around Rs5 crore for Patanjali. Next destination for the products is Amazon.
Popular in the Community