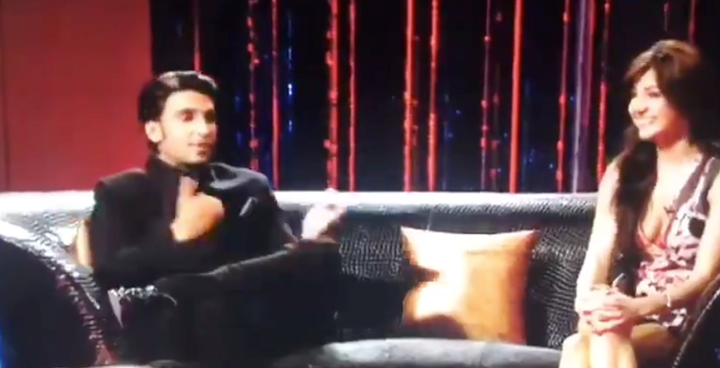 Even as a controversy rages over Hardik Pandya's sexist remarks on Karan Johar's talk show Koffee With Karan, social media has dug out video clips of Ranveer Singh making cringeworthy comments on the same show in 2011.
Singh, who is now an A-list star, was a debutante when he appeared on Johar's show in 2011 with his co-star from the film Band Baaja Baaraat, Anushka Sharma.
Singh, who has publicly supported the #MeToo movement in several recent interviews, makes remarks that amount to sexual harassment.
A Twitter user shared a clip from the show where Singh is heard telling Sharma "You want your ass pinched? I'm right here." Sharma, while trying to laugh it off, tells Singh, "You don't speak to me like that".
Forget calling it out, Johar giggles along with Singh, like it was a great joke. He says, "I don't know what is happening!"
In another clip, shared by the same Twitter user, Singh says, "I went from child to boy while watching Kareena (Kapoor) swim."
Almost seven years later, Twitter users are calling Singh out for his sexist comments:
Some also criticised Johar for enabling bad behaviour on his show:
The episode was aired without incident at the time.
The old video of Singh makes an appearance only about a month after he said that the #MeToo movement made men "take stock".
Last month, Singh had said during a Times Network India Economic Conclave 2018, "The #MeToo movement was historic, revolutionary. It has made guys take stock and think and, that itself, is a big thing. It has been hugely impactful and significant."
Despite the criticism on Twitter, Singh has stayed silent on the issue till the time of publication, even while he has been tweeting about other unrelated topics.
Earlier this week, in the United States, chef Gordon Ramsay was criticised for making Sophia Vergara uncomfortable withh sexual innuendoes and by touching her in 2010, when they appeared together on The Tonight Show with Jay Leno.
Both Vergara and Sharma have the same reaction, smacking the men who made them feel uncomfortable while maintaining a smile on their faces.
However, the fact that both Singh and Ramsay are being called out several years later, is perhaps an indication of change post the #MeToo movement. It was in 2017 that several women in the US named and shamed their powerful sexual harassers. In October 2018, India saw a second wave of the movement which led to many influential names in politics, media and entertainment being accused.
The condemnation of Singh's remark also points to a change in the attitude of viewers, some of whom reflected that they had laughed at the same remarks when they were aired.
As we begin 2019, here's hoping that this change is a lasting one.