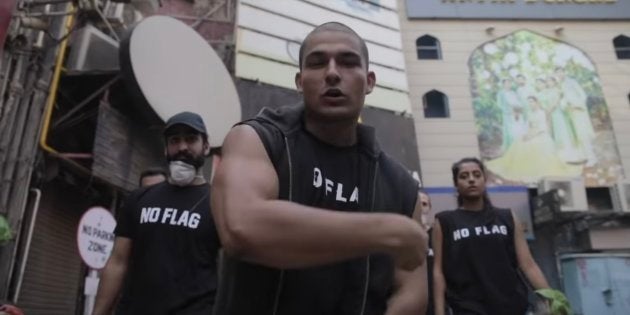 Like many of us struggling to breath in the Delhi air, rapper Raoul Kerr has also had enough of the authorities and the government promising cleaner air even as the pollution situation gets worse each year.
Kerr released a song, Exhale, on 5 November in the hope of bringing about change. Kerr told HuffPost India over the phone that "it was written in anticipation of what happens in Delhi after Diwali".
Describing the Delhi skyline after each Diwali, Kerr raps, "Odd-even, one big save the city party, but dumbs#$@ts still cracked firecrackers on Diwali. Beauty took a backseat, rainbow death painted the sky, even R-A-M might've asked why?"
The lyrics of the song point out that year after year, the situation in Delhi doesn't change, but no one seems to care. "We can't gloss it over with demonetisation," Kerr raps.
Kerr, who has grown up in Delhi, says the apathy towards air pollution by common people and authorities alike prompted him to write a song about it. "I wrote the first verse after in 2016 during the time of demonetisation when the issue was completely ignored. We let it happen again in 2017 when I wrote the second verse. I wrote the third verse in 2018."
Kerr is deeply bothered by the indifference of people towards air pollution in Delhi. Speaking of the "complete disregard" to the partial ban on firecrackers this year, he asked "It's already too late this year. Now do we wait till next year?"
The musician is not convinced by the Graded Response Action Plan (GRAP) that the authorities have said they have put into place to control air pollution. "I have a problem with the title itself. It (GRAP) reflects our attitude towards the problem. We can't grade our response when the air is hazardous," Kerr said.
Kerr has also started a change.org campaign, addressed to the central and state governments, asking them to come up with an action plan for clean air in New Delhi.
"Now is the time to be proactive and take serious measures to protect the long-term respiratory health of our city. Especially for the sake of our kids, they are our future, they are also more vulnerable to the ill effects of pollution because their lungs are still developing," Kerr wrote in the petition.
Kerr told HuffPost India that next year, the government needs to ban firecrackers completely. "It is one of the steps suggested in the petition. There should be a blanket ban on manufacture, sale and bursting of crackers."
The petition also suggests giving subsidies to farmers for clearing the stubble on their fields and a planned reintroduction of the odd-even scheme for vehicles.
Kerr, who raps about several social issues, said, "My music is not just about commentary, but to be able to do something about it."