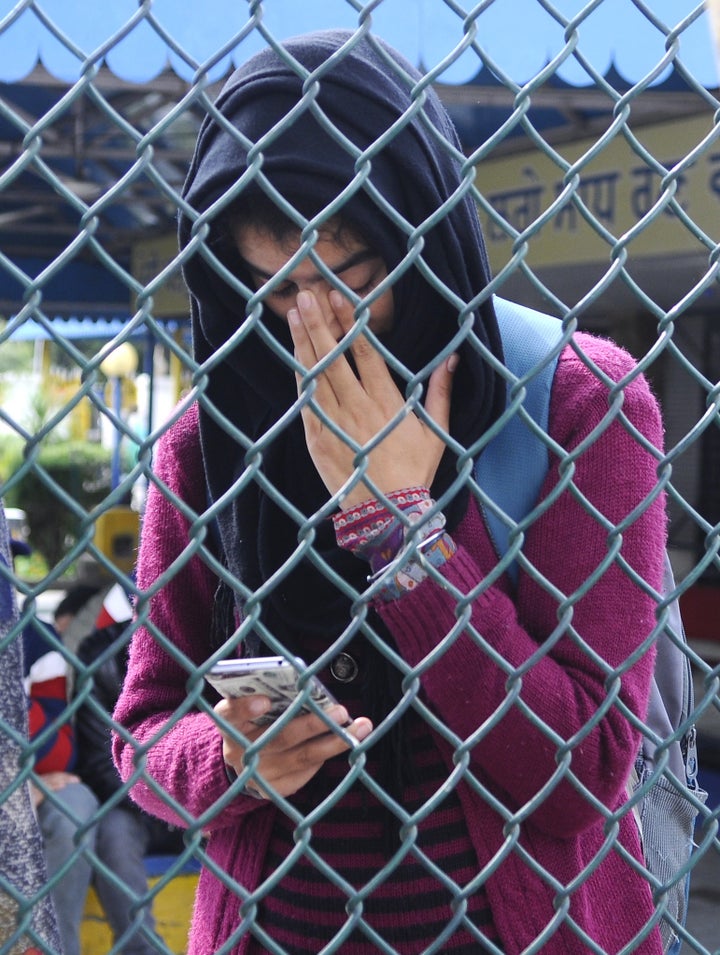 "Traitors." "Bomb them." "Throw them out of the country."
In the hours following the Pulwama attack on 14 February, which killed at least 40 CRPF personnel, communications specialist Surabhi Singh had watched in alarm as abusive messages about Kashmiris took over her social media timelines. Finally, fed up with the bile and one-sided narrative about the state, she wrote a short Facebook status: "If attack on armed soldiers is cowardly, attacking unarmed civilians including hapless children must be act of bravery?"
It was 2am on 15 February. Exhausted after running errands the entire day to set up the Raipur office of Delhi-based NGO Centre for Research and Advocacy (CFAR), Singh switched off her laptop and slept.
She woke up the next morning to find her phone buzzing non-stop.
"When I checked the phone, I saw the message had gotten shared some 1,000 times. I knew trouble wouldn't be far away," she told HuffPost India. And then she opened her Facebook message inbox.
"People saying I should be raped on the streets, people saying I should be lynched. People saying I should be raped and lynched," Singh said, describing the nature of the messages she was bombarded with.
HuffPost India has seen screenshots of some of the violently abusive messages sent to Singh.
The upholders of patriotism in the country, however, didn't stop there.
Over the next couple of days, Singh's Facebook account was suspended, her photo and contact details were circulated widely on WhatsApp and Twitter as that of an 'anti-national' and she was bullied into quitting her job. A letter written by CFAR's head of administration to a person called Anshul Saxena, revealing personal details about the terms of Singh's employment and explaining that she had been fired, was shared thousands of times on WhatsApp and social media until it reached her family in Dubai.
"Over the next couple of days, Singh's Facebook account was suspended, her photo and contact details were circulated widely on WhatsApp and Twitter as that of an 'anti-national' and she was bullied into quitting her job"
Singh said she had barely waded through the threats and abuses flooding her Facebook inbox when she received an angry call from her manager at CFAR, where she had been working for five months.
"She did not listen to a word I had to say. She only said that they have received hundreds of calls all day asking me to be fired, so instead of sacking me, they wanted me to put in my papers," Singh said.
The former journalist told HuffPost India that the manager forced her to resign, saying that if the NGO sacked her, she would not get another job or most of her dues.
Singh isn't alone. Shortly after the blast in Pulwama, which was caused by a 19-year-old Kashmiri man ramming a car full of explosives into a CRPF convoy, groups of self-proclaimed nationalists had sprung into action, using the vast reach of their social media networks to wreak havoc on the lives of people they were quick to term "anti-national".
HuffPost India spoke to the victims of the social media harassment, their employers and university officials to map how right-wing activists organised campaigns which included a combination of threats, online attacks and, in some cases, fears of mob violence, to orchestrate a cycle of 'punishment'.
The conversations also show how companies in India don't have a rulebook in place to deal with a torrent of social media outrage, making them quick to give in to demands that their employees be punished for social media posts even when, as HuffPost India found out, they have no idea how to define "anti-national".
Pound of flesh
Singh's name later surfaced on a list circulated widely among right-wing groups on social media as people who were punished by them for being 'anti-national'. The list comprised Kashmiri students, teachers, Kashmiris employed in the corporate sector and people like Singh, all of whom had posted social media messages deemed 'anti-national' by a group of right-wingers.
A thread of tweets posted by Saxena, a man who identifies himself as ' News Junkie' on social media, listed the names of people who had been suspended and fired by the institutions they were associated with. In that thread, he exhorted his followers to 'thank' other Twitter users, many of whom, he claimed, had worked to get their targets fired from their companies. The thread was reproduced and circulated on Facebook by various users, some of whom also posted scanned copies of official, private communication between organisations and employees.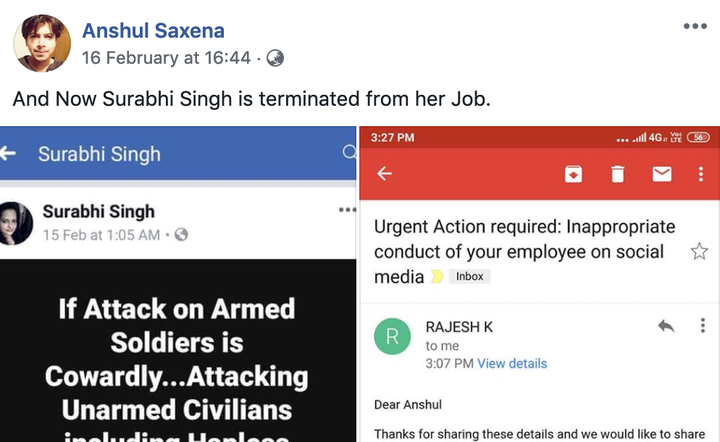 Saxena's Facebook page has 381,754 followers and over the past couple of weeks, he has consistently posted screenshots of 'termination' letters, communication with police and profiles of people identified as 'anti-national' from their posts. In one of the posts, Saxena shared a screenshot of an article about the arrest of two Kashmiri students at Himachal Pradesh, one of whom, HuffPost India later found, had been attacked over posts he shared when he was 12 years old. Some followers of Saxena's page also commented that it had gotten blocked for a couple of days as well when he was posting updates about 'anti-nationals' who has been reprimanded.
HuffPost India messaged Saxena on his Facebook page and an email id mentioned on his YouTube account, but he is yet to respond to either.
"Singh's name later surfaced on a list circulated widely among right-wing groups on social media as people who were punished by them for being 'anti-national'. The list comprised Kashmiri students, teachers, Kashmiris employed in the corporate sector and people like Singh"
When HuffPost India contacted Sun Pharmaceutical Industries Ltd, one of the companies the tweet thread claims has 'terminated' four employees, an official wrote back on 22 February, saying they had suspended three employees in Srinagar, pending an investigation. The representative refused to reveal how long the suspension would last but told HuffPost India that the the three men were issued show-cause notices over "anti-national" posts.
Sun Pharma was also prompted into action after receiving multiple emails and phone calls from "outside parties", informing them about the posts and demanding that the employees be punished.
"We have not fired them, we are investigating," he said.
He added that he was not aware how the suspension letter got 'leaked'.
A representative of Macleods, another pharmaceutical company mentioned in the list, told HuffPost India that the company was "flooded with calls", following which an employee was suspended pending enquiry.
"I am sure you have read the letter, which is out there in the public domain," the representative said, but once again, he had no idea how the letter reached there.
Both Sun Pharma and Macleods admitted they were not doing anything to stop copies of private communication between an employee and the organisation being circulated by strangers on social media. When it was pointed out that the letters, which reveal the names, branch location and other details of the employees, potentially exposes them to physical violence, apart from subjecting them to public humiliation, neither company had an explanation.
So how did these private letters get leaked?
"You know how it works," was how a representative of one pharma company put it.
Unprepared employers
While many organisations were quick to cave in to pressure to suspend their employees, multiple representatives from these companies told HuffPost India that they did not have a definition for the term "anti-national".
Most firms were caught unawares by the sheer force of the Hindutva rightwing's propaganda machinery which, in some cases, even circulated 'fake news' to claim their version of 'victory'. A tweet mentioning the name of a Hyundai employee and claiming that the man was fired was retweeted at least 1,000 times. When HuffPost India reached out to Hyundai, its representatives said the company had not terminated anyone and that the employee mentioned in the tweet still worked with the rural sales team of a Hyundai dealership.
"Also as you are aware there are multiple rumors & fake news being shared on digital platforms during the said period. Further we would like to stress that this issue has no relevance with Hyundai," a representative wrote to HuffPost India, saying the dealer whose showroom was mentioned in a 'letter' doing the rounds of social media has also issued a statement rejecting the claims as 'fake news'.
CFAR, the NGO where Singh worked, told HuffPost India in an email that "the lady in question has resigned for personal reasons".
However, Singh said that this was a gross misrepresentation of facts.
CFAR refused to explain why its head of administration wrote a long letter about Singh's dismissal to Saxena, to whom it owed no explanation.
"I used to be employed as a consultant. But I did all the work for the company here and two of us set up the new office from scratch ready for them to begin operations. And the letter he wrote makes it seem like I was of no consequence to the organisation. For a company which claims to work with women, I am shocked," Singh told HuffPost India.
Singh, who has grown up in Chhattisgarh and often worked and interacted with tribal villagers from Bastar, said she was keenly aware of the atrocities perpetrated by armed forces in conflict areas.
"All I wanted is to tell people spewing hatred against Kashmiris like they are a homogenous mass that it's not fair to attack them," she said.
Singh has now deleted her Facebook account, fearing the repercussions on her teenager daughter and ageing parents who live in Kolkata. Singh's 14-year-old daughter saw a forwarded message on WhatsApp which had her mother's photo with the label 'anti-national'. Her parents, nearly 80 years old, were also told by acquaintances that she had been fired.
"They and my husband received forwards of the letter CFAR wrote to this guy, who then circulated it. I had not told them what was happening since they wouldn't understand and would be deeply distressed and scared. But this is how they came to know," she said.
Her extended family abroad also received forwarded messages about her in family groups.
"Some friends, on receiving those messages called and asked me to stay home. My brother-in-law asked the entire family to move to UP for a while," Singh said.
But what bothered Singh the most was her daughter's safety.
"I was afraid to let my daughter go to school," she said.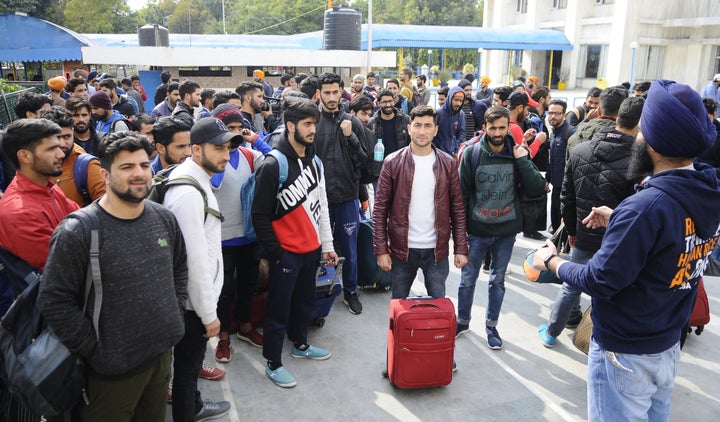 Atmosphere of fear
The effects of the intimidation were not just felt online either. Hundreds of Kashmiris were driven out of their homes and hostels last month after facing unprecedented hostility from people who held them all responsible for the deaths of the jawans.
While several Kashmiri students were suspended from colleges across the country, allegedly for publishing posts celebrating the Pulwama attack, Chitkara University in Himachal Pradesh went a step further by lodging a police complaint against their own student and getting him arrested.
Varinder Kanwar, Vice-Chancellor of the university, which has campuses across Himachal Pradesh, Bangladesh and Punjab, said that they had lodged a complaint against a student named Tehseen Gul, whose name had also surfaced in Saxena's thread, where he congratulated the students and the authorities for getting him arrested.
Kanwar, however, told HuffPost India that he had spoken to Gul regarding a Facebook post he had shared on his own profile, and then uploaded as his profile picture. It did not name anyone but said, 'lord, please accept the martyrdom', which they concluded referred to the Pulwama martyr.
"When I spoke to him, at the time he was saying that it is something wrong. And that he will delete the post," Kanwar said.
Yet, the university lodged a police complaint against him.
Kanwar claimed that the university filed the FIR to save students—the ones 'protesting' against Gul—the trouble of visiting police station and courts. The students, he said, had become "difficult to control".
Describing Gul's post as not "favourable to the nation", Kanwar said that there were over 1,000 students on the campus and it came to a point where they feared for his safety because of other students 'taking law in their hands'.
Could Gul not have been suspended or reprimanded by the college instead of having a police complaint lodged?
"If you had been there, trust me, you'd have done that same thing," said Kanwar.