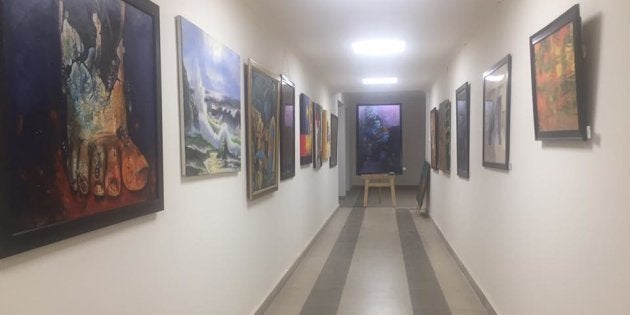 Some local activists on Thursday raised objection over a semi-nude painting displayed at an art summit in Jaipur, calling it obscene and took it to a police station, even as no case has been lodged.
India Today reports that the Hindu right-wing activists barged inside the venue, vandalised the paintings and even thrashed one of the painters.
The painting titled Anubhav was by London-based artist Radha Binod Sharma.
"Hemlata Sharma brought the painting accusing the artists of obscenity at the art summit. The artist concerned also came and convinced her that it was a piece of art and no nudity was displayed," SHO of Lalkothi police station Ishwar Singh said.
PTI reported that Sharma and Vijay Shankar Pandey associated with different organisations had protested over the display of a painting depicting a woman at the Ravindra Manch imn Jaipur.
India Today reports that Sharma belongs to an outfit called Lal Sena and another group responsible for trying to incite vandalism was Rashtriya Hindu Ekta Manch, a Hindu right-wing outfit.
Sharma allegedly shouted at the organisers and the artists in the summit and took the painting to the police station.
After some arguments at the police station, the woman returned without registering any case, the officer said, adding the painting had been handed over to the artist.
Founder of the Summit, Shailendra Bhatt was not available for comments.
The summit, which seeks to promote tribal and traditional art forms, is being held from December 7 to 11 at Ravindra Manch here.
Popular in the Community