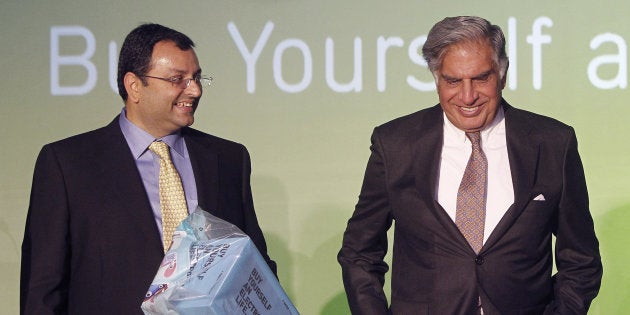 The Tata Sons and Cyrus Mistry feud is getting uglier and uglier by the day with both camps exchanging increasingly personal barbs, following the bitter boardroom ouster of former chairman Mistry more than a month ago.
Ahead of extraordinary general meetings (EGMs) of the six Tata group firms called to remove Cyrus Mistry as director, Tata Sons interim Chairman Ratan Tata on Wednesday told shareholders that the continued presence of the ousted executive in respective boards is a serious "disruptive influence" and can make the companies "dysfunctional".
In a letter to the shareholders seeking their support to the special resolution moved by Tata Sons to remove Mistry as director, Tata said Mistry was removed as the chairman as Tata Sons board lost confidence in him and his ability to lead the conglomerate.
He also said the "deliberated action" to remove Mistry by the Tata Sons board was taken after relationship with him steadily deteriorated and "several attempts to remediate went unheeded."
Cyrus Mistry's office, in a statement, said the letter is "a combination of statements ranging from misrepresentation and convenient mischaracterisation." It also refuted claims of remediation attempts, saying Mistry was asked to step down only minutes before the board meeting in which he was ousted.
Tata said Mistry was appointed as a director of various Tata group companies only as a corollary to his being the Chairman of Tata Sons.
"The right step would have been for him to resign as director. Unfortunately, he has not yet done so and his continued presence as a director is a serious disruptive influence on these company boards, which can make the company dysfunctional, particularly given his open hostility towards the primary promoter, Tata Sons," Tata wrote.
He further said Mistry was offered an opportunity to step down voluntarily from the Chairman position, which he rejected.
Mistry's office flatly denied that was the case and has said Tata's claim that the matter had been discussed with Mistry previously is a "lie."
"Five minutes before the board meeting scheduled on October 24, 2016, Mr. Nitin Nohria and Mr. Tata came to Mr. Mistry's room and told him that on that very morning, the trustees had taken a decision to replace Mistry ostensibly because Mr. Tata could not get along with him," Mistry's office said in a statement.
Tata Sons, in a statement last month, criticised Mistry for his inability to turn around loss-making units during his four-year term as chairman, instead continuing to blame them as "legacy hot spots" and writing off huge amounts.
In response, Mistry has blamed Ratan Tata for some of the company's biggest debacles and alleged failures in corporate governance at the group.
On Monday, Mistry also sent a notice to shareholders of the companies seeking support against his removal, and stressed the need for governance reforms at Tata Sons, the Tata trusts, its biggest shareholder, and Tata group companies.
Popular in the Community