The late Rahul Dev Burman, one of the most celebrated Bollywood music composers of all time, would have turned 77 on Monday.
The genius who changed the sound of Hindi film music forever, Pancham Da (as he was fondly known as), was a maverick, a pioneer who introduced new arrangements and influences from world music in his work. All this and more is documented in film journalist Chaitanya Padukone's new book R.D. Burmania (Panchamemoirs), which is now available for pre-order online and will soon arrive at bookstores.
Padukone, now "45-plus, you can say", is a finance professional who has also worked as a showbiz journalist for more than three decades. He began his journalistic career by interviewing Burman for Mid-Day in 1983, which materialised simply because he was an "ardent" fan of the composer and wanted a good excuse to have an in-depth chat with him.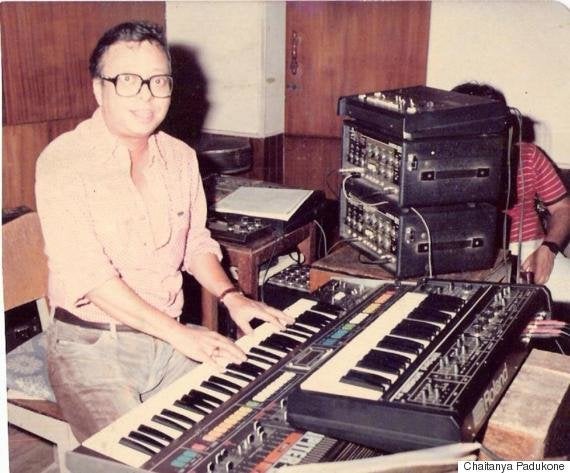 A rare image of RD Burman playing the synthesizer (he usually composed on the harmonium), clicked by Chaitanya Padukone, and used later in a commemorative postage stamp released in 2013
He remembers, after getting a go-ahead from the features editor of the paper, arriving at a studio where Burman was recording a background score and asking him for an interview. "He asked me why I wanted to interview him," says Padukone, in a phone conversation with HuffPost India. "When I told him why, he said, 'If you're my fan, you shouldn't interview me. Come back and interview me as a hardcore critic.'"
A "dumbfounded" Padukone made two more attempts and finally managed to get that interview about 10 days later, kick-starting a life-long friendship with Burman right until his untimely demise in January 1994 at the age of 55.
In his new 214-page book, Padukone has compiled facts and little-known anecdotes about the man he calls his 'guru', with testimonials and contributions from the likes of Amitabh Bachchan, Lata Mangeshkar, Zeenat Aman and former cricketer Sunil Gavaskar, among many others. He shares some things about Pancham Da that may not be common knowledge. These include:
1. His Latin American rock album Pantera (1987)
Burman was mostly known for his film music, but among his non-film work was the little-heard album Pantera (not to be confused with the American heavy metal band), which combined Latin American music with elements of rock, jazz, and funk. According to Padukone, it was recorded in the United States in '83-84 but released only in '87. Comprising contributions from established Latin American musicians of the time, it was produced by Pete Gavankar, who was based in the US and had good contacts with local musicians. "It released to a very lukewarm response here," relates Padukone. "Pancham Da was very upset that Indian listeners didn't connect with it." His disappointment is visible in the picture below, taken at the Bombay launch party of Pantera.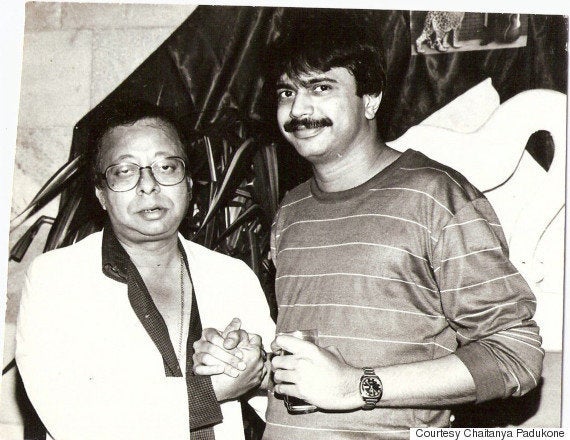 (L-R) RD Burman with journalist Chaitanya Padukone
He managed to gain some closure a few years later, when he used the main theme of one of the songs from Pantera as the mukhda to 'Rang Rangeeli Raat' from Priyadarshan's Gardish (1993). "The album hadn't worked, but the song did, and it made him very happy that Indian listeners had accepted at least one of his Latin American tunes."
2. He wrote lyrics for the English song that plays during a key scene in Deewaar (1975)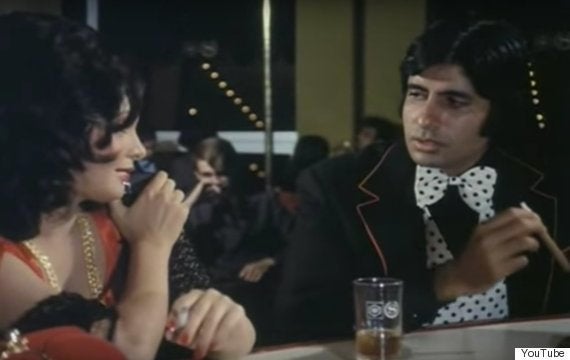 An important scene in Yash Chopra's Deewaar was the one in which the characters played by Amitabh Bachchan and Parveen Babi meet at a bar. An English song, with the opening words 'I'm Falling In Love With A Stranger' plays in the background during this scene, the lyrics of which, according to Padukone, were penned by Burman.
3. His signature singing style was inspired by jazz legend Louis Armstrong
Burman was known for the distinctive growl he lent to his vocals when singing in songs such as 'Mehbooba Mehbooba' from Ramesh Sippy's Sholay (1975), which Padukone says were inspired by the stylings of American jazz legend Louis Armstrong. "He was fascinated by Louis [Armstrong] and didn't want to be stereotyped as a conventional playback singer," says Padukone. "He used to say: 'Meri awaaz ki koi pehchaan honi chaahiye (my voice should have its own identity)'."
4. He would make music out of everything — from a bunch of keys to physically playing a beat on the back of a shirtless and bewildered session percussionist
In the song 'Raat Gai Baat Gai', from the Dev Anand-Zeenat Aman starrer Darling Darling (1977), at one point (the 2:22 mark in the video above), a beat is heard which doesn't sound like a conventional percussion instrument. In the song's picturisation, it is Aman who is creating the beat by tapping various parts of her own body (as well as a few extras). In the studio, that beat was played by Burman, literally, on the back of one of his trusted percussionists, Amrutrao Katkar. "During the recording, he asked Amrutrao to remove his shirt," says Padukone. "Naturally, he [the percussionist] was embarrassed and bewildered by this. Then, he proceeded to play a Latin American beat on his back, with a microphone recording everything. It was okayed in one take and used in the movie."
Burman had a penchant for using natural, foley-inspired techniques or unusual instruments to create interesting sounds and rhythms in his songs, which would be depicted on screen similarly. In 'Chura Liya Hai Tumne', from Yaadon Ki Baaraat (1973), the spoon-on-glass sound heard in the beginning is an actual recording of a glass being struck by a spoon. In 'Dheere Dheere Zara Zara' from Agar Tum Na Hote (1983), the rhythm created by actress Rekha on screen, where she's shown tapping a piece of jewellery around her waist, was actually the sound of a bunch of keys that was used in lieu of the traditional hi-hat.
5. He was always thinking about music, even in his dreams
Once, in the middle of an interview with Padukone in the lobby of a recording studio, Burman suddenly stood up and went inside one of the booths to talk to his arranger Babloo Chakravorty about a brainwave he'd just had. "He would do this very often — stop mid-sentence, and then go and talk to Babloo-da and say, 'Yahaan aisa music rakho, yahaan silence rakho' and then return to the interview," he says. He claimed to have composed the song 'Kancha Re Kancha Re' from Hare Rama Hare Krishna (1971) entirely in a dream.
6. He was honest about his 'inspirations'
Like many Bollywood composers, Burman's tunes were often 'lifted', either directly or partially, from Western compositions. However, Padukone says that he was always honest about the sources, unlike many music directors, and didn't quite consider it 'stealing'. "He would say, 'I am trained in Indian classical, not Western or jazz, so I can't just create something I don't know out of thin air. But what I'm doing is not stealing: I'm merely taking the essence of the tune, and making something unique with it.'"
Many are aware of numbers like 'Mehbooba Mehbooba' (inspired by Demis Roussos' version of the traditional Cyprus tune 'Say You Love Me') and 'Mil Gaya Humko Saathi' (whose mukhda resembles the guitar intro to ABBA's 'Mamma Mia'), which were done at the behest of the film's producers, taking advantage of the unlikelihood of legal action at the time, when Bollywood was a self-contained industry.
But Padukone insists that, more often than not, Pancham Da would succeed in changing a song beyond recognition, citing the example of 'Chura Liya Hai Tumne', whose opening chords resemble those of Bojoura's 'If It's Tuesday, This Must Be Belgium'. "The opening bars are similar, but then he [Burman] took the song and added so many arrangements and layers to it," he says. "He made it his own. That's why he was such a genius."
You can pre-order 'R.D. Burmania (Panchamemoirs)' here.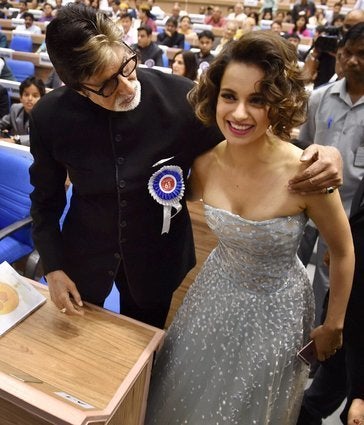 Bollywood Dominates 63rd National Awards Ceremony