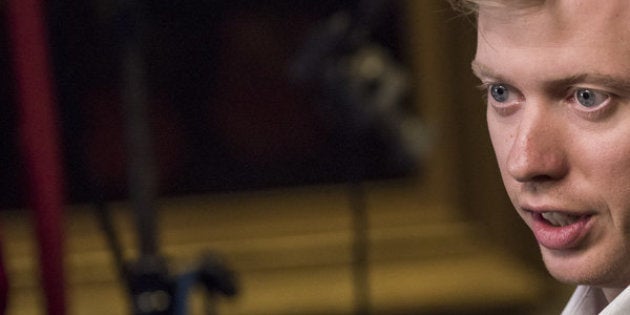 Reddit CEO Steve Huffman might not yet run the world, but he does run something almost as important: "The Front Page of the Internet."
And in the years since he first started the website, Huffman has learned a few lessons about how to succeed when leading a company.
Take time to sleep, take time to think and don't reply to every email, Huffman says in a recent BBC News video.
"If I could go back and tell myself one thing, it's basically that the job is all about time and stress management more than anything else," he says. "And that is something you're in complete control over."
Huffman cofounded Reddit in 2005 and served as CEO until 2009. He left Reddit to launch the online travel company Hipmunk in 2010 ― and returned as Reddit's CEO last year when interim CEO Ellen Pao stepped down amid controversy.
The 32-year-old comes back to the role with some insight into how to keep his time and stress under control.
"You don't have to answer every email," he says. "Your first priority is to your business and to yourself."
And the young exec reveals he is all for a good night's sleep.
"If you're not sleeping you can't make decisions, you can't handle stress, you won't be able to think clearly," Huffman says. And, "Setting aside time to actually think about the future is really valuable."
It sounds good, but there's also a host of evidence suggesting his advice is spot-on.
Not getting enough sleep impairs decision-making, leading you to make more frequent mistakes and evaluate risk more poorly, as well as stunting creativity, Christopher Barnes, an associate professor of management at the University of Washington's Foster School of Business, told The Huffington Post.

The job is all about time and stress management more than anything else.
Steve Huffman, Reddit CEO
"Sleep deprivation also leaves people in a state in which they are more reactive to stress," he explained. "They are more likely to be stressed out about things that might not otherwise be seen as a big deal, and more likely to have negative emotional responses to events they encounter."
Barnes' own research has shown that workers who are sleep-deprived are more likely to cheat and act abusively toward subordinates ― and less likely to inspire their employees.
Research also shows that a boss's sleep can influence the outcomes of those around him or her, Barnes said. "This is important for CEOs, who have vast influence across their organizations."
In the short run, workplace stress can lead to headaches, stomaches, short tempers and trouble concentrating. Over time, chronic workplace stress can have even more severe consequences for your health ― including anxiety, depression, high blood pressure and a weakened immune system.
Watch the full video to hear more about how Huffman manages his time and stress.
Sarah DiGiulio is The Huffington Post's sleep reporter. You can contact her at sarah.digiulio@huffingtonpost.com.