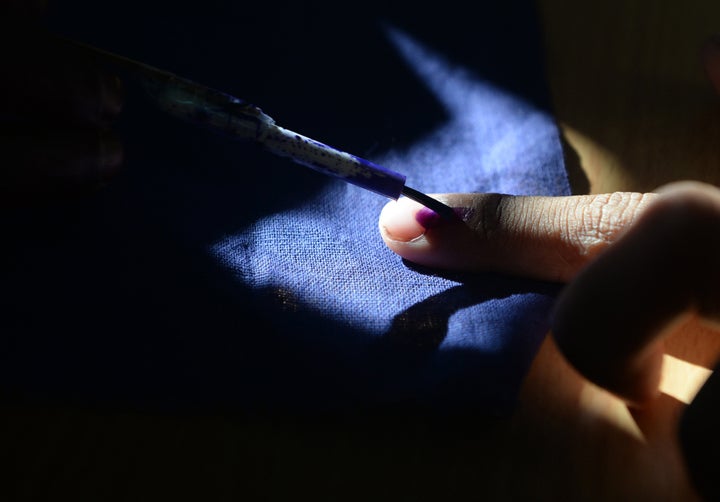 CHANDIGARH, Punjab — As the Lok Sabha elections enter their third phase, thousands of voters across India could not cast their votes as their names were missing from the electoral list. Some took to Twitter to express their anger, but many have written to the Election Commission Of India (ECI) and sought an investigation into the matter.
In a letter written to ECI, the Bharatiya Janata Party (BJP) in Karnataka alleged mass indiscriminate deletion of voters names in the electoral list, especially in Bengaluru South.
"The officials have purposefully and deliberately deleted names without any reason, just to render undue official favour to the ruling coalition party," the letter reads.
Going by complaints on social media, many of the voters who found their names deleted in Karnataka were BJP supporters, while in BJP-ruled UP, it was the Congress supporters who cried foul. Between all the finger-pointing though, it's clear that for a large number of Indians, not being able to vote came as a genuine surprise.
When the second phase of the Lok Sabha polls ended on April 18, over 2,200 voters in South Bengaluru (HuffPost India is in possession of the list) who have applied to get their votes included in the electoral rolls on February 2 this year, are still waiting for their EPIC cards.
As per the latest status on April 22, the ECI is yet to allocate a Block Level Officer (BLO) to look into the matter.
The voters of South Bengaluru are merely the most vocal section of a wide-ranging problem, experts say.
There appear to be multiple causes behind this problem. According to Khalid Saifullah, founder of Missing Votes app, pursuing the case of missing voters with ECI, deleting any voters name from the official voters list is a 'child's play', by misusing the established procedures for removing people who have shifted or died from the list.
An added complication is the electoral roll purification process, done with the help of the Aadhaar and potentially faulty software algorithms, that was aimed at removing duplicate entries, but actually caused real entries to go missing, as Huffington Post has reported.
How thousands of voters names got deleted
Ravi Subramanya, BJP MLA from Basavanagudi tweeted that approximately 100,000 voters names were deleted from Bangalore South constituency, of which 80% voters are BJP supporters.
Journalist DP Satish also claimed that around 50 to 60 names were missing from each of the 150 booths in Malleshwaram assembly seat in Bengaluru North. Another journalist, Saahil Murli Menghani, tweeted that Fatima Inter College, a Muslim dominated booth in Amroha constituency in Uttar Pradesh has over 16% voters (150 out of 900) deleted from the list.
Amongst the renowned voters, Yamini Mazumdar, 87, mother of Biocon chairperson and Managing director Kiran Mazumdar-Shaw, could not vote as her name was deleted from the voters list. Several other people also tweeted that despite having a pan, Aadhaar, driving licence and a voter card, they were not able to cast their vote as their names were missing from the voter's list.
While there are many possible reasons for these deletions, one possibility is the malicious removal of names from the lists.
"All you need to do is to fill an online Form-7-Application for objecting inclusion of any name in electoral roll or seeking deletion of name from electoral Roll. As the process is not linked to any OTP verification, political parties can fill bulk forms to send a request for voters deletion to weed out supporters of the opposition party," said Saifullah of Missing Votes.
The rest depends on the booth management of the political parties. "It is quite easy to convince BLOs looking for A -gradings from their political bosses to delete the numbers, while the ECI remains an ignorant spectator in the whole process and the voters do not even know that their votes were stuck down without any verification," said Saifullah.
As per Saifullah, Form 20 of the ECI reveals details of the booth level performance of each political party. The political leaders are aware of the areas which can vote against them. It is easy for them to assess the areas where the party may face a challenge, and can get the voters deleted in the manner described.
"There is a dire need for ECI to scrutinise all the Form 7 received at each booth level and to ascertain the identity of the person or the group who may have led to the mass deletion of voters in some states," said Saifullah.
Aadhaar was meant to delete duplicate votes — but made things much worse
Aside from political parties attempting to rig the system though, there are also concerns about the rest of the electoral process.
Professor Jagdish Chokkar, founding member of the Association of Democratic Reforms (ADR), has raised concern over the systematic deletion of voters, a pattern observed in the election held in recent years.
"Making and updating an electoral list is a complex and humongous process and cannot be made error free. What concerns us the most is the systematic pattern with which the voters are getting deleted in bulk. The ECI is the custodian of the largest democracy of the world and it should be transparent in its action. There is a need to conduct a thorough probe in the voters deleted in Telangana, Andhra Pradesh, and Karnataka during the Aadhaar linking process, and the findings should also be made public," said Chhokar.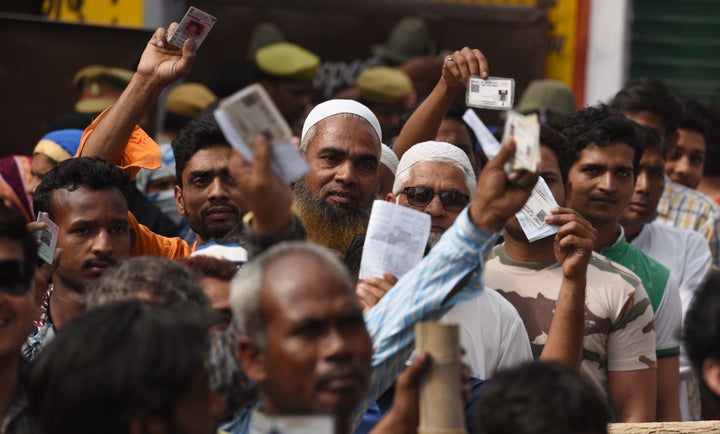 In November, HuffPost India found some parts of the dusty electoral lists of millions of voter identity cards with their corresponding Aadhaar numbers carefully scribbled down by hand in Godrej almirahs, on shelves in forgotten storerooms, and in kitchen cabinets in private homes of government school teachers in Punjab.
These printouts, linking two extremely sensitive personal identity numbers, are the remnants of the 2015 National Electoral Roll Purification and Authentication Programme (NERPAP), the Election Commission of India's (ECI's) controversial drive to use Aadhaar-related software developed by the Unique Identification Authority of India (UIDAI) to ostensibly weed out so-called duplicate entries in India's voter rolls by flagging these names for deletion.
The project ran until August 2015, when it was curtailed by the Supreme Court, as it was still adjudicating the constitutional validity of Aadhaar.
Interviews with serving and retired election officials in Punjab, Andhra Pradesh, Rajasthan and Delhi, and a review of hundreds of pages of internal documentation revealed how the ECI and UIDAI sought to use Aadhaar-linked biometric authentication, and unproven algorithms, to toy with the most fundamental right of any citizen in a democracy — the right to vote.
The documents showed how Aadhaar-related technology, particularly data-sorting algorithms, have permeated some of the most fundamental aspects of civic life in India without any public discussion about its efficacy, or the risks involved. Rather than create transparency and accountability, the UIDAI's software has had the opposite effect — where senior government officers defer their judgement to software which they barely understand.
In Andhra Pradesh and Telangana, two states that served as a template for a wider, national roll-out in February 2015, election officials admit that software could have played a role in the elimination of 2.2 million voters from Telangana's electoral rolls.
"All you need to do is to fill an online Form-7-Application for objecting inclusion of any name in electoral roll or seeking deletion of name from electoral Roll. As the process is not linked to any OTP verification, political parties can fill bulk forms to send a request for voters deletion to weed out supporters of the opposition party"
What happens next for deleted voters?
In 2018, the Telangana Chief Election Officer apologised to the public for deleting names of over 3 million voters during the linkage of Aadhaar with the EPIC under NERPAP. However, the people whose votes were deleted won't get to have a say in their government.
What can be done, is to bring in greater transparency into the whole procedure, said Delhi-based lawyer, Gautam Bhatia.
"This requires three things: first, that the algorithm of the software used by the Election Commission to clean up voter rolls should be made public; secondly, that the data audit log of deletions should be revealed; and thirdly, that the source code (that is, the technical instructions on the basis of which a software runs) used to conduct a "de-duplication" of the voter rolls should be made public," said Bhatia.
Meanwhile though, more deletions are likely to come to light in the remaining phases of the polling for the Lok Sabha elections.
On April 6, a Chandigarh-based PR professional received a call from two different mobile numbers where the caller asked him to name the party he would vote for on May 12, the sixth phase of polling to be held in Delhi amongst other states.
"The first call (7447118710) was an Interactive Voice response (IVR) based call and asked me to select one of the three option between BJP, Congress and AAP in the same order, the second (8929489592) was a voice call appeared to have been made from a call centre," said Priya Ranjan.
Both calls were made to his Delhi based number, and similar calls were also received by two of his friends, both working in Delhi. This is the same method mentioned by IG Stephen Raveendra, whose investigation into Hyderabad-based software vendor IT Grids led to an investigation into the wrongful removal of voters from the electoral rolls.
"While we disconnected the IVR call without pressing any option, the girl on the voice call was aware about my identity. By calling my first name she asked me to reveal my voting preference. Despite refusing to discuss my voting choice with her, she kept on pestering me for over three minutes to know about whom me along with my family will vote in the forthcoming election in Delhi. Needless to say, she was a thorough professional," said Ranjan.