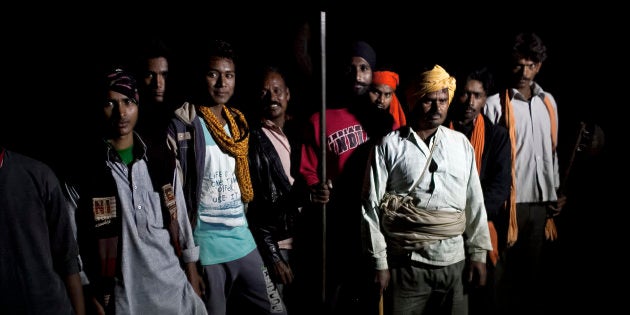 Violence related to cow vigilantism may be a familiar story on news portals in India these days, though a report by IndiaSpend, a website focused on data journalism, has highlighted some shocking facts that hint at the scale of the trouble.
Based on a survey of reports in English-language media that are online since 2010, IndiaSpend claims 86% of those who died in incidents related to cow protectionism are Muslims. In the last 8 years, IndiaSpend found 63 cases that fall under this category, of which a staggering 61 took place after the BJP-led government at the Centre came to power in 2014.
The numbers have escalated since the government under Prime Minister Narendra Modi came into power in 2014. In the last three years alone, 97% of these incidents took place, with 20 "cow-terror attacks" reported in the first six months of 2017, a 75% jump over the total number of such incidents in 2016.
A range of atrocities — assault, rape, lynching, intimidation — make up the roster of these crimes reported in the English press. Since stories in Hindi and other regional language print media with a wider reach don't make it to the survey, it may be safely assumed that the numbers are far higher than those stated.
The states in the north, especially Uttar Pradesh and (10) and Haryana (9), top the list, though as many as 6 such cases were reported from Karnataka of the 13 that were traced to the eastern and southern states. Further, almost half of all the instances of cow-terror took places in states governed by the BJP.
In about 5% of the attacks, there was no mention of the culprits being arrested, though police registered cases in 21%, or 13, instances. In 23 cases, the attackers were mobs comprising people from various Hindu outfits, such as VHP, Bajrang Dal and local gau raksha committees. About 52% of the incidents were caused by rumours and false intimidation.
In one a 15-year-old boy from Faridabad was murdered by a mob over a brawl for a seat on a train. But the provocation, as one of the alleged attackers told the police, came in the form of the victim sporting a skull cap and beard, as also being abused as a "beef eater" by a passenger.
In a more recent incident, a dairy farmer in Jharkhand was narrowly saved by the police after an irate mob descended on his home in Giridih district on discovering a dead cow outside his door with its throat slit. It's alleged that the animal had died a natural death but a prankster staged the carcass in such a way to make it appear like slaughter.
Reports said the owner of the cow had served 10 years in prison for murder and had many enemies. But he was also a successful dairy owner — certainly luckier than Pehlu Khan, another dairy farmer from Alwar in Rajasthan, who was killed by a mob on suspicion of carrying cattle for slaughter.
The threat of cow vigilantism has increased manifold since the Centre recently modified an existing law against cruelty to animals to ban sale and purchase of cattle for slaughter. The decision has resulted in massive protests in states like Kerala, West Bengal and in the Northeast, with some of the BJP's support base taking a hit.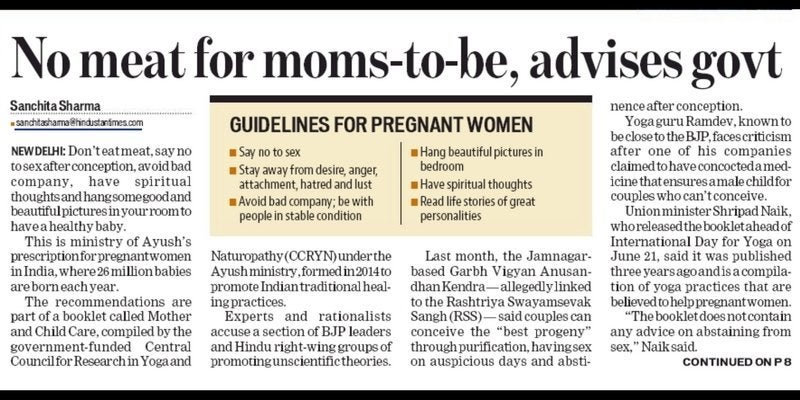 How Different Newspapers Covered The Ayush Ministry's Advice To Pregnant Women