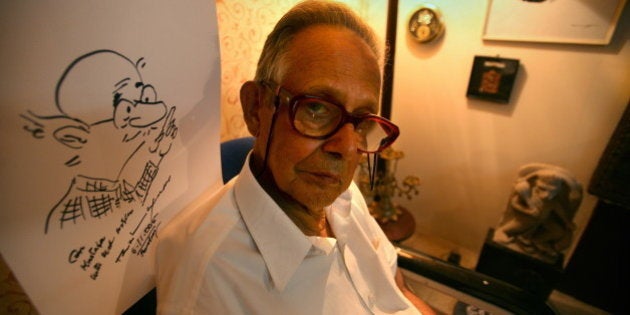 India's most famous satirist and the creator of the iconic 'Common Man' series of cartoons, Rasipuram Krishnaswamy Laxman, but known simply as Laxman by those who followed his art over six decades, passed away on Monday in a Pune hospital, according to reports.
Laxman, who was born in Mysore in 1924, died this evening at the Dinanath Mangeshker hospital in Pune after complications from a urinary tract infection, the Deccan Chronicle reported. The eminent cartoonist was ill for many months and was admitted to the hospital on January 16 after he complained of breathlessness, the report said.
IANS reported Laxman passed away, citing a family member. Laxman had suffered multiple organs failure, but responded well to the treatment and had bounced back. Three days later, he was taken off the ventilator and shifted to the intensive care unit, the IANS report said.
Laxman began drawing cartoons for the Free Press Journal newspaper in 1947 in Mumbai (then Bombay). He joined the Times of India as a cartoonist later and in a career spanning 60 years, he fearlessly caricatured India's politicians, including Jawaharlal Nehru and Indira Gandhi.
The legendary cartoonist, brother of renowned novelist RK Narayan, is survived by his writer wife Kamala, retired journalist son Srinivas and daughter-in-law Usha.
The illustrator of the common man passes away. Rest in peace #rklaxman. A salute from the comman man to the most uncommon amongst us.

— Vikram Bhatt (@TheVikramBhatt) January 26, 2015
RK Laxman one of the icons of aam aadmi will always be remembered by everyone, we used to look forward to his cartoons in morning newspaper!

— Vastal ITech #Vastal (@vastalitech) January 26, 2015