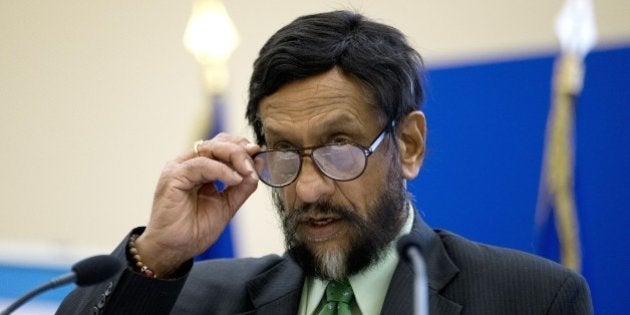 NEW DELHI: Rajendra Pachauri, the 75-year-old chairman of the United Nation's Intergovernmental Panel on Climate Change, has been granted "interim protection" from arrest in the sexual harassment case filed against him by a subordinate. The protection has been granted till 23 February, when he can approach a local court for bail.
On Wednesday, the Delhi Police registered an FIR in the matter on the complaint of the 29-year-old woman subordinate of Pachauri, who accused the eminent scientist of persistent harassment since September 2013. The woman is an employee of The Energy and Resources Institute, which Pachauri heads as director general.
The Delhi High Court in an order dated Thursday, February 19, has said, "To enable the petitioner to seek necessary relief, the interim protection against arrest till 23rd February 2015 is granted in FIR No. 52/2015 PS Lodhi Colony."
However, Pachauri has been asked by the court to join the investigation "as and when required."
In the anticipatory bail plea, Pachauri's counsel have said that they came to know of the registration of the FIR against him "on reading contents of an article in Economic Times dated February 19."
His counsel has also told the High Court that Pachauri has handed over his laptop and other "required instruments" to investigating officer Pratibha Sharma on Thursday morning. His counsel later withdrew his bail petition in order to move it before a district court in Delhi, and asked for interim protection till February 23 instead, which the High Court granted.
"We were not kept in the loop about the anticipatory bail hearing before the High Court. We are very apprehensive that Dr Pachauri will use this opportunity to escape from the clutches of the law," said Jiten Mehra, who along with Prashant Mehndiratta is counsel for the woman complainant.
Pachauri is a globally influential voice on climate change and received the Nobel Peace Prize on behalf of IPCC in 2007.
Popular in the Community