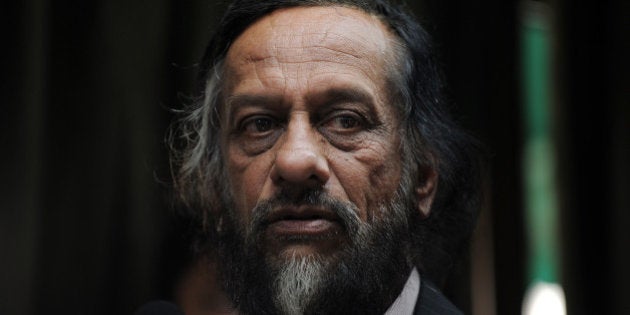 NEW DELHI — Rajendra Pachauri, the 75-year-old ex-chairman of the United Nation's climate change panel, who is being investigated in a sexual harassment case, was granted anticipatory bail today.
A Delhi court on Saturday reserved order on a police plea to cancel Pachauri's interim protection from arrest in the case, and instead granted him anticipatory bail. He has been asked to join the probe, and the conditions imposed on him earlier to cooperate with the police will continue.
The court heard arguments for an hour and a half on Saturday before deciding to grant bail to Pachauri. The complainant will now approach the high court to appeal against the order, said her counsel Prashant Mendiratta.
"We are very disappointed with the court's decision and will appeal against it in high court," he told journalists.
Pachauri is a globally influential voice on climate change and received the Nobel Peace Prize on behalf of IPCC in 2007.
The complainant, a 29-year-old woman who has worked in Pachauri's office for the past year and a half, had registered a complaint against him last month, alleging that he had sexually harassed her since September 2013. A first information report (FIR) was registered in the Lodhi Colony police station in Delhi following the complaint.
Pachauri has then since stepped down as IPCC chairman, and taken leave from The Energy and Resources Institute (TERI), where he is Director General and where he worked as the complainant's boss.
The FIR, which has named Dr. Pachauri, has been filed under sections 354, 354A, 354D, and 506 of the Indian Penal Code which pertain to outraging the modesty of a woman, assault and criminal force on her, unwelcome physical contact or advances, and making sexually-coloured remarks. All of them are non-bailable offences and based on the evidence thrown up by the investigation, police can move to arrest an accused.
Pachauri has alleged that his computer and phone was hacked, and denied the allegations. Interestingly, his counsel later told the court that his email had not been hacked, but that he had shared the password with several people, who could have sent inappropriate emails to the complainant on his behalf.