NEW DELHI -- The 29-year-old researcher who was allegedly sexually harassed by RK Pachauri, director general of climate policy think tank The Energy and Resources Institute (TERI), resigned from the organisation on Wednesday, alleging she had been mistreated by TERI.
The woman researcher quit after she found the environment in TERI "hostile" following her complaint against the organisation head. "Your organisation has treated me in the worst possible manner. TERI failed to uphold my interests as an employee, let alone protecting them," she wrote in her resignation letter to Dinesh Varma, director of TERI's human resources department. "The organisation has instead protected R K Pachauri and provided him with full immunity, despite being held guilty of sexual harassment at the work place by your own inquiry committee."
Varma told HuffPost India that "as far as matters of HR are concerned, everything was done as per the rule book."
"We have allowed her all the benefits applicable to an employee. She was granted leave. We transferred her to a more convenient location. We never took any sides. We have not asked her to resign," he said. "We have followed all the rules. The matter is sub-judice so I can't say much more. Being satisfied and unsatisfied is a matter of perception."
The complainant has also alleged that the TERI's governing council "works for" Pachauri, under his instructions. She raised the matter that the DG has not been changed even though Pachauri's exit was announced in July.
She also alleged that her work profile at TERI was changed without explanation even though she requested it to remain the same. "I refuse to be associated with an organisation such as yours for the way you have mistreated me, for not standing by the law, for not having respect for my capabilities, for doing NOTHING to ensure that my career is not harmed and instead harmed me mentally, professionally and economically," she wrote to TERI.
Human rights lawyer Vrinda Grover said that TERI has "totally failed" to follow legal procedures in this case and law has proved to be "toothless" in the case. "Despite them being in full knowledge of this case, not one request from the woman complainant has been followed up by them," she told HuffPost India. "They have been in cahoots with him on this."
Kiran Mazumdar Shaw, chairperson & managing director of Biocon, and former member of the TERI governing council, said it was a "disappointing development".
"It's a disappointing development which reflects on the frustration and feeling of despair when judiciary takes inordinately long to decide on a case such as this," she told HuffPost India on Wednesday. "I feel very sorry for the woman and as a former member of the BoT, I feel we need to put pressure on the establishment to act without delay. I hope TERI reinstates the woman at a future date."
Shaw had resigned from the TERI governing council a couple of months back, citing "moral responsibility" after the sexual harassment charges were filed against Pachauri.
The head of TERI's internal complaints committee, Ranjana Saikia, had also resigned from her position in September, four months after her team submitted a report that found Pachauri guilty of misconduct. No action has been taken by TERI on the report so far.
The complainant in the sexual harassment case had accused Pachauri, who is a globally influential voice on climate change and received the Nobel Peace Prize on behalf of the United Nation's Intergovernmental Panel on Climate Change in 2007, of sexually harassing her at work earlier this year. In the woman's complaint to the police in February this year, she alleged that Pachauri had sexually harassed her since September 2013.
Here's the full text of her resignation letter:
Dear Mr. Verma,

This is in reference to my ICC complaint against R K Pachauri for sexual harassment at the workplace and my subsequent FIR with Delhi Police in Feb 2015. The inquiry committee did hold R K Pachauri guilty of misconduct and TERI failed to do the bare minimum in order to ensure that I am not impacted.

Your organisation has treated me in the worst possible manner. TERI failed to uphold my interests as an employee, let alone protecting them. The organisation has instead protected R K Pachauri and provided him with full immunity, despite being held guilty of sexual harassment at the work place by your own inquiry committee. The Governing Council too let me down in an unprecedented way. The council could not even suspend a man pending inquiry and took NO ACTION despite the indictment. You also created a hostile environment for me which has only escalated and showed no signs of subsiding whatsoever. It is becoming clear that the Governing Council works for the DG and under his instructions. There has been no changeover in the DG as well as stated on 23 July, 2015.

I am tendering my resignation from TERI with IMMEDIATE EFFECT.

You changed my work profile and played deaf to my requests for not doing so. I was given ZERO EXPLANATION of taking such an action and none of my emails/requests were heeded to. I only got vague responses. I refuse to be associated with an organisation such as yours for the way you have mistreated me, for not standing by the law, for not having respect for my capabilities, for doing NOTHING to ensure that my career is not harmed and instead harmed me mentally, professionally and economically.

I tender my resignation without any prejudice to my rights to claim my salary, damages and other dues/costs for the gross misconduct and mental torture meted out to me at the work place, apart from taking all pending litigation to their logical conclusion.

Best,

(complainant's name)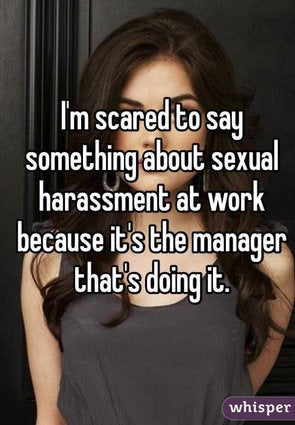 Tales Of Sexual Harassment At Work
Popular in the Community