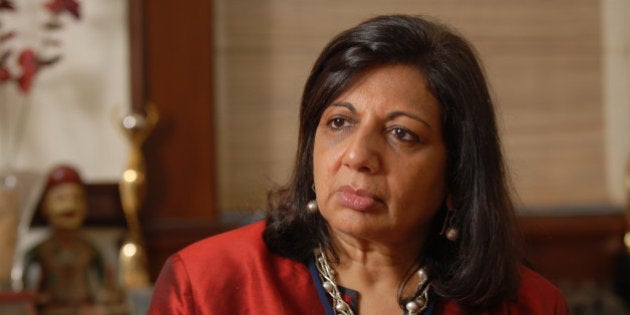 NEW DELHI -- Indian entrepreneur Kiran Mazumdar-Shaw has reportedly stepped down from the governing council of The Energy and Resources Institute (TERI), citing"moral responsibility" amid sexual harassment allegations against the climate think-tank's director general RK Pachauri. She told The Economic Times that she "refused to be dragged in an extremely contentious issue" as she did not know enough about the issue. The governing council in TERI has been criticised for months for remaining largely mum about the harassment charges, even praising the climate scientist while skirting the issue. Even though Pachauri was recently replaced by Dr Ajay Mathur, he continues to operate as TERI DG until Mathur assumes charge later this year.
"I have submitted my resignation which will only be formalised at the next board meeting," Mazumdar-Shaw told ET, adding that she had sent it as far back as in July.
Pachauri, who is a globally influential voice on climate change and received the Nobel Peace Prize on behalf of the United Nation's Intergovernmental Panel on Climate Change in 2007, has been accused of sexual harassment by a 29-year-old research scholar in TERI. In the woman's complaint to the police in February this year, she alleged that Pachauri had sexually harassed her since September 2013.
Mazumdar-Shaw told ET that she did not want to give her opinion on the charges against Pachauri as she was not an "active member" of the TERI governing council and did not want to become involved in the issue as it wasn't "comfortable and proper". She has claimed that she had not participated as a "full-time member" at the council meetings.
The chairperson & managing director of the Bengaluru-based biotechnology company Biocon added that she wants "such serious matters to be decided expeditiously" and that "delay in such serious cases does no good to anybody".
The IIM-Bangalore chairperson is heralded as one of the most powerful women in the world, featuring on the Financial Times' top 50 women in business list and was last year listed as the 92nd most powerful woman in the world by Forbes.
In a letter to Prime Minister Narendra Modi last month, the complainant in the case has hit out at the TERI governing council for "their scary silence and inaction on this issue", claiming that a press statement to appoint a new DG in Dr. Pachauri's place was merely a "white wash".
"The guilty has been welcomed back to the organisation with garlands and flowers while I continue to be shunted out of the organisation," she wrote. "Concerned employees too have written to the Council members stating that they are at unrest with the accused taking continuing in TERI and have been intimidated and fear of their jobs."
TERI's governing council include many luminaries — its chairman is Prof. B V Sreekantan, an Indian high-energy astrophysicist and former associate of Homi J. Bhabha at the Tata Institute of Fundamental Research. Members besides Pachauri are Dr (Mrs) Wakako Hironaka, Deepak S Parekh (Chairman of Housing Development Finance Corporation), Naina Lal Kidwai (Group General Manager and Country Head of HSBC India), Shailesh Nayak (secretary at Ministry of Earth Sciences), Dr Kiran Mazumdar-Shaw (Chairman & Managing Director of Biocon Limited), Hemendra Kothari (Chairman of DSP BlackRock Investment Managers Private Limited), Dr Henrik O Madsen (Group President & CEO of DNV GL Group), and Dr Leena Srivastava (who was made acting DG for an interim period after allegations against Pachauri first came to light).



Popular in the Community