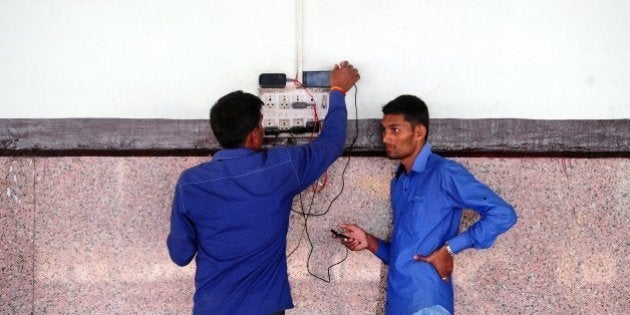 NEW DELHI — Mobile users will pay less for roaming from tomorrow as leading operators, including Airtel, Vodafone, Idea and RCom, slashed their roaming rates by up to 75 per cent weeks after regulator TRAI cut ceiling tariffs.
While in roaming, call rates will be cheaper by up to 40 per cent and SMS by up to 75 per cent. Country's largest mobile operator Bharti Airtel said its incoming call rates will be reduced by up to 40 per cent, whereas the outgoing inter circle call rates will see a decline of up to 23 per cent.
The outgoing local call rates will be reduced by up to 20 per cent, Airtel said in a statement. It reduced outgoing local SMS rate by up to 75 per cent, while outgoing inter circle SMS rate has been cut by up to 74 per cent.
Second largest operator Vodafone said customers will pay 45 paise/minute instead of the earlier 75 paise/minute for receiving calls outside home network, a cut of 40 per cent.
Vodafone in a statement said that outgoing local and STD calls will be charged at 80 paise and Rs 1.15 paise per minute as compared to Re 1 and Rs 1.50, respectively, earlier.
Similarly, Idea Cellular and Reliance Communications reduced roaming call rates by 40 per cent. Telecom regulator TRAI on April 9 had reduced ceiling tariffs for national roaming calls and SMSes and mandated service providers to offer a special roaming tariff plan. These changes are coming into effect from May 1.
The regulator cut the maximum or ceiling rate that a telecom operator can charge for STD calls on roaming to Rs 1.15 per minute from Rs 1.50 per minute. Similarly, national SMS rate was reduced to 38 paise from Rs 1.50 per SMS.
Also, an operator can charge a maximum 25 paise for each local SMS instead of Re 1 per SMS and a maximum 80 paise per minute for a local call instead of Re 1.