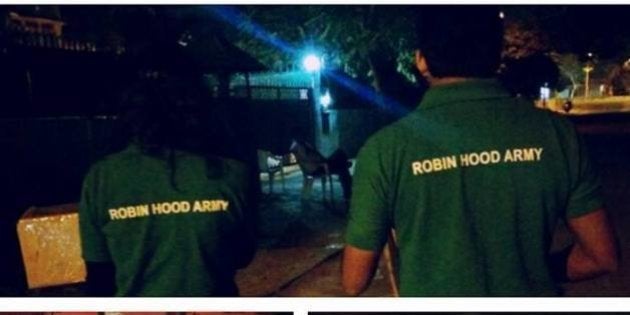 A group of young Indian citizens wearing green T-shirts venture out at night with a mission to serve the homeless and hungry leftover food from restaurants and caterers. They call themselves the Robin Hood Army. Aided by positive media coverage and a fast-growing volunteer group, what started out as a scout group of six people in New Delhi has grown to a battalion of 350 active volunteers, with volunteers operating in Delhi, Kolkata, Hyderabad, Bengaluru and Mumbai, feeding over 2000 people every week.
"In our first night of our distribution, we gave food to a hundred people, and it felt conflicting... We realised how deep the problem is. It may feel good to my conscience; it is not making enough of an impact," said Neel Ghose, one of the co-founders. He served as a volunteer for the Refood programme in Lisbon, and wanted to do something similar in India. "The motivating factor is that food is going to people who need it the most, but there's so much more to do," he added.
The Robin Hood Army is a registered NGO, but it doesn't function like one -- it's a volunteer-driven body that's decentralised. Every city has its local chapters, and people and restaurants in each area feed the homeless in their neighbourhood. "Most of the restaurants that give away their leftovers are standalone, as they are easier to convince. One exception is Au Bon Pain -- they provide food in three cities," said Neel.
In most cities, the Robin Hoods distribute food on weekends, as most of the members in the core team are working professionals. They group themselves into smaller clusters, and manage the logistics at their ends of the city. "We're trying to make this a daily model -- Hyderabad has done this fantastically. They have 50 volunteers in their chapter, so they spread them out day-wise, into groups of 10 volunteers a day, and distribute food four to five days a week," said Neel.
The Robin Hood Army primarily uses Facebook to coordinate and recruit new members. During the festive season of Diwali, they created a hashtag, #BeRobinThisDiwali, urging anyone viewing the message to distribute sweets, food, clothes and festive hugs, take a picture, and tag their Facebook page.
Their tribe continues to grow. "Since October, we've got a lot of more volunteers, we've started out in Jaipur two weeks back, and started distributing winter clothes to the homeless in Delhi," said Anand Sinha, one of the co-founders. He heads a technology startup called PressPlay during the week, but takes time out every weekend to keep the Robin Hood Army growing. The Robin Hoods plan to have a website up and ready before the end of the year, and gear up for Christmas with another campaign around the hashtag #BeARobin. "The idea is to find a cluster or create one in in your locality, and do as much as you can," he said.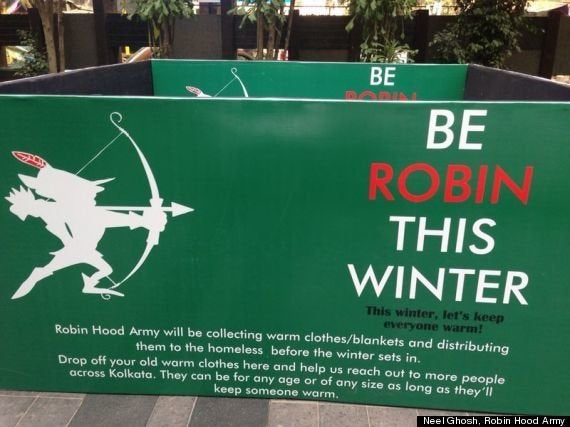 The Robin Hood Army is going well beyond their mission of just feeding the poor and homeless. "We've associated with a few orphanages in Bangalore to provide them stationery and goods. Delhi has a very harsh winter, so we're collecting warm clothes and blankets -- we've put collection boxes in our offices, and we're urging other members to do the same. In Kolkata, we've created a Robin Hood Well in Forum Mall, where people can drop in their clothes," said Neel.
According to the World Food Programme, our planet produces enough food to feed 7 billion people, but one in eight goes hungry every night. Want to volunteer? You can join your local chapter of the Robin Hood Army through their Facebook page: https://www.facebook.com/robinhoodarmy