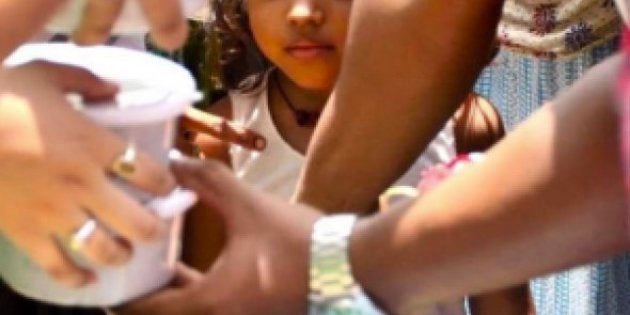 What began with a struggling group of six people has turned into a formidable army of 5,000-plus volunteers, all of whom are fighting against hunger and food wastage across 30 Indian cities. Every Independence Day, the Robin Hood Army (RHA), as it calls itself, sets out on a special mission to feed people. This year was no different, except for the very ambitious target that they had set for themselves.
The army set out to feed 5 lakh underprivileged people, and extend their efforts across the border into Pakistan. For many, this was a novel experience, and it became an emotional and enlightening occasion for everyone involved -- newbies and veteran Robins alike.
Here are some first-person experiences shared by volunteers, along with photos of the Independence Day drive.
We were distributing idli packets at Vidyavihar train station and we came across these two old blind men sitting on one of the platform bridges, expecting passersby to give them some money. We approached them with the food and offered it to both. When we asked the first man whether he was hungry or not, he replied saying that he was famished and gladly accepted the idli packets we were handing out. The second man, on the other hand, said something that really startled us. He said in Hindi: "No thank you, my friend here hasn't had anything all day, so please give my share to him as well."
I was taken aback by this, and we decided that not only would we give the first man two packets of idlis, but some extra to the second man as well. However he told us to first offer it to someone else who was in greater need of the food. The humility exhibited by the second man, and his concern for his friend made me realise the true spirit of giving to the less fortunate. On many occasions, we proceed with caution to give to the more needy, with the pre-conceived notion that they will fight amongst themselves for food or try to haggle with us for more. However, this spirit of sharing meals and offering it to those that were most in need, really reminded me that people from all walks of life always exhibit generosity in dire circumstances. This Independence Day I was filled with pride at having witnessed this.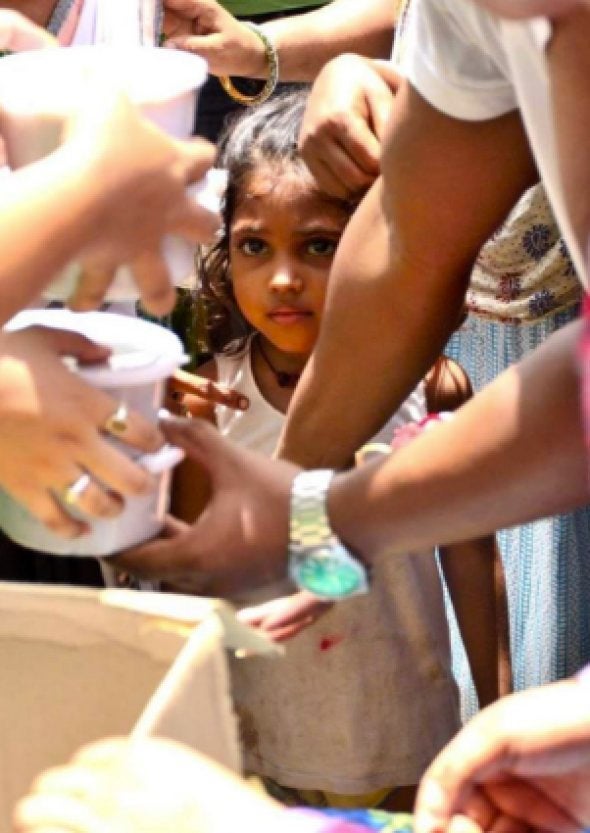 During Mission500K, we spent two days distributing food in various locations across Mumbai. At the time, my driver Bhaskar was with me, helping us drive around and give the meals out. On the second day, Bhaskar appeared with food for 160 children and said that he wanted to distribute this too. I asked where this food had come from, and he mentioned that he had spent the previous evening at home cooking it himself. I was extremely touched by this heartwarming incident. We often think of the work we do as privileged serving to the underprivileged. However, the beauty of the drives that we conducted was that Independence Day is about anyone from any background going the extra mile to "serve the hungry citizen." I was proud of my driver Bhaskar, and I was amazed to see his affection and spirit of patriotism towards his countrymen that day.
We visited a slum area in Wadala, Mumbai where we asked the children to line up first, then adults, so that we could feed everyone in an organised fashion. There was one very small child, probably 3-4 years old who could barely hold all the food we gave out, in her hands. I noticed that because her hands were so small, she was wrapping the bananas and rice up in her dress. Usually we ask everyone not to disperse until the distribution is finished, but this little girl ran off midway. I went after her with the dal to accompany her rice, and noticed that she had ducked into a plastic-covered street dwelling. As I bent down to peer inside, I saw an elderly woman, unable to walk, lying with her eyes half-closed under the tent. The little girl was shaking her grandma, trying to wake her up, and when the old lady opened her eyes, the girl poured all the food packets from her dress onto the floor and told her, "This is for you." I realised that the girl probably couldn't comprehend the uncertainty of her next meal, but in that moment it seemed as though her whole world revolved around her grandmother, and she was exuberant that she had been the one to find them some food.
"Interacting with a 7-8 yr old, I learnt that she knew the letters of the alphabet but didn't want to recite it out loud because she was afraid that her friends would make fun of her. That's when I realised that it is courage that needs to be taught to these young friends. Motivating her to overcome her shyness, I made her recite the alphabets to me. It was saddening initially that the kids we met are so full of potential, and all they needed was someone to believe in that potential. This Independence Day I truly felt that even if I inspired some courage in this little girl, I had contributed in some way to our society.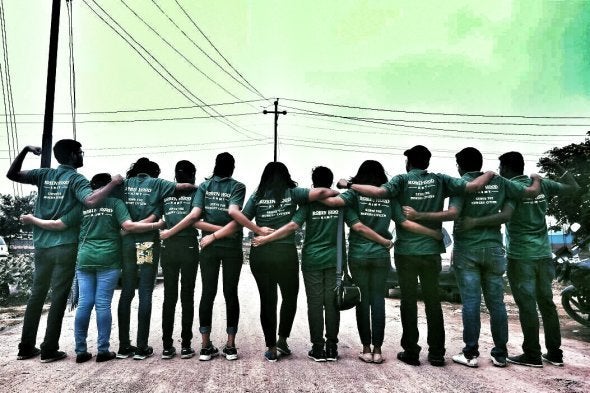 During one of our Mission500K drives, I came across a child who remembered me as the chocolate waali didi.She came running towards me to collect more chocolates for herself and her family. The gratitude felt by the children, brought out through their affection and warmth, taught me the real meaning of appreciation. These kids taught me that happiness comes from gratitude, not material wealth and success that we sometimes chase. Their emotions were so visible and their hearts are pure. Even momentary delight from chocolates brought so much happiness.
We were busy distributing food during Mission500K when this young girl who had already taken food came up from behind and said, "Hello." I recognised her from a previous drive and then we had a small conversation like I have had with many children in each drive. But what amazed me was that for her I was not just one in many people that come to give out food. The joy with which she greeted me and waved goodbye when our work was done, the spark in her eyes, the smile on her face, the chirp in her voice, the genuineness in her conversation and the friendship we created is etched in my memory. It was wonderful to be remembered by the children, especially since we tend to move on with our daily lives and forget so many people that we come across. But this girl hadn't forgotten me. She waved and ran behind our car till we left the area.
Sadhika Dembla, student, 23
I came across few men sitting under a bridge looking exhausted and hungry. I couldn't help but stop my car to ask them if they want some food and they happily said, yes please. I gave them 2 bananas and 2 biscuits each and then all of the sudden one man who was sleeping woke up and rushed to us as if the smell of food had tickled his nose. His urge for food made me realise that we sleep after having our meal but they sleep waiting for it.
It was a rainy day, increasing the hurdles for the needy. As we entered into their area with food, I came across a child trying hard to cross the waterlogged area. With the support of crutches he limped towards me with a broad smile on his face. The twinkle in his eyes and his blissful smile when he finally reached near me were truly motivating. He looked at me and said: "Aaaj na jaane kyun humein dil se pataa tha ki aap khaana dene zaroor aaoge!!!" (Today, somehow I knew it in my heart that you will surely come and bring food for us.) This experience really touched me, and I was left teary-eyed. I realised how much of an effort he had needed to make just to come and receive one plate of food.
Bhawna Divy Ahuja, 26, social worker
No. of people served: 35,450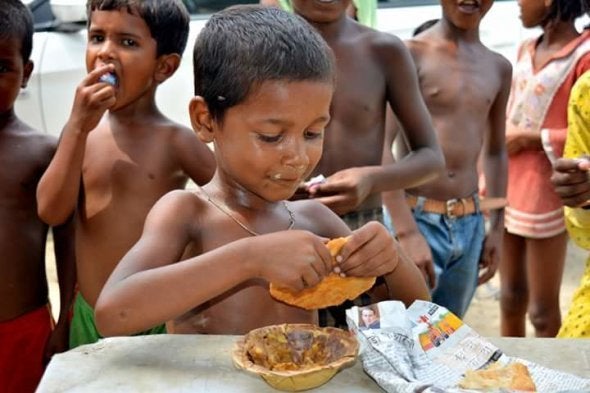 There was this little girl in a slum, aged 12, who wanted one of the pencil boxes we were giving out along with food. Unfortunately we ran out of them. We told her we'd get one next week and asked if she'd still be here then. She said, "Yes, but I don't want to be here. I want to be in a school, studying." That hit home the fact that the end goal of what we're trying to do is really to make a difference in the lives of the needy. Even if it's an interaction that lasts a few minutes or hours, to be able to bring some positivity and hope into the lives of others is really what will go a long way. This motivated me further to think of ways in which I could help children like this little girl.
No of people served: 33,015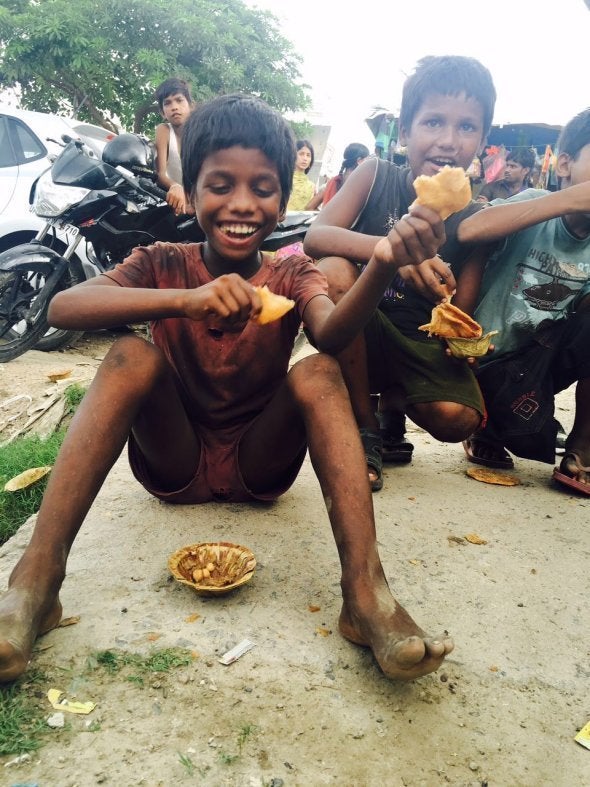 I had one unusual interaction with a boy who was not ready to stand in line with another boy due to an inter-caste issue. It was very tough to convince him as he displayed bouts of anger.
Eventually, he had to give up as there was a rush to collect food and he stood in the line like everyone else. He also ended up interacting with the group he didn't want to stand with. This moment made me realise that even though a form of discrimination lies in the lower social strata of our society, somehow through our drive, we manage to break through these social barriers. For that one moment, Robins managed to get everyone together and eat. It made me realise that our role at RHA is not only to serve the needy, but also to bring people together through interactions and group distribution -- something that they might not experience in their day to day lives. I was grateful to have witnessed this incident.
Sanchita Sawhney, 22, psychologist
During our drive, what surprised me was how hesitant people were to come forward and take food because they did not expect that we had enough for everyone.
When we pulled out bananas, surprisingly, everyone went for the bananas over the dal and rice. Whether it was moms, the young workers, or the kids: everyone got so excited about the bananas; more than the other meals we were giving away! With fruits being relatively more expensive, it is likely that bananas are rarely, if ever eaten there. This really made me think of what we usually take for granted that is easily available to us but not to others.
I was also touched by how people were looking out for each other. Even through the large lines and uncertainty about whether the food would last for everyone, we saw humility among everyone in how they were able to share what they had first and not simply hoard their own share.
The kids we met were interested in telling us about their aspirations and goals. They had the same ambitions that any child would, but displayed incredible discipline in handling the distribution. They are full of curiosity and learning about their lives was a humbling experience overall.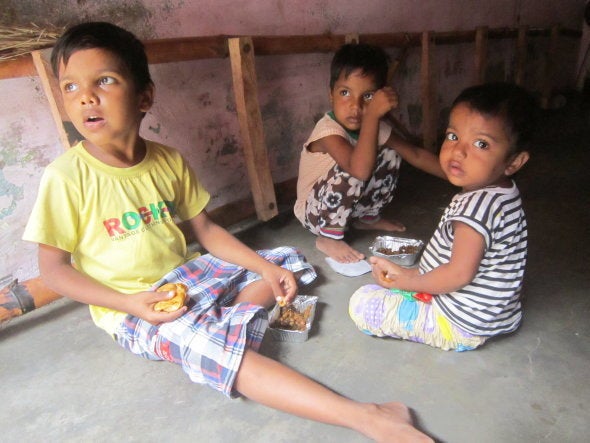 One cute looking child from Sunshine Hope looked at me while I was serving food and said, "Didi aap Shraddha Kapoor jaise dikhte ho aur apke piche wale bhaia Hulk jaise." We started laughing. After we distributed all the meals, I asked the same child as what my other Robins look like. For that innocent little fellow, Akash resembled Kevin, the WWE wrestler, and Shubhangi resembled Aishwarya Rai.
We had gone inside the building with our same old names, but returned with new identities. So, if anybody hears a Robin addressing us with these names, you know where we got this new identity.
The sunshine made us celebrities
Dostoevsky said, "The soul is healed by being with children." It remains a saying, until you experience it yourself.
Being a new Robin, I never knew I'd experiencing this so soon.
The last drive for the monumental #Mission500k was executed by an NGO run by Captain (Retd.) Gurinder Virk, which runs a home for HIV affected children. Rohit, one among the four dozen children, was fascinated with Zuali's (the coolest of the Robins) accent and her singing skills. I suppose being a Mizo comes with its advantages.
Rohit and I talked about siblings and books, the pluses of a permanent residence since I keep shifting from hostel to hostel, and many other things. He was amused by the fact that although I had four siblings, the five of us didn't live together under the same roof as our parents. Rohit said that he's blessed to be living with so many siblings, with a brother for every need -- one for dancing with, one to share secrets with, one for chiding when he makes mistakes and another for sleeping with. What more could one possibly ask for?
While I was walking down the street with food packets, two kids stopped me and said, "We were waiting for you, please teach us as well because we are not able to go to school." There are kids out there who want to learn but are not able to, because of the lack of educational facilities. Serving these children food is just the beginning of understanding the harsh realities of their daily lives. They are denied many basic privileges such as education.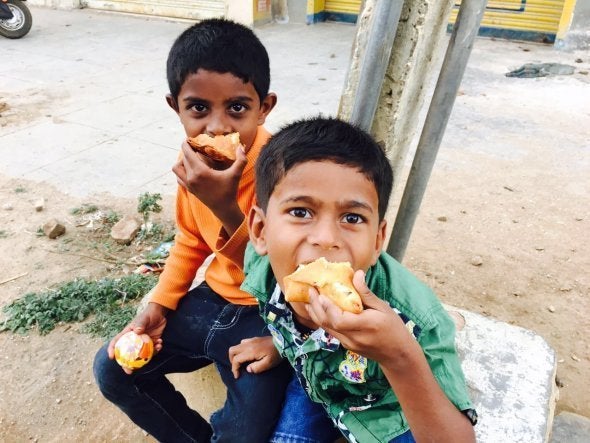 The experience was phenomenal, brilliantly organised, without any hurdles. All the Robins worked with dedication and passion for a social cause. Mingling with the kids and the old people, and listening to their experience was beautiful. One of the kids, Girish from the Chamundi Orphanage, walked up to me and said, "Akka when are you coming back? It is so nice to have all of you around. Even if it is for a short while, all of you have shown unconditional love to the abandoned." It was such a heartbreaking comment. I pray that the Robin Hood Army reaches out and we have more volunteers to share the love and caring.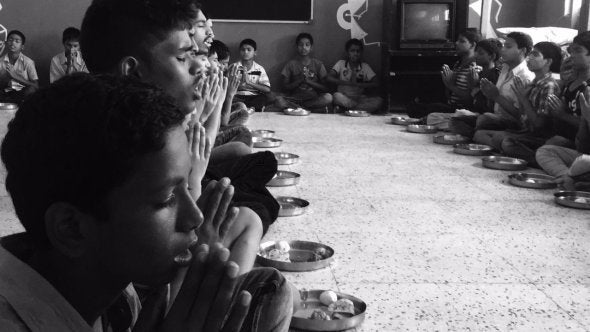 This year proved to be a wonderful experience. A couple of friends who were also contributing cancelled their vacation plans to chip in. Another pal got engaged on Saturday, but still came and helped out with the distribution.
A lady brought her children to the distribution centre to help serve people. There were many others who were inspiring to watch in their attempts to feed as many people as possible, and seek out those who needed help. We have a wonderful team that taught us so much about giving back to society.
Having joined the Robin Hood Army just three days before this event, I could not have expected a better experience in such a short time. The team is very cooperative. In a short time, I was able to not only interact with people from different stratas but also bond with them. I was amazed how everything was managed without a single issue anywhere. There were no delays anywhere. It's no joke managing a huge group of people.
Most importantly, I had fun. Sometimes, when we visit these places, we tend to feel disillusioned and depressed. But instead, it was heartening to see how humans truly are good inside. A job well done.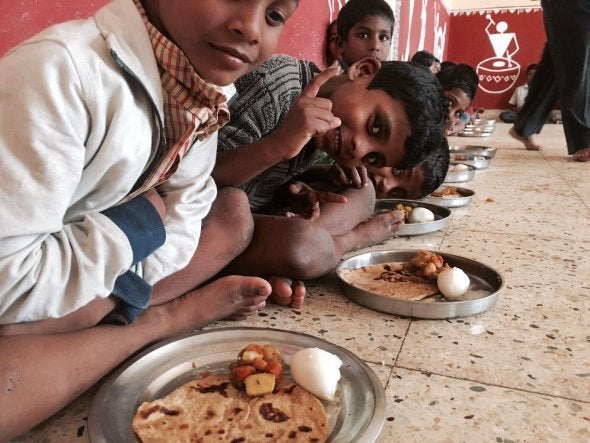 Mission500K !!! It has a certain aura to it, merely saying it gives me a sense of pride and purpose. The chapter being in its infancy and the fact that it was a long weekend, I was highly skeptical of the mission.
But with a dedicated team of Robins, who worked long and hard to plan the various activities and execute the whole event, we emerged victorious. It was heartwarming to see the dedication and effort put in by each and every Robin to come together as an army and defeat a common enemy -- hunger!
And, the reward? The gratifying smiles we received.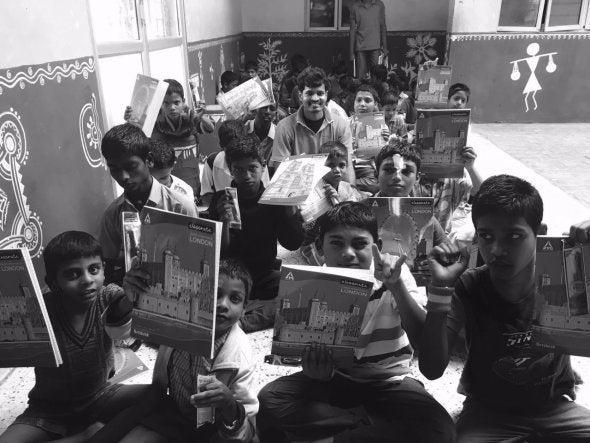 It all started with a thought and until the final moments we were not clear about how it would go, but few last minute glitches apart we all succeeded in our primary goal. Just remembering the smiles across so many faces still makes my day. It gives me eternal energy.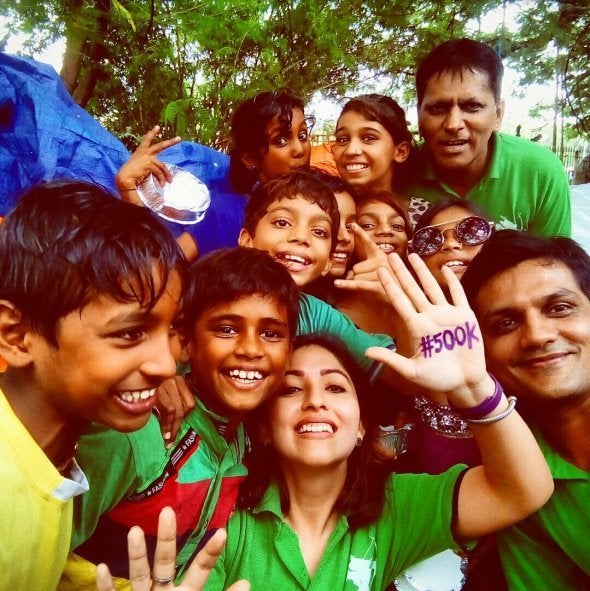 I remember one child who was around 10 years old, who helped us not only to manage the crowd, but also with the distribution of food. When I asked him about his own meal, he replied, saying that first other small children should get their food then he would take his own. That reply really made me think about his sensibility at the age of 10.
Isha Mahawar, chartered accountant
As we went about our last drive at 11 PM, serving biryani to a string of people sitting on the ground in a circle, the silence of the night had never been this deafening. It made me realise that the food that I so often complained about to my mother was a luxury here. My experience came from seeing their pain, and from this came a sense of purpose behind what was being done, and from that purpose, came the beauty of the moment. We truly are blessed to have been sitting at the centre of the circle being able to feed, instead of being needed to be fed.
Having followed my daily 9 to 9 routine for over 10 years now, one couldn't help but stand rapt in awe at the sight of people pushing and breaking queues to get to the front of the lines, to get their food. You could hear their hunger, screaming to be heard. In that very moment of chaos, I realised that life had been indeed so kind to us, and our daily struggles for a better pay were nothing compared to that of people who could not even afford two square meals a day. I am indeed more grateful today, than I was yesterday.
Shanker, 35, restaurateur
In retrospect, 10,000 seems just like a number, but the sight of children giggling as they stood in queue, while men were pushing to get to the front of the line for food, is embedded in the deepest corners of my heart. I hope to revisit them from my memory whenever life throws a punch at me. It will forever be a sweet reminder that all it takes to bring about change is for one person to say, yes. People digging into their wallets to wholeheartedly donate food to the cause shows how beautiful people are; all we need is the will to ask.
Every child we fed was a memory made, but the sight of this old 80-90 year old man raising his hand to touch my head to bless me is something I shall never forget. Looking almost confused when offered food, he quietly dug into his rice, his hands quivering as they took that spoon full of food to his mouth, one could not help but notice him taking in the smell of the food before he began to eat it.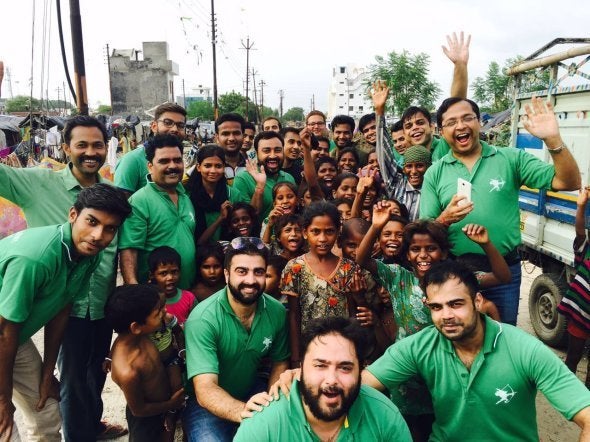 Going to Umeed boy's shelter home and spending time with those kids was my most memorable experience from Mission500K. The positivity and enthusiasm of children, who are devoid of many of the opportunities that we have access to, was inspirational. What struck me was that the children are full of energy, hungry for knowledge and appreciation, and so eager to come forward and showcase their talent. In those 2-3 hours, I never saw a single boy's zeal lessen. The kids were also up to date with modern technology such as phone apps, which made me feel like it was a shame that their 'tech savvy' skills might go to waste. Their memory was also so sharp that they actually remembered the names of each volunteer in one go. It's as if nothing could have dampened their invincible spirit or made their smiles fade. Their energy and sense of togetherness -- they eat together, pray together, play and study together -- made me realise that 'family' can go beyond the bounds of blood relation. On my return from there, I felt that although I had gone to the boys' home to donate food and my time, I had actually received much more -- a sense of fulfillment that cannot be matched by any other feeling in the world!
Honey Aggarwal, 27, teacher