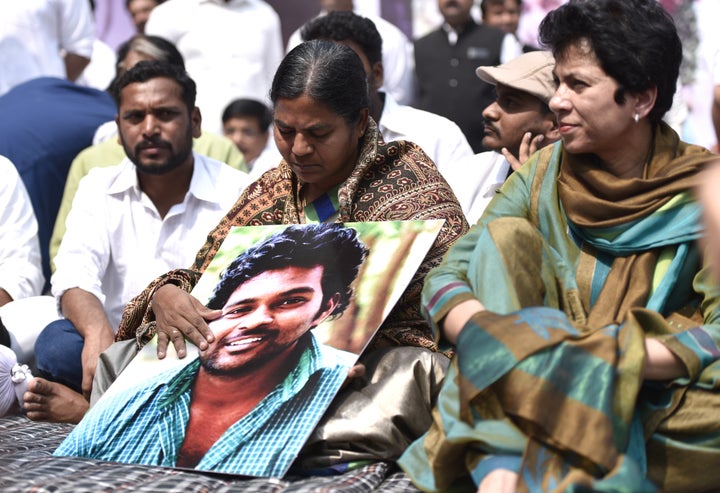 Accompanied by a few students, Philipp and I walked towards Room 207 of New Research Scholar Hostel where Rohith Vemula had spent his last day. It was locked. On the door, there was a poster of Ambedkar and Buddha. Under the figures, an utterance from the Udanavarga: 'Hurt not others with that which pains yourself.' Painted in blue on the walls was an acronym: ASA—Ambedkar Students Association. The organization was set up in 1993 by a few students who took admission in the university decades after the Indian Constitution ensured a total of 22.5 reserved seats, in government education and employment, for Scheduled Caste and Scheduled Tribe categories. Other Backward Class students, who trickled into the university before the first Mandal reforms of 1990, were also part of ASA's making.
In Room 207, Rohith had hanged himself from a ceiling fan using the ASA's blue banner. Phillipp, who had by then made sense of caste—as a practice based on birth, sanctified by religion, and reinforced by tradition—asked hesitantly, 'Is untouchability practiced in such universities even now?' I had heard the question many times before, commonly asked in 'forward-caste' student circles in educational institutions. India found comfort so long as it believed, collectively, that caste was a thing of the past. In 2001, Omar Abdullah, minister of state for External Affairs, had refused to discuss caste in a United Nations world conference against racism.
India was, once again, visibly upset with the UN's special rapporteur's report on caste-based discrimination submitted in March 2016, soon after Rohith's suicide. This was despite National Crime Records Bureau 2015 recording a caste-based atrocity rate of 19.2. During Philipp's enquiry into caste, the group of students who took us to the hostel were silent. Not a month had passed since Rohith wrote his last note, '… But I always was rushing. Desperate to start a life. All the while, some people, for them, life itself is curse. My birth is my fatal accident.'
Close to the NRS hostel, in the sprawling 1,800-acre campus, existed a small enclosure, a lawn of sorts. On rocks jutting out from the shrivelled ground, in blue paint, a name was inscribed: Raju-Venkatesh Park. ASA had named the place after Puliyala Raju and Madari Venkatesh, two Dalit research scholars who had killed themselves in 2013. Hyderabad's educational institutions witnessed nine suicides by students from marginalized communities — Dalits and Muslims — in 2013, forcing the state's High Court to order an enquiry into the appalling scenario.
"Rohith Vemula's suicide revealed the rot in India's educational system. It showed the world that modern India worked on caste principles; an anachronism of sorts"
The deaths had left a trail; in Hyderabad Central University (HCU) alone five Dalit students committed suicide between 2008 and 2016. Though university authorities tried to erase the names—Senthil Kumar, Balaraj, Madari Venkatesh, Puliyala Raju—from memory, the ASA had kept track; be it in Raju-Venkatesh park or in the Senthil-Balaraj cricket night cup started in 2012. In acronyms painted on hostel walls, in 'songs of resistance' sung during protests, and in names reiterated in slogans, students remembered their counterparts who died because they were denied research supervisors, hostel accommodation, or scholarships.
Rohith Vemula, who walked out of his hostel room carrying an Ambedkar portrait in hand days before he committed suicide, was perhaps the first one to establish what student agitations in isolated colleges and universities had pointed out in the past: that educational institutions had turned into Khap panchayats; modern killing fields which repackaged age-old practices of deprivation and discrimination. And as Philipp, a foreign national, was at ground zero watching events unfold at HCU, the world looked cautiously at India's long-standing tryst with caste: newspapers of the developed world unequivocally called caste system an affront to modernity. The reality, however, was starker: caste was embedded in India's modernization process.
"India had to wake up from its caste-stupor."
Not far from NRS Room 207 where Phillip and I stood, there existed a well, which had been dug in a faculty residential area for a Brahmin mathematician and professor, V. Kannan, a Fellow of the Indian Academy of Science and Indian National Science Academy. Till he retired in 2014, Professor Kannan was known as the mild-mannered, kudumi sporting teacher who 'did not want to share water from the university's drinking water supply, that students and faculty members of all castes used'. In a published interview in 2003, Professor Kannan had confirmed that he had decided to lead a 'simple, spiritual and controlled life with the right blend of penance and pleasure in proper proportions'. The professor, had not taken up job offers abroad as he 'was against crossing the sea'. The well, dug in late 1980s, still had water in 2017. Contamination of different kinds mattered in India. How did it all go unchallenged? Rohith Vemula's suicide revealed the rot in India's educational system. It showed the world that modern India worked on caste principles; an anachronism of sorts.
This is how it began: on 17 January 2016—the night Rohith's body was still lying in hostel—a student protest was only a whimper in the dark. The university looked incapable of agitation. When I reached the campus around 11.30 pm, it was as calm as a graveyard. Near NRS hostel, a group of students stood reasoning with police officials. They had copies of Rohith's suicide note which had not yet gone viral on social media and news platforms. 'Sir, he is talking about the identity he is born with. He also felt that it is a curse having been born. Having been born!'
Dontha Prashant, a student leader tried his best to establish the case: the excruciatingly frustrating job of having to pin down the existence of caste to a word, act, or circumstance. In December 2013, I had seen Prashanth undergo the same agony. His voice cracked and his eyes reddened he asked the former Vice Chancellor of HCU, a Tamil Brahman Ramakrishna Ramaswamy, 'Sir, please admit, just admit that there is caste-based discrimination in this campus. If you don't, we won't have faith in the system.' Then, he was speaking at a protest shed set up at Shopcom demanding authorities to penalize those responsible for the suicide of Madari Venkatesh. Denial of caste discrimination came in loops and reels.
On 17 January, Telangana police was armoured and ready to dismiss questions and protests. 'It is just the result of a tiff between two groups (ABVP and ASA). I understand your sentiment but it has got nothing to do with what you are saying', DCP L. Kartikeya, a fair stout man who was treading the narrow line between peace and protest, tried to thwart Prashanth's point. Students till then had not given up Rohith's body. They did not want law enforcement officials to touch their friend before filing a case under Scheduled Castes and Scheduled Tribes (Prevention of Atrocities) Act, 1989, against those who drove him to suicide. The country had registered 38,564 atrocity cases under the act in 2015 alone. Karthikeya, like others in his team, did not want the 'issue to be blown out of proportion'. A Telangana cadre police officer from Himachal Pradesh, he, like many others, did not see what was coming. Minutes later, slogans echoed in the university: 'Kadilindi Dalita Dandu…Khabardar, Khabardar' (The Dalit movement has begun… Beware, Beware). It took only an hour, starting 7.30 am on 18 January, for HCU to turn into a beehive of protests.
As television cameras zoomed in on the students, many others—bloggers, journalists, politicians, and activists—swooped down on HCU; a collective strife dispersed the sparks of agitation far and wide. 'Dikku-Mokku leni janam, okkokkaru agnikanam,' slogans reverberated; 'the scattered people-each one a flame' gathered in numbers across the country. Waving blue flags, thousands of youth took to streets. Blue, the colour in which Dr. B. R. Ambedkar's suit was always depicted in portraits and statues; blue, the colour which Kanshi Ram adopted for his party which sought to represent the 'Bahujan'. India had to wake up from its caste stupor. Thousands of street corners displayed portraits of Rohith; among them, Himachal Pradesh officer Karthikeya's home became one of the spots which took fire.
Excerpted with permission from The Ferment: Youth Unrest in India by Nikhila Henry. Published by Pan Macmillan at Rs. 599, 284 p.