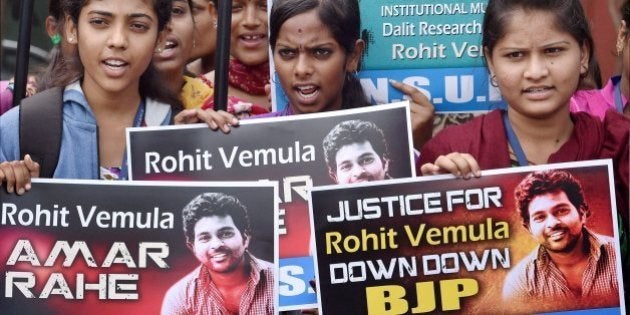 NEW DELHI -- Three days after a 26-year-old Dalit scholar was founding hanging in his friend's room in Hyderabad Central University, Human Resource and Development Minister Smriti Irani said that Rohith Vemula's suicide is not a "caste battle."
"This is not a Dalit versus non-Dalit confrontation," Irani told reporters at a press conference on Wednesday.
"Malicious attempt is being made to ignite passions and make it caste battle," she said. "Passions have been ignited due to misinformation, misrepresentation. This is an attempt to set the record straight."
Widespread protests triggered by Vemula's death have now given way to an exploitative blame game, with politicians and their representatives making a beeline to meet protestors, condole with the student's mother, and conduct their own investigation into the tragedy.
Irani's press conference today aimed to challenge the version of events which are being reported in the media: Vemula and four other Dalit students were expelled for beating up an activist from Bharatiya Janata Party's student wing Akhil Bhartiya Vidyarthi Parishad during the agitation over the execution of 1993 Mumbai blasts convict Yakub Memon in August.
They were systematically ostracised by Hyderabad University, led by Vice Chancellor Appa Rao Podile. Union Minister Bandaru Dattatreya, a BJP lawmaker, wrote to Irani about the "anti-national acts" of the Dalit students, urging her to take action against them. Irani is under fire because the HRD Ministry sent five letters to Hyderabad Central University, asking the educational institution to look into the concerns raised by Dattatreya.
The HRD Ministry's response is seen as furthering the alleged persecution of the students by their university and Dattatreya.
Irani told reporters that the HRD Ministry had also received letter from the Congress Party lawmaker V. Hanumantha Rao in 2014, raising concerns about several suicides of students from marginalised communities on the campus of Hyderabad University over the past four years, as well as rapes and kidnapping attempts.
The HRD minister said that her department had sent six letters to Hyderabad University over Rao's letter.
Pointing out that the Congress Party was in charge when Rao sent his letter, Irani said, "If they had fixed this four years ago, possibly Vemula, would be alive today."
Members of the executive council which decided to expel the Dalit students were nominated by the previous government, not the present government, Irani said. "The High Court did not agree to stay the punishment," she said.
Holding up a "certified copy of Vemula's suicide note," Irani said that his note did not blame any university official, political party or lawmaker. On the contrary, she said, the only organisation mentioned in the letter was his own group, Ambedkar Students Association.
After expressing some hesitance about identifying people by their caste, Irani said that a professor on the Executive Council, which recommended the expulsion of the five Dalit students, was also a Dalit, the warden who had to keep them out of the hostel, was also a Dalit, and the ABVP student, who was beaten up in August, belonged to the Other Backward Classes (OBC) category.