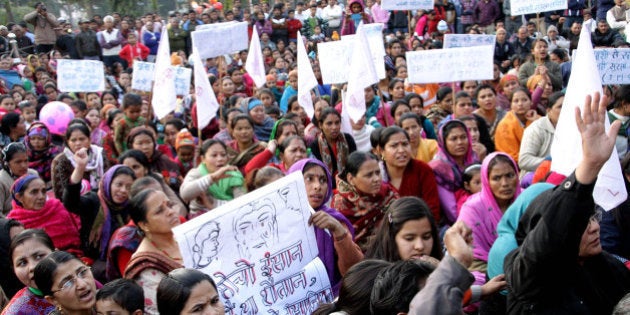 The examining doctor of the physically challenged woman from Nepal, who was brutally raped and murdered in Haryana, this month, said that he had never seen such a horrific case in his 30-year-long career.
"I have never seen such a horrific case in 30 years. The injuries suggest she was hit on the head with a heavy object, became partly unconscious and was then gang-raped. Animals and rodents had eaten bits of the body," said S.K. Dattarwal, who headed the post-mortem examination, NDTV reported.
The 28-year-old woman, who was living with her sister in Rohtak, was reported missing on Feb. 1. Three days later, her mutilated body was found dumped in a field near Bahu Akbarpur village on the Rohtak-Hisar highway. The post-mortem report said that objects had been shoved into her body. Doctors of the Post Graduate Institute of Medical Sciences (PGIMS) in Rohtak said that stones, condoms and blades were found inside her. Some of her internal organs were missing.
Dattarwal, who heads the forensic medicines department at PGIMS, also said that "There was a 16cm long and 4cm wide stick-like article in her vagina. We presume that a longer stick was used and it may have broken inside her. We also found a number of condoms in her vagina."
Meanwhile, Director-General of Police, Y.P. Singhal, said that eight men had been arrested in connection with the case, and the ninth suspect had committed suicide by consuming tablets at Bavana on the Rohtak-Delhi border. "The case has been cracked and eight youths out of total nine have been arrested from Gaddikhera village, some nine kms from Rohtak," he said.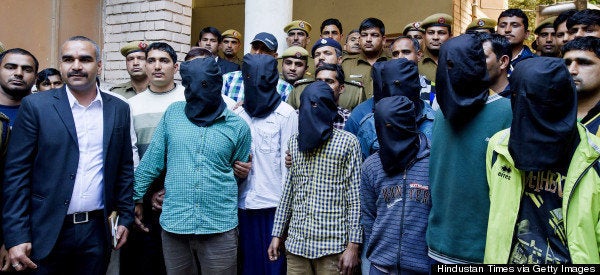 The Haryana police, however, has been criticised for failing to pursue the case with urgency after the woman was reported missing on Feb. 1. The Indian Express reported that the victim's sister, a domestic help, who has lived in Rohtak for 20 years, said that the local police ignored their requests for a probe and did nothing for three days.
"We went around asking neighbours. Our relative's 12-year-old son told us he had seen her going towards the main road. He is too young, and not knowing she was under treatment, did not inform any one of us," the sister said.
"We want the culprits to be hanged. This is not just about my sister. It's about every daughter and daughter-in-law. But the police investigation is too slow," she said.
The gruesome nature of the rape has reminded many of the Delhi Gang Rape, two years ago, in which the victim was brutally assaulted with an iron rod in a moving bus. She died after battling her injuries for two weeks. As the details of the rape emerged, local protests were staged in Rohtak to demand justice for the victim. Outrage over the rape continues to be expressed on Twitter.
Busy filing FIRs against comedians?Meanwhile let rape become the favorite national sport of the depraved.*slow clap* #RohtakRape#AIBRoast

— Shresth Vardhan (@shresthvardhan) February 10, 2015
Hey Politicians!

Where are you guys hiding now ??

Busy finding out if the #RohtakRape victim wore jeans, carried mobile or ate chowmein?

— Kaustav Banerjee (@HARBINGEROFLUST) February 10, 2015
Why don't just teach men not to rape a woman instead of blaming the woman, law and the system? Where is the equality? 💕✨🙏✨💖 #RohtakRape

— Kattis (@kattism) February 10, 2015