For instance, he believes that the Congress Party and its leaders did have some role to play in Indian history. And despite members of his organization justifying the lynchings of Muslims on the pretext of cow worship, Bhagwat believes the Sangh's core values are, "Live and let live."
It is to clear such purported misconceptions that Bhagwat is delivering a series of three lectures on the "vastu sthiti" (what's what) of the "Hindutva" organization founded in 1925. Bhagwat told a gathering of academics, politicians, celebrities and journalists that he felt compelled to speak out because the RSS was being portrayed as a "force" that was influencing the running of the country.
"This program has been organized to understand the Sangh because the whole world is feeling that Sangh is present like a shakti in this country," Bhagwat said in the first of his lectures on Monday. "There is a great deal of discussion and there should be, but for discussion there needs to be knowledge of its factual condition."
"Congress played a huge role in the freedom movement and has given India great personalities who inspire us even today," Bhagwat said. "They inspired people to join the freedom struggle."
While elaborating on the life of KB Hedgewar, founder of the RSS, Bhagwat spoke of his connection to the Congress Party. The RSS chief also exhorted the virtues of communist leader MN Roy, poet Rabindranath Tagore, Swami Vivekananda, nuclear scientist APJ Abdul Kalam, and Verghese Kurien, father of the white revolution, during the course of his lecture.
Bhagwat said that even though RSS had wanted the saffron flag to be India's national flag, it had always respected the tricolour. The RSS chief narrated a story of how Jawaharlal Nehru was present when the national flag was hoisted for the first time in Faizpur in the Jalgaon district of Maharashtra, but the tricolour got stuck in the middle of an eighty foot pole.
It was a young boy from the RSS, Bhagwat said, who leapt up the pole and raised the flag. "The Sangh has respected the tricolour from its birth," he said.
Some of those he name-checked had displayed little affinity for the Sangh in their lifetimes. Nehru, for instance, was at the helm of the government when the RSS was banned soon after Mohandas Gandhi's assassination in 1948.
Nonetheless, in the first of his lectures, Bhagwat sought to cast the RSS as having played a significant role during the Independence movement (a subject of much debate), and focusing on social change in the 21st century, rather than an organization determined to build an upper-caste Hindu nation at the cost of India's diverse peoples.
The RSS today, Bhagwat said, was all about creating a disciplined and enlightened society, with a strong civic sense. "We work for vyakti nirmaan," he said. "We want a society free of discrimination, atrocities, selfishness."
The audience listened peaceably, unlike a similar event earlier this month in Chicago, where a group of students said they were violently attacked for protesting while Bhagwat gave a speech at the World Hindu Conference.
Un-Sangh Praises
Apart from his praise for the Congress, Bhagwat's speech was along predictable lines — equating the Sangh's interpretation of Hinduism, and Hindu-values, with national values.
Bhagwat said that Hindutva was an embodiment of the values governing Hindu society and the uniting force in a country which had diversity in every facet of its being.
"Even those religions that came from outside India, Islam and Christianity, even those households practice the same sanskaars," he said. "It is this moolya dhaari sanskriti that joins them."
"Hindutva unites us all," he said. Hedgewar, founder of the RSS, Bhagwat said, called for the building of a "sampoorna Hindu samaj (wholistic Hindu society).
"Dr Hegdewar used to say how long will you blame the British or the attack of Islam, the Muslims, for your ailments?" the RSS chief said. "There were times when he used to say the biggest problem is the Hindu."
"There is Bharatiya society, our society, but there are persons who say they are not Hindus. But what is the word that unites us? That is why he specifically said, 'Hindustan is a Hindu rashtra and we will make a Hindu samaj.'"
Separation between men and women to continue for now
In 1931, Bhagwat said, a woman had asked Hegdewar about the role of women in creating a "sampoorna Hindu samaj."
The RSS founder, its current chief, said, "The environment today does not allow for a man to go work between women. It would create the wrong impression. But if a woman wants to do it then we will help her."
Bhagwat said, "That woman created the Rashtriya Sevika Samiti. It was decided then these two organizations would help each other but not interfere in each other's work. If this has to change then both sides should feel it should change. Otherwise it will not change."
Bhagwat, however, added that RSS was not an organization of sanyasis. "There are always comings and goings in households. Our mothers and sisters do a lot of work from their homes as well," he said.
Yet some questions, Bhagwat admitted, refused to go away.
"The main question that often comes up is why is RSS for Hindus?" Bhagwat admitted.
He promised to address it in his second lecture.
The third day will comprise of a question-answer session.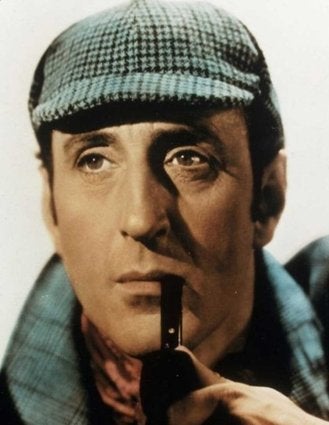 The Best Sherlock Holmes Of All Time
Popular in the Community