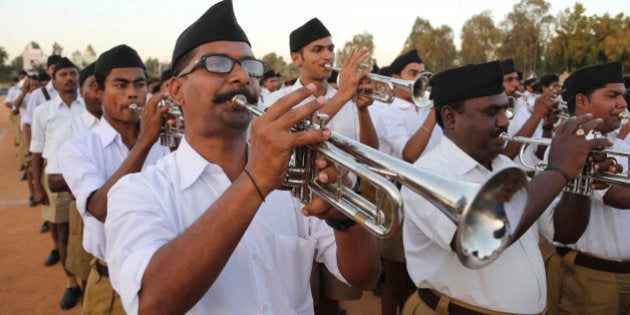 The article details the blueprint of how the RSS was planning to implement its long-standing dream of a Hindu Rashtra and why it won't work.
"Today the creeping fascism of the Rashtriya Swayamsevak Sangh (RSS) is coming upon us not as gradually as imperialism did, nor as suddenly as did the Emergency. Its spread is being calibrated adroitly by seven faceless men of the RSS, the RSS 'high command," the economist wrote.
Here are some excerpts from the article.
"But the RSS leaders are now in their late seventies, some not at all in good health, and so in a mood of frustration. Their glide to a total capture of Delhi's gaddi (throne) has been interrupted and put on 'hold'. Symbolically, the bhagwa dhwaj (saffron double triangle flag) does not yet flutter from the Red Fort; but the hated tricolour which no RSS office can hoist even on August 15, still does. The climb to total power is up a slippery slope. Having come so close, the RSS could lose it all in a sudden throw of the electoral dice. That is the frustration; so close yet so far."
"But then there is a downside to that trade-off: the RSS cadre is disillusioned and disspirited with the compromises and the stunting. India is nowhere the Hindu Rashtra that the high command had been promising, and on which they had been weaned and brain -washed. The cadres' patience is now wearing thin. They want to strike out on their own even at the cost of losing power."
"The second component of the RSS game plan is to shake public confidence in every institution that can circumscribe or act as a speed-breaker for the RSS juggernaut."
"Christians are an easy target because there are no Christian terrorists to retaliate. As the period of the Emergency clearly demonstrated, the RSS is astute enough to know when to hunt with the hounds and when to run with the hares. They are smarter than the German fascists in this respect."
"India would be, it seems, converted into a state which is a cross between the Taliban and the Vatican."
"I live on the hope that in India, no well-laid plan ever works. India, after all, is a functioning anarchy. That has been the undoing of every attempt to straitjacket its society. That is why we are still the longest continuing unbroken civilisation of over 10,000 years. The RSS is, luckily, our counter-culture."
When the article was published, the author, an academic-turned-politician, ran a political outfit which later merged with the BJP. On Monday, he moved the the Supreme Court on the Ram Janmabhoomi case and is hopeful that the construction of Ram Mandir would begin in Ayodhya by year-end.
Yes, it was Subramanian Swamy.