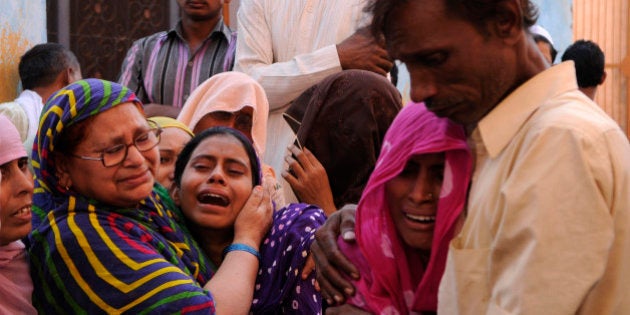 Mohan Bhagwat has spoken. While there has been a barrage of accusations and statements over the Dadri lynching incident, Bhagwat had till now remained silent on the raging Hindutva debate over a befitting answer to cow slaughter. Like Prime Minister Modi, he seems to have taken his own sweet time to respond to the issue and in an indirect reference, said that 'small episodes' can't damage Hindu culture.
He went on to explain, "Small episodes happen. They get exaggerated and presented in a big way... Small incidents keep happening but these cannot distort Indian culture, Hindu culture. Since time immemorial, it respects diversity, coordinates among diversities to establish unity... This is Hindutva."
Though he didn't make a direct reference to the incident of lynching and various attacks on alleged 'cow murderers', it is obvious that his comment refers to the present climate of unrest in the country.
He proceeded to laud Prime Minister Modi for ushering in hope in the country. He said: "There was an environment of disappointment two years ago, but now there is an atmosphere of hope and enthusiasm."
Prime Minister Modi returned the favour by congratulating the RSS on Twitter for its 'service to the nation. He said:
My greetings to all Swayamsevaks as the RSS completes 90 years in service of the Nation.

— Narendra Modi (@narendramodi) October 22, 2015
Bhagwat's dismissive stance on the growing Hindutva intolerance is hardly surprising. After all, the RSS has gone out on a limb to justify violent retributive action against cow slaughter.
Most recently, a weekly magazine published by the RSS wrote an article accusing the media of exxagerating the implications of the Dadri lynching incident. It said: "Every murder is unfortunate, and cruel... and calls for strict action by law enforcing agencies. But what is different about Dadri's case is that here a murder is being used by the media and self-proclaimed seculars and liberals as an opportunity to put the beliefs of Hinduism in dock."
Prior to that, RSS mouthpiece Panchjanya carried an article defending the Dadri murder and saying that the Vedas suggest the killing of a man accused of cow slaughter. It first said that Akhlaq possibly slaughtered a cow 'under influence of such bad deeds'. What are the said bad deeds? The article alleges that madrasas teach Muslims to disrespect Hindu traditions, and that's how Akhlaq came to slaughter a cow.
Writer Tufai Chaturvedi added in the article, "Veda ka adesh hai ki gau hatya karne wale pataki ke pran le lo. Hum mein se bahuton ke liye to yah jivan-maran ka prashn hai (Vedas order killing of the sinner who kills a cow. It is a matter of life and death for many of us)."
It further described the incident as a 'natural reaction' to cow slaughter.
And much before that RSS idealogue Tarun Vijay wrote in The Indian Express: "Lynching a person merely on suspicion is absolutely wrong, the antithesis of all that India stands for and all that Hinduism preaches."
The Hindu right wing's reaction to the Dadri incident has ranged from disturbing to outright appalling, Though RSS general secretary Bhaiyaji Joshi condemned the incident saying the RSS doesn't support such digressions of justice, most of its reactions came with a caveat: one should also not support cow slaughter.