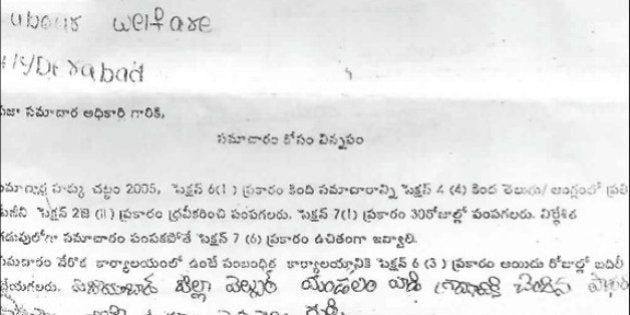 NEW DELHI -- Adarsh Housing Society, Commonwealth Games, and 2G are just a few of the scams and scandals that spring to mind when musing about the impact of the The Right To Information Act, over the past ten year.
And while the RTI, which came into force on October 12, 2005, has exposed the rot and corruption of the country's institutions and leaders, it has also played a huge role in improving the daily lives of people by making government accessible and accountable.
The sweep of questions and concerns covered in tens of millions of RTI applications is impossible to catalogue, but whether it is seeking entitlements, exposing hoarding at local ration shops, or getting a village road constructed, these queries and complaints are all guided by the principle of standing up and being counted.
On its 10 anniversary, here are five RTI stories that made an impact.
Soon after the Act came into force, parents in Panchampur village in the district of Banda, Uttar Pradesh, used it to track their local school teacher, who rarely made an appearance in the classroom.
After learning from RTI activists that they could seek attendance and leave records of the government school teacher, 15 villagers filed an application asking about his whereabouts, and also questioned the responsibility of the Primary Education Department in such a situation.
Immediate action was taken: a new school teacher was appointed to the village school, and an enquiry was ordered against the absconder.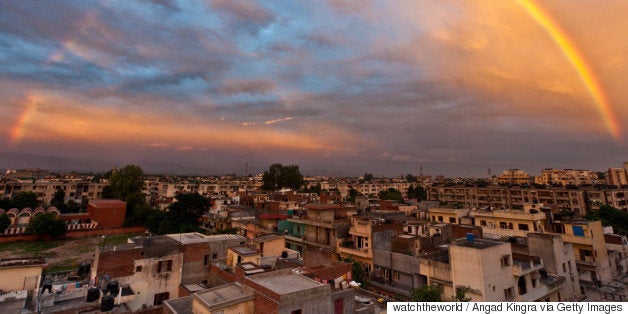 Chandigarh--Smoke Free City
In 2007, Chandigarh became the first smoke free city in India, which meant banning smoke in indoor spaces as well as prohibiting it in outdoor public places likes parks and markets.
But Hemant Ghosh didn't expect his RTI applications to lead to such a landmark decision, which would influence other cities to enforce smoke-free laws in the years to come. His work is widely regarded as the trigger for the campaign to create awareness about the hazards of smoking, involving public service messages on television and cinemas, which has grown over the years.
Soon after the Act came into force, Ghosh inundated the governments of Punjab and Haryana with over 300 queries on how The 2003 Cigarettes and Other Tobacco Products Act (COTPA),which sets out provisions to address smoking in public places, was being implemented in their shared capital.
In 2007, 1,800 "warning boards" appeared in all government departments, police stations, hospitals and schools.
Ghosh, who heads a Chandigarh-based NGO called Burning Brain Society, said that he was only trying to hold the government accountable. "What has been most satisfying is to see this replicated across the country," he said.
Almost ten years on, however, another RTI application filed by Gaurav Bansal, a 21-year-old resident of Chandigarh, revealed that only fined 78 people were fined for smoking in public in 2013, which included 61 people in just the one area of sector 19.
"Despite the claims of the administration to make the city a smoke-free one, only 78 persons were challaned(fined) in an entire year," he said.
In 2010, K.S. Sagaria smelt a rat when the paperwork showed that seven ponds had been constructed for below poverty lines families in Kushmal village of Orissa, but no one in the village could spot them.
So he filed an RTI application which revealed that the ponds were never dug, the "labourers" who worked to "construct" the ponds included dead people.
Following complaints, the administration suspended the officials involved in the subterfuge, and the project was renewed, but this time, the villagers vowed to keep a check on its progress.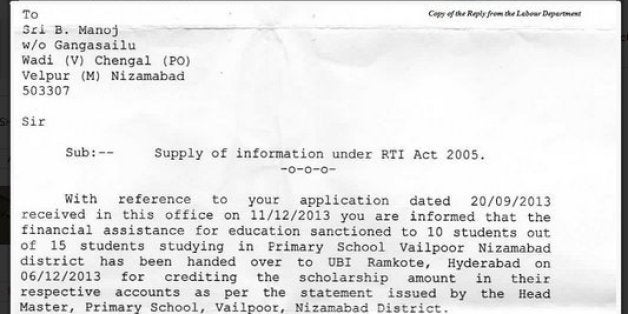 Scholarships For Students
While several of his classmates and their parents were fretting when they didn't receive their scholarships for the academic year of 2011-2012, nine-year-old Manoj, a student at the government primary school in Vailpoor, Nizamabad district of Telangana, filed an application.
In his application directed at the Labour Welfare Department, the class 4 student asked why the money had not reached the students, and by when they could expect their scholarships.
Manoj's RTI application secured scholarships for 10 students, who are the children of beedi workers.
When students of Gulrahai Primary School in Allahabad did not receive their school uniforms in December 2006, nine parents filed an RTI application questioning the administration about the missing uniforms, which led to school dresses being delivered in the first week of January, 2007.
Parents of a government school in Chitrakoot, Uttar Pradesh, also procured school uniforms by filing an RTI application.