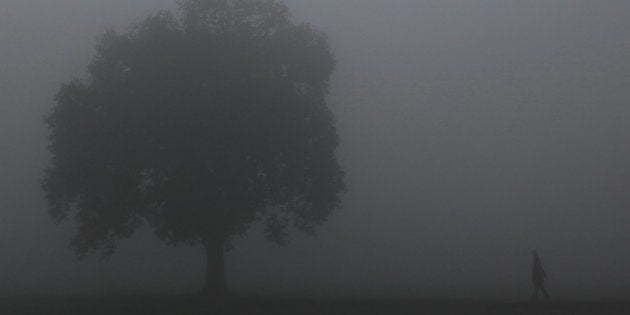 JALANDHAR, Punjab—Each year, the air quality in rural India deteriorates after paddy is harvested. While Delhi's Chief Minister Arvind Kejriwal is at loggerheads with the Punjab Chief minister Captain Amarinder Singh and also with Haryana as stubble burning in those states contributes to Delhi's air pollution woes, the fact is that we don't have any way of tracking the pollution in villages, and don't know how bad the crisis is, outside of the bigger cities.
The Central Pollution Control Board (CPCB) does not have any mechanism to record the AQI in villages as it believes that pollution is rural areas is not 'significant' enough to be monitored on daily basis.
"Pollution in urban areas is much serious and alarming as compared to rural areas due to high population density and also the nature of pollutants. However in villages, it is still a periodical concern only that mostly happens during harvesting season," said Dr Prashant Gargava, Member Secretary, CPCB.
To record the national Air Quality Index, CPCB records data from air monitoring stations installed in 307 cities, and it doesn't have any single monitoring mechanism in rural areas, even in Punjab, Haryana, and Rajasthan, where stubble burning is done for at least two to three months every year.
Even brick kilns and rapid urbanisation of rural areas in the last few years also failed to draw attention of the CPCB authorities towards the pollution levels soaring high in rural India.
At present, except Punjab which has High Volume Samples (HVS) machines to be used manually, and no other state has got any mechanism so far to check air pollution in rural areas. However, even those need . to be upgraded as per the parameters of the national air quality index.
Also while the last few weeks saw many villages of Punjab and Haryana remained engulfed in thick smog, an activity also experienced by lakhs of commuters driving on the national highway 1A connecting Delhi—Amritsar, CPCB data claims that Air Quality Index (AQI) in Punjab has 'greatly' improved since the last two years.
As per AQI recorded in all the six air monitoring stations in Punjab on November 6 at 7 am, the reports were found to be between 'good' and 'moderate'.
While the AQI in Ludhiana, the industrial capital of the state was recorded at 118 which was 'moderate'. In Amritsar, it was found to be 61. Bathinda and Jalandhar have AQI at 125 and 159, and the AQI in the top two industrial townships of Khanna and Mandi Gobindgarh was 146 and 127 at the time of writing. However, there's no clear data on how people suffer in rural areas.
How serious is the pollution problem in rural Punjab?
On October 28 this year, when Prime Minister Narendra Modi praised a Nabha based farmer Gurbachan Singh in Punjab for spreading awareness against stubble burning in his village Kalar Majri in Nabha tehsil of Patiala, it suddenly caught everyone's attention on social media.
The Prime Minister hailed Singh's decision to get his son only married in a family which does not indulge into the practice of stubble burning.
Majri was one of the village adopted by the Punjab government, where 21 farmers in a village with just 400 acres of land under paddy were waiting to get machinery and financial assistance as promised. Their counterparts in the neighbouring village of Sahauli, with at least 2,000 acres under paddy, have already set their fields on fire.
As per the Punjab Pollution Control Board (PPCB), over 15,000 incidents of stubble burning were reported in the current paddy season. On Nov 5, over 843 stubble burning incidents were reported on a single day.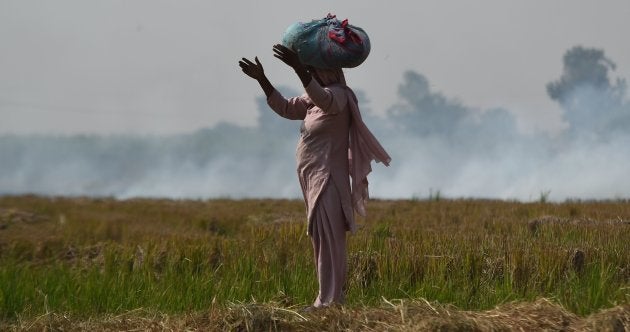 In all three paddy seasons between 2016 and 2018, Patiala and Tarn Taran, have had among the highest counts of stubble burning incidents. These are down to 1,700 each during the 2018 season so far, from 2,400 (Patiala) and 2,100 (Tarn Taran) in the 2016 season at the same stage.
Firozpur, on the other hand, has witnessed a smaller decline. Its 1,866 incidents is the highest among all districts this year, and is only slightly lower than the 1,939 recorded up to this stage in 2016. Bathinda, which is among the districts cited as a concern by Kejriwal, is also among the six districts with 1,000 or more incidents each year.
Rural AQI machine outdated, claims PPCB
Dr. Krunesh Garg, member Secretary PPCB, informed HuffPost India that even though the state has over 50 HVS machines to check pollution level in villages, the technology is outdated.
"The HVS does not record PM 2.5 pollutant and only analyse PM 10 and SO2 emissions. Also they can only record data up to half a km," said Krunesh adding that the data is very time specific and cannot be considered as authenticate.
"Since they are used for local monitoring purposes, any fire incident in the area or harvesting of a crop can easily tampers the reading and hence cannot be considered as an authenticated parameter to check air pollution," said Krunesh.
Also, since the HVS operates manually, they first need to get transported to villages and after filing the report, it is sent to the central laboratory and it generally takes months to get them.
Taking yet another step to curb the stubble burning menace, Punjab government has also introduced penalty and a 'red marking' into the revenue records of the respective farmers.
While the government has imposed a fine of Rs 55 lakhs this season on the farmers who indulged in stubble burning, it could only collect Rs 12.5 lakhs till date due to immense political resistance by various parties.
Also, while the government has introduced a 'red marking into the revenue records of the farmers and claimed to have put in may records till date, it is still unclear of its repercussions.
"It may not have any repercussions at present but we may introduce some in near future," claimed Krunesh.
Stubble burning—a tough challenge for rural India
Rural India is already facing a challenge due to the burning of stubble in the state. Farmers have been setting their fields on fire following the harvest season. In October and November every year, nearly 19.7 million tonnes of paddy straw is burnt alone in Punjab.
Refuting the CPCB claim that the pollution is rural India is not serious, agriculture expert Devender Sharma said that pollution doesn't hop from city to city alone and passes through villages as well.
"The pollution coming from Punjab to Delhi and also vice versa also travels through the villages enroute. Rural India is facing the brunt both from inside and outside. Also, with rapid urbanisation of villages adjoining cities, the problem is of grave concern nowadays," claimed Sharma.
He also added that there is a dire need to mobilise people and children against stubble burning. Further, support from NGOs and NCC/NSS bodies should also be taken to mobilise volunteers to spread the message of celebrating a "green Diwali" this year.
Popular in the Community