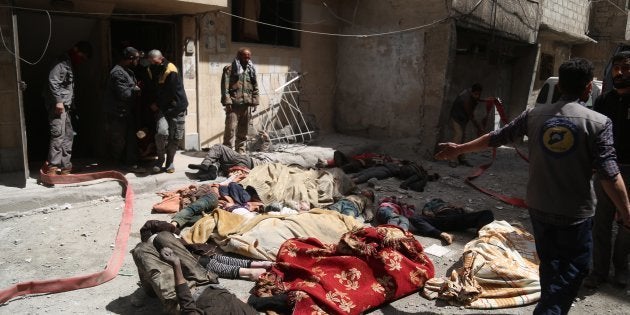 MOSCOW -- Russia dismissed reports of a deadly chemical weapons attack in Syria's Douma, Interfax news service reported on Sunday, citing Russia's Ministry of Defence.
At least 49 people have been reported killed in the attack on the rebel-held enclave of Douma on Saturday evening .
"We decidedly refute this information," Major-General Yuri Yevtushenko, head of the Russian peace and reconciliation center in Syria, was cited as saying.
"We hereby announce that we are ready to send Russian specialists in radiation, chemical and biological defense to collect information, as soon as Douma is freed from militants. This will confirm the trumped-up nature of these statements," Yevtushenko is quoted as saying.
Damascus has denied mounting any such attack and has blamed rebels for spreading false news.