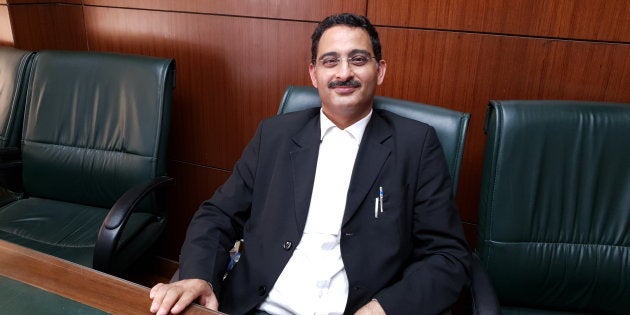 On 13 January 2016, a woman phoned Naushad Ahmad Khan in the morning, demanding to know why he had filed a petition against the ban on women entering Kerala's Sabarimala temple. She wouldn't say who she was or where she was calling from, but she was convinced that Khan had orchestrated the filing of the petition and that he was deliberately trying to hurt people's religious feelings. Khan tried to reason with her but she would have none of it. The call ended with the woman telling Khan that he didn't do the right thing.
Khan didn't worry too much about the conversation until a video clip from the same number arrived in his WhatsApp inbox. The seconds-long clip had his photo, phone number and location. "It ended with a message saying, 'this man is responsible for the Sabarimala case and we should teach him a lesson'," Khan told HuffPost India.
Khan was taken aback momentarily, but couldn't really understand what it meant. The petition in question had been filed in 2006 by the women's cell of his organisation Indian Young Lawyers' Association, who were being represented by advocate Ravi Prakash Gupta. Ten years later, the court had listed it for hearing the day before the woman called. Khan wasn't even present at the hearing.
A few minutes after the video clip landed, Khan's phone started ringing. He picked up the first call. It was a man, asking rudely why he had filed the petition and telling him what a big mistake he had made. "While I was speaking to the person, the phone started beeping for waiting calls," he said.
Khan's associate, who was present in his Delhi High Court chambers where HuffPost India met him on Friday, chipped in. "There were roughly ten calls waiting while he was speaking to one person."
That was the beginning of a saga of stalking, cyber-attacks and death threats that went on for two years, said Khan.
The calls didn't stop. "I couldn't look at the phone in anxiety, because almost every call was someone calling me to abuse me over the petition," Khan said.
THE PETITION
The Indian Young Lawyers' Association was set up in 2003, and initially comprised 26 lawyers from across the country. Khan is the president of the organisation.
In 2006, Bhakti Pasrija, the general secretary of the organisation and a Supreme Court lawyer, discussed the need to initiate a debate on the constitutionality of the Sabarimala diktat with other women in the organisation. Together, they moved court.
Pasrija told HuffPost India that she had been appalled by a news item doing the rounds of TV channels in 2006, claiming that Sabarimala priests 'purified' the temple and the sanctum sanctorum after Kannada actress Jayamala told the media that she had visited the temple with her husband in the past.
Are we dirty or is menstruation dirty that they had to purify the temple because a woman visited?
"Are we dirty or is menstruation dirty that they had to purify the temple because a woman visited? I felt degraded as a woman when I saw the news," Pasrija told HuffPost India.
After the women lawyers came to an agreement, they enlisted a lawyer and filed the petition. "Khan was informed and he respected our sentiments," she said.
Khan's organisation works for the welfare of lawyers and general public and often files public interest litigations on issues.
Pasrija said she also couldn't understand the hate being directed at Khan. "We filed the case 10 years back, everyone knew about it. What was going on?" she said.
DEATH THREATS AND MENTAL TORTURE
Khan, his peers, or colleagues couldn't fathom what was happening. Khan has lost count of the number of hate calls he has received over the past two years, but said that the last time he checked, months ago, he had received 1,500 calls from at least 500 different numbers. Some of those calls were made through proxy servers.
"I was getting calls from numbers registered all over the world, abusing me and threatening me," he told HuffPost India. A majority of them were death threats.
"Most of the calls I received from men and women threatened that I will meet my end, I will be killed because of the petition," he said. His phones wouldn't stop buzzing all day, despite filing a complaint with the Delhi Police and the Supreme Court having directed the police to provide him protection.
"I couldn't bear to even look at my phone. All night, all day, it kept buzzing. Sometimes, I opened the phone to messages which were simply clips of guns going off, men being shot and men who have been shot. Some messages said that this is what I will be facing," he recounts.
A few dozen messages also revealed the exact location of his house and threatened to blow it up.
A few dozen messages also revealed the exact location of his house and threatened to blow it up.
Some of the men who kept calling, Khan said, revealed their identities and challenged Khan to spar with them. Khan won't reveal who they were or if there were politicians, but he said a lot of "important people" called up to chastise him.
His email was hacked, his phone cloned and his social media accounts compromised. Soon, his friends pointed out posts with his picture and phone number that were making the rounds of Facebook, with hundreds of faceless handles sharing them.
"It didn't stop at that. When I was at work, at social events, at court, in my office, I would get messages informing me that I was being closely watched," he said. The messages would detail what he was wearing, who he was with and the exact location of the places he was at. "It was deeply unnerving, even though I was assured that maybe they won't be able to do much, considering police was protecting me," he added.
Besides messages, he also received emails and letters with threats.
Khan, however, doesn't say that he was victimised for being a Muslim man.
"I am a secular person and don't believe in these things. I have not faced racist attacks otherwise," he said, refusing to reveal if abuses were targeted at his identity.
THE ROAD AHEAD
Khan continues to receive police protection as well as threats even now, though the frequency has diminished. "One fine night, I will get a call from someone hoping I die soon. Just two days back, some people called me to say I'd face consequences," he said.
However, he isn't pressing charges yet. "I want to live in peace and have peace of mind. How many cases will I file?" he asked.
Both Pasrija and Khan hail the Supreme Court's decision. While Pasrija felt it is revolutionary, Khan said that it was important to respect Justice Indu Malhotra's dissenting opinion as well.
Popular in the Community