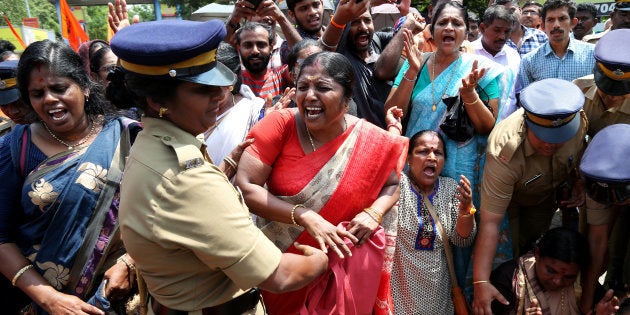 Three women journalists were attacked in Kerala's Pathanamthitta district on Wednesday as protesters continued to demand that women of menstruation age must not enter the Sabarimala temple.
Libi CS, a journalist who had announced some hours ago that she would trek up to Sabarimala along with a few others, was reportedly stopped at the Pathanamthitta bus stand after protesters read her Facebook post.
NDTV reported that protesters had surrounded her and threatened to burn the bus she came in if she was allowed to trek up from the base camp to the Sabarimala temple.
Hours before her trek, Libi had said on Facebook, "We will win, the police are with us, we will climb Sabarimala this afternoon."
Another journalist, The News Minute reporter Saritha S Balan, was surrounded by a mob of over 20 people while she was on a KSRTC bus to Sabarimala to report on the event.
A report on The News Minute said that one of the protesters kicked Balan in the spine, others called her derogatory names even as the police tried to take her out of the bus safely.
Balan, the report said, was currently at the police station, but The News Minute said the station was also surrounded by "goons claiming to be devotees".
A few minutes before the attack on Balan, Republic TV South bureau chief Pooja Prasanna and her crew were also attacked.
The news channel published a video showing a huge, angry mob that has surrounded the car Prasanna was in. They can be seen banging on the windshield and the windows of the car while chanting slogans about Ayyappan, the deity at Sabarimala.
At one point, a man is seen waving his finger at Prasanna and violently banging the window.
Another woman, Madhavi from Andhra Pradesh, who was trying to go to the temple with her family was forced to return.
Madhavi and her family claimed that the police asked them to proceed on their own to the temple.
The Kerala unit of the Shiv Sena had also threatened to commit mass suicide if women were allowed to step into the temple.
Peringammala Aji of Shiv Sena in Kerala had told ANI, "Our women activists will gather near the Pamba river on October 17 and 18 as part of a suicide group. When any young woman tries to enter Sabarimala, our activists will commit suicide."
The Sabarimala shrine will open for the first time on Wednesday evening after the Supreme Court verdict, which allowed women of all age groups to enter. The temple, which is open to men of all ages and religions, opens for devotees on the first five days of every Malayalam month, apart from the 41-day-long Mandala Kalam, beginning mid-November.
On Monday, people protesting against the verdict concluded their 'long march', which lasted days, in Trivandrum.
Kerala Chief Minister Pinarayi Vijayan had on Tuesday said that the state would ensure the safety of women who wanted to visit the Sabarimala temple.
Popular in the Community