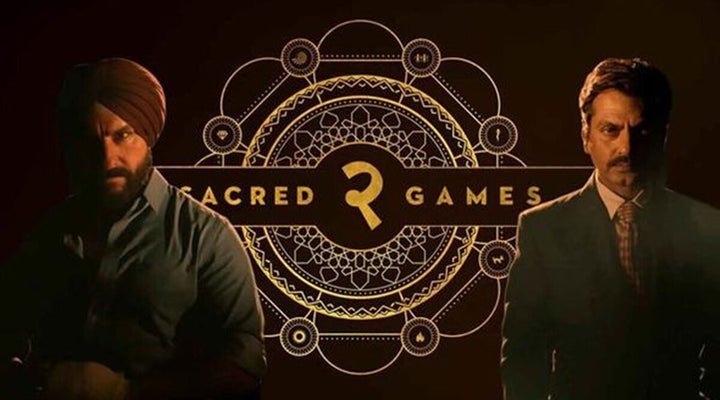 The show ends on a cliffhanger. Although Sartaj (Saif Ali Khan) and his team figure out the location of the bomb installed by Shahid Khan (Ranvir Shorey), it turns out that the bomb is already activated. To disable it, Sartaj needs to know the passcode. Instinctively, he puts in the passcode from his father Dilbag's page in Guruji's book, but we don't get to see what happens.
Now, in an interview with HuffPost India, Grover, lead writer of Sacred Games 2 (Dhruv Narang, Nihit Bhave and Pooja Tolani are the other writers), offered two possible theories about what happens in the end.
This is what Grover said:
1. Bombay is saved. Because Dilbag's pattern (which Sartaj applies) works. When Dilbag was putting his hands in Guruji's book, he was the only one who had a doubt about Guruji's plan of destruction. So if Guruji wanted to make his plan fail-safe, he'd the passcode (Which would disable the bomb) on the page that has Dilbag's handprints in his book. At that time, Guruji didn't know Dilbag will be killed by Batya and Malcolm—they do so to eliminate the very idea of fail-safe. But Sartaj cracks it.
2. Sartaj has gone too deep into the cult to actually save the world. He's a complete convert and believes in Guruji's cause. Which is why he says Aham Brahmasmi in the end. It ties into the theory of Balidaan (sacrifice). Guruji appointed Gaitonde (Nawazuddin Siddiqui) because he wanted to sacrifice Gaitonde with Bombay. When you go to a new yug, you've to sacrifice the thing dearest to you and for Guruji, it was Gaitonde. Now, Gaitonde killed himself. But by Sartaj converting to the cult, he's become the dearest to Batya (Kalki Koechlin), who's, in many ways, the new Guruji. So Batya tricks Sartaj into going towards the bomb, in an attempt to sacrifice him, along with the city.
(A longer interview with Varun Grover will be published soon)