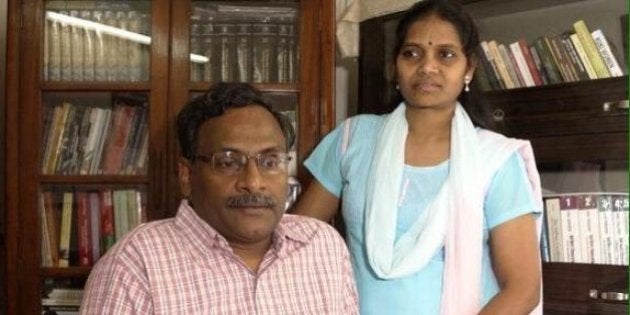 In a four-page handwritten letter to the principal judge of the Gadchiroli district and sessions court, imprisoned Delhi University Professor GN Saibaba has sought special medical treatment and dietary provisions on the ground that his health is deteriorating fast.
In the letter dated 5 January, and accessed by NDTV, the wheelchair-bound English professor who claims that he is 90 per cent disabled, wrote, "I have been suffering from multiple ailments of severe nature and have been taking regular treatment at the Indian Spinal Injuries Centre (ISIC), New Delhi, for my left shoulder, which was damaged seriously in prison."
Saibaba, who was on bail till 31 December 2015, has been accused of having Maoist links. He had surrendered before the Central Jail authorities as per the directive of the Nagpur Bench of Bombay High Court. When the trial started on 27 October 2015 in the Gadchiroli Sessions Court, all the co-accused got bail except Saibaba. On 23 December, the Bench had rejected his regular bail application and directed him to surrender within 48 hours.
"I need hot water to take bath and use it to control pain in my legs and back and damaged left hand. This was a facility which was extended to me earlier. Please continue with the same facility, without which I can't survive," wrote Saibaba, according to The Indian Express.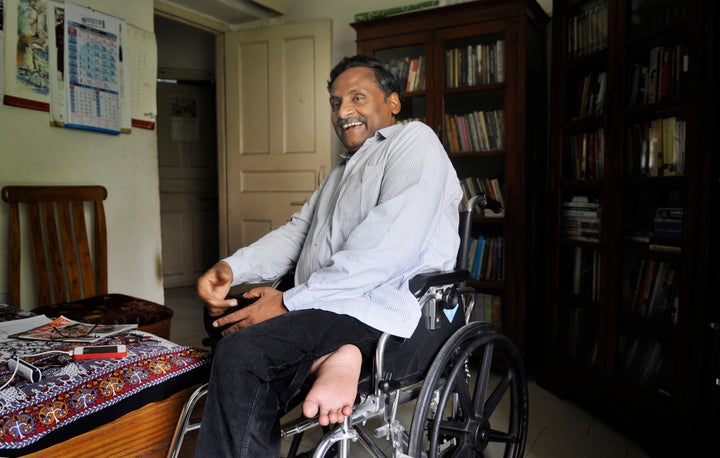 Saibaba had developed severe problems in multiple organs, such as his heart, spinal cord, kidney, liver and gall bladder during his year-long stay at the jail. His left arm, which was functional before he went to prison, became completely paralysed due to gradual muscle death, Saibaba's wife had claimed, according to a HuffPost India article. Since he couldn't use his legs, he is entirely dependent on his hands for his daily chores, she had added.
"I have been continuously undergoing physiotherapy, occupational therapy, hydrotherapy and electro-magnetic therapy involving various instruments and devices," Saibaba says in his letter. "My present incarceration has totally stopped this treatment, which is completely detrimental for my left hand. As I am 90% disabled owing to polio, both my legs don't function. As a result; neither can I stand nor walk and I have been confined totally to a wheelchair. If I don't get my damaged left hand treated, I will have to live with one hand, which will turn my life into an impossible task," reported NDTV.
Noted lawyer Prashant Bhushan has also called Saibaba's case a "worst human rights violation".
Bhushan, along with lawyer and human rights activist Kamini Jaiswal have offered to argue the professor's case.