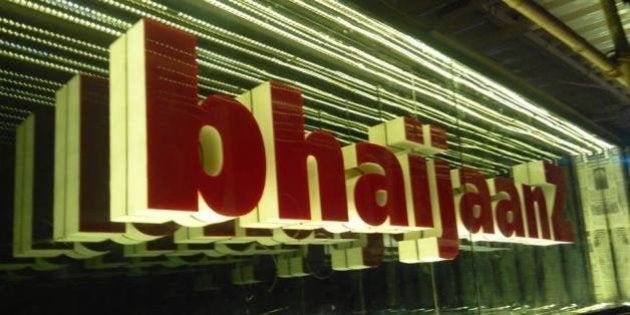 Movie stars being (literally) worshipped in India isn't really news. But some people don't just want to build temples. Some, like five die-hard Salman Khan fans from Mumbai, want to build a shrine that you can visit for dinner.
Rahul Kanal, Tabrez Shaikh, Sohail Siddique, Kursheed Khan, and Zafar Sayed Yusuf are five friends. They have the following three things in common:
1) They all live in Bandra, the suburb of Mumbai in which Sallu bhai (as his fans call him) stays.
2) They all attended St Stanislaus High School, which is the same school Bhai graduated from.
3) They're all die-hard fans of the superstar.
The five are the brains behind Bhaijaanz, a Salman-themed, 85-seater restaurant that has opened just off Carter Road in Bandra. Serving Indian, Continental, and Chinese cuisine (but no alcoholic beverages), the restaurant opened doors to the public on March 9.
Rahul Kanal, 28, told HuffPost India over a phone conversation that the entire plan for the restaurant was conceptualised and executed in less than a month. "The five of us were interested in starting a restaurant together and we had this space. On February 8, we were talking about the theme and decor of the place when it suddenly hit us that we should pay a tribute to Bhai," he says.
A lot of thought has gone into the planning of the restaurant, nevertheless (check out the pictures below), including a special comic book food menu that has a breakfast section named 'Anda Apna Apna' and a beverages section called 'Ek Garam Chai Ki Pyaali Ho'. They have three delivery bikes, all of whose numbers end with '2712' — alluding to the superstar's birth date. "We paid double the money to get those particular registration numbers," says Kanal. "But it was worth it." Also in the works — a life-size Salman figurine that will greet visitors at the entrance.
Kanal and his co-owners call themselves fans first and then restaurateurs. "Not only is Salman an amazing actor, but he is also one of the most generous people in the industry," says Kanal, who doesn't know the star personally, but has met him on a couple of occasions as a 'fan'. "His charity [Being Human] contributes nearly Rs 7 lakh per day to Holy Family Hospital, where I have volunteered for many years, as well as other institutions around Bandra. But he never speaks about all of this to the press."
Has Salman visited the restaurant yet? "No, but I have tweeted to him. It would be an honour if he actually showed up," says Kanal.
Check out the slideshow below for pictures of the restaurant.