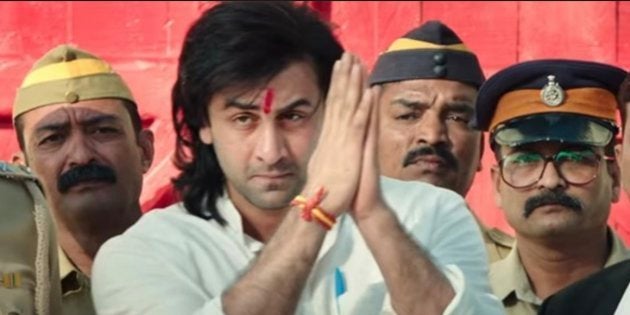 Rajkumar Hirani's biopic on his close friend and frequent collaborator Sanjay Dutt releases in theatres worldwide today.
Starring Ranbir Kapoor in the titular role, the film features an ensemble that includes Manisha Koirala, Dia Mirza, Paresh Rawal, Sonam Kapoor, Anushka Sharma, and Vicky Kaushal, all of whom are playing various characters loosely-based on real-life people from Dutt's controversial life.
Here's what the critics are saying about the film:
Saibal Chatterjee of NDTV gave the film 4 stars out of 5, saying, "The director is on the top of his game and the actor soars to dizzying heights. Sanju, as a result, is an entertainer that delivers more than just the superficial goods one expects from a mass entertainer. It sets a new benchmark for Bollywood biopics. It will be a hard act to follow."
Rachit Gupta of Filmfare said, "Like all of Rajkumar Hirani's films, Sanju is detailed, well-written and has plenty of memorable moments. The father-son saga, the many references to old Hindi film music and lyricists is fantastic. With Sanjay Dutt's biopic, Hirani has been able to put his personal friendship aside and present an engaging story with the kind of finesse it needs."
A review on Firstpost said, "Sanju is an entertaining film, and has all the elements of a blockbuster — but one wishes the honesty and nuance went beyond just the performances."
However, Anna Vetticad, veteran film journalist, criticised the film for its 'startling dishonesty'. She wrote, "The object of the film is two-fold: to project Dutt as a misguided but well-intentioned man and all-round nice guy, and to scapegoat others for his failings. So yes, he was not committed to his work, but c'mon, what is bechara Baba to do when he is under so much strain to match his father's greatness?"
Rajeev Masand pointed out the same. He wrote, "What's a little troubling, however, are the excuses made for Dutt's failures and misdeeds. Sure he's alternately portrayed as selfish, insensitive, self-destructive, and entitled at various points in the film, but it's all part of a larger narrative in which Dutt is always the victim." He gave it 3.5 stars.
A 2.5-star review on Hindustan Timessaid, "Hirani mostly focuses on the events of Dutt's life, beginning with his well-chronicled struggle with drugs. The director's usual humorous style is evident from the first scene, and Ranbir Kapoor is probably his only tool to infuse intensity into Sanju."
A review on the trade website Koimoi.com said, "All said and done, Sanju entertains, surprises & blows your mind. Ranbir Kapoor stays in the zone & rules it. Vicky Kaushal is going to fly high after this one. Rajkumar Hirani achieves the excellence 5th time in a row!"
(This story will be updated as more reviews trickle in)
Popular in the Community