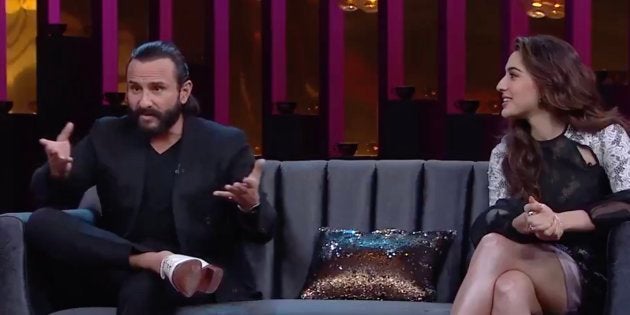 If there's one actor in Bollywood who's irreverent and politically incorrect with his humour, it's Saif Ali Khan.
The actor, who's a regular feature on Karan Johar's popular chat show, Star World's Koffee with Karan, appears in an upcoming episode with daughter Sara Ali Khan.
In a teaser of the episode, Johar is seen asking Saif about how his wife, Kareena Kapoor, has made the 'gym look' quite popular.
To this, Khan replies, saying, "And I get a close up look at it in the bedroom before the departure," much to the awkwardness of Sara, who covers her ears up, in a bid to avoid more salacious details about her father and stepmother.
But KJo, being KJo, asks Khan, "Do you check her out before she goes?"
"Yes, of course, coming and going," Saif replies, as the intended pun makes Johar almost spill his coffee out.
In the episode, Johar also asked Sara who she'd like to marry or date to which the Kedarnath actress said that she'd like to marry Ranbir Kapoor but would date Kartik Aryan.