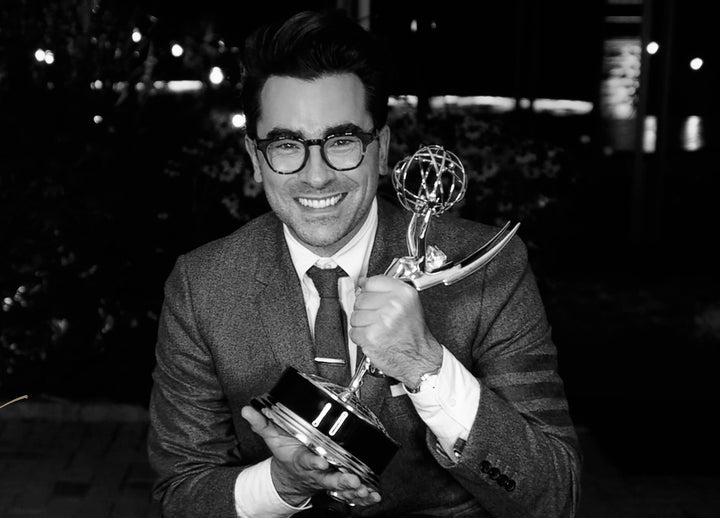 Dan Levy, writer and creator of the Emmy award-winning show Schitt's Creek, called out Comedy Central India on Wednesday night for cutting out a kiss from his show.
Levy was commenting on a clip tweeted out by the Indian channel as promo for season 5.
The scene, which shows characters from the show play 'spin the bottle' at aparty, includes same sex kisses.
Levy noted that the Comedy Central cut out the kiss between two male characters while keeping the other two which involved kisses between a man and a woman, and a woman and another woman.
"This is a show about the power of inclusivity. The censorship of gay intimacy is making a harmful statement against that message," he wrote.
By now, censorship in media is par for course for Indian viewers, both in our movies and on our television screens.
It's not new to Comedy Central India either.
Early this year, the channel's Facebook page had posted a clip from The Daily Show with Trevor Noah which cut out the host's comments on Trump's fondness for beef and the possibility of having to skip eating it during his India visit.
A Comedy Central International representative told HuffPost US's Curtis M Wong that the scene had aired in its entirety when the "Housewarming" episode was broadcast. The kiss between the two men had to be edited for the promotional segment, however, as it was more sensual compared to the fleeting nature of the other two.
"A lingering, close up and passionate kiss shown during child viewing hours on channels in India may lead to content related issues regardless of whether the kiss was between a man and a woman, a woman and a woman or between man and man," the rep said, adding, "Comedy Central India supports and celebrates inclusivity and the LGBTQ+ community."
On Tuesday, Levy's comment had prompted many to call on the channel to stop censoring the Schitt's Creek kiss.
(This story has been updated with comments from Comedy Central International.)
Popular in the Community