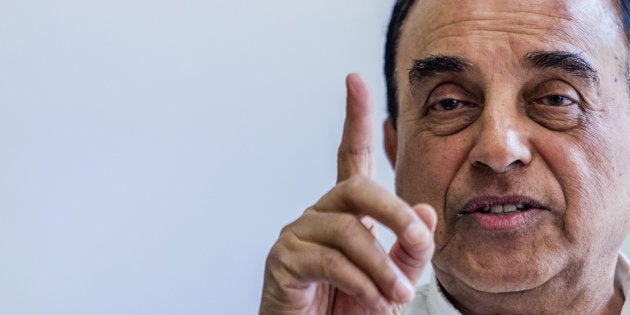 Shortly after the Supreme Court legalized gay sex in a historic verdict today, Bharatiya Janata Party (BJP) leader and Rajya Sabha lawmaker Subramanian Swamy said the judgment could be overturned by a seven judge bench.
Speaking with News 18, Swamy said decriminalizing gay sex would lead to a rise in sexually transmitted diseases.
The BJP leader described homosexuality as a "genetic disorder." "This verdict could give rise to other issues such as increase in the number of HIV cases, gay bars, etc," he said.
Earlier this year, Swamy said homosexuality is a danger to national security. Following the verdict today, he said, "The Supreme Court refused to strike down that part of Section 377 IPC which made sex with animals a crime. Does this interfere with fundamental rights too?"
The BJP, so far, has said nothing about the historic verdict.
Meanwhile, the Rashtriya Swayamsevak Sangh (RSS), the ideological parent of the ruling BJP has said it agrees with the historic Supreme Court verdict on Section 377.
In a statement to the media, the Sangh said, "Like Supreme Court,we also do not consider this to be a crime. The same sex marriages are not compatible with norms of the Nature, so we do not support such relations. Bharatiya society also doesn't have the tradition to recognize such relations. Human beings generally learn from experiences, that is why this issue needs to be taken care of at the social and psychological level."