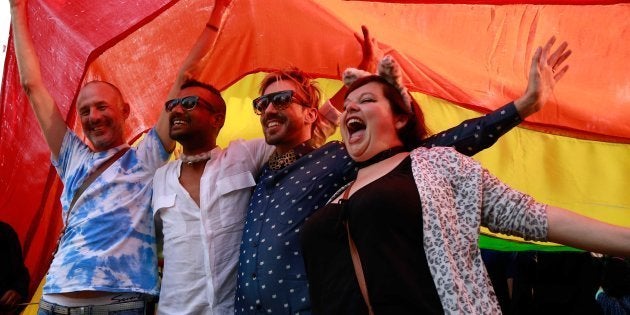 NEW DELHI -- The Supreme Court on Thursday read down the archaic Section 377 of the India Penal Code, in a relief to millions of people across India.
The top court, while pronouncing the verdict on a batch of petitions it was hearing, said, "Homosexuality is not an offence".
"Sexual orientation is one of many biological phenomenon. It is natural and no discrimination can exist. Any violation is against freedom of speech and expression," the court said.
The court said, "Section 377 so far as it criminalizes same sex or heterosexual relationships is violative of the Constitution. Bestiality remains unconstitutional."
Reading out the judgement, CJI Dipak Misra said:
Speaking of morality, the court said:
The apex court on 17 July had reserved its verdict on whether to decriminalise the law which says that "whoever voluntarily has carnal intercourse against the order of nature with any man, woman or animal shall be punished with imprisonment for life, or with imprisonment of either description for a term which may extend to ten years, and shall also be liable to fine".
A five-judge bench comprising Chief Justice of India Dipak Misra and justices Rohinton F Nariman, AM Khanwilkar, DY Chandrachud and Indu Malhotra had heard the case.
This was after the centre had told the Supreme Court that it would not take a stand on the issue but would, instead, leave it to the "wisdom" of the top court of the country.
Additional solicitor general Tushar Mehta, appearing for the central government, had told the court, "Let court decide, leave decision to wisdom of court."
"I state and submit that so far as the constitutional validity of Section 377 to the extent it applies to "consensual acts of adults in private" is concerned, the Union of India would leave the said question to the wisdom of this Hon'ble Court," the centre's affidavit had said.
Initially, the bench debated whether it should look at larger questions beyond sexual orientation but CJI Misra finally observed that the issue of the section's constitutionality should be settled first.
The Supreme Court had observed in July, "The question here is whether section 377 is ultra vires or not. Let us get out of this maze. We cannot now give an advance ruling on questions like inheritance to (same sex) live-in partners, whether they can marry, etc. Those are individual issues we cannot pre-judge now."
In 2009, the Delhi high court had read down the section, calling it a "violation of fundamental rights". But that verdict was controversially overturned by the Supreme Court in 2013.