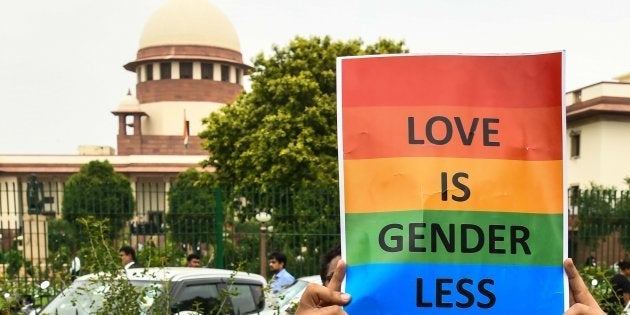 Even as celebrations continue after the Supreme Court partially struck down Section 377 of the Indian Penal Code on Thursday, what must not be forgotten is that the elected Narendra Modi government had refused to take a stand on the issue.
In July, the government had told the Supreme Court that it would not oppose the petitions that were seeking to decriminalise homosexuality and that it would leave it to the "wisdom" of the court.
This is something that the Supreme Court did not fail to note.
Here's what Justice DY Chandrachud, who was a part of the five-judge bench, said in his order:
The challenge to the constitutional validity of Section 377 must squarely be addressed in this proceeding. That is plainly the duty of the Court. Constitutional issues are not decided on concession. The statement of the Union government does not concede to the contention of the petitioners that the statutory provision is invalid. Even if a concession were to be made, that would not conclude the matter for this Court. All that the stand of the government indicates is that it is to the 'wisdom' of this Court that the matter is left. In reflecting upon this appeal to our wisdom, it is just as well that we as judges remind ourselves of a truth which can unwittingly be forgotten: flattery is a graveyard for the gullible.
Chief Justice Dipak Misra also pointed out that the court would have "appreciated a categorical statement of position by the government".
After the hearing commenced, the Additional Solicitor General tendered an affidavit. The Union government states that it leaves a decision on the validity of Section 377 'to the wisdom of this Court'. Implicit in this is that the government has no view of its own on the subject and rests content to abide by the decision of this Court. During the parleys in Court, the ASG however submitted that the court should confine itself to the reference by ruling upon the correctness of Suresh Kumar Koushal v. Naz Foundation3 ("Koushal").

We would have appreciated a categorical statement of position by the government, setting out its views on the validity of Section 377 and on the correctness of Koushal. The ambivalence of the government does not obviate the necessity for a judgment on the issues raised.
Popular in the Community