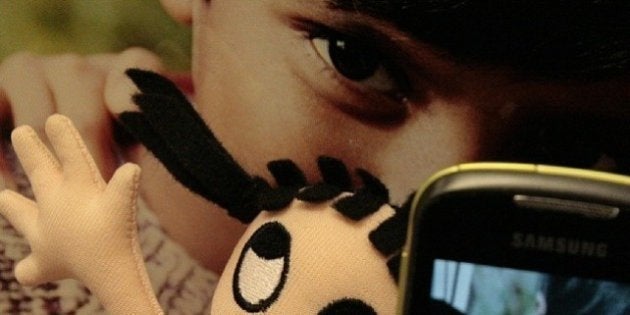 ift.tt/1vrbLy7" data-caption="via Instagram ift.tt/1vrbLy7" data-credit="Global Humanitaria/Flickr">
JIND — A village head in Haryana, a state with one of the worst sex ratios in India, has thought up a brilliant scheme to involve commmunity members in a campaign to raise awareness about selective abortion and welfare of the girl child. The village panchayat leader in Jind observed that very few houses in the state have family photos with daughters in them.
He announced a WhatsApp 'Selfie With Daughter' contest with the promise of a cash reward and a certificate to the parents.
As part of the Bibipur village panchayat's contest, parents from across the state are required to take selfies with their daughters and send them to village sarpanch Sunil Jaglan through WhatsApp, reported PTI.
A group of 30 women council leaders will judge the selfies and the best three would be awarded with trophies, certificates and a Rs 2100 cash prize on June 19.
"I have received over 100 selfies with daughters from across the state in last three days," Jaglan was quoted as saying.
"Usually we don't see many pictures of daughters in people's house. The objective of the contest is to increase importance of daughters in their homes. Clicking selfies is the latest craze, so we decided to hold this contest to encourage parents to take pictures with their daughters," he said.
Haryana is among the bottom five states in terms of sex ratio. India's child sex ratio dropped from 964 in 1971 to a low of 918 in 2011, according to U.N. data. Between 2001 and 2011, the decline was seen in more than two-thirds of the districts in the nation.
The Bibipur panchayat is known for taking progressive stands in the past.
The Indian Express reported that it was in Bibipur that the first women-driven khap panchayat decided to charge with murder those found killing female foetuses, a common practice in some states in India where birth of a girl child is met with despair.
In fact the report stated that a board at the entrance of the village declared Bibipur as 'The Women's World'.
In January this year, Prime Minister Narendra Modi launched a campaign to address the problem the United Nations has said amounts to a national emergency.
"In our neighborhood, girls are commonly killed in their mothers' wombs and we don't feel the pain," Modi said in a speech in Haryana. "We don't have a right to kill our daughters," he said.
Selective abortion is banned in India.
The 'Beti Bachao Beti Padhao' (Save the Daughter, Teach the Daughter) campaign is aimed at improving India's child sex ratio.
(With inputs from Reuters and PTI)