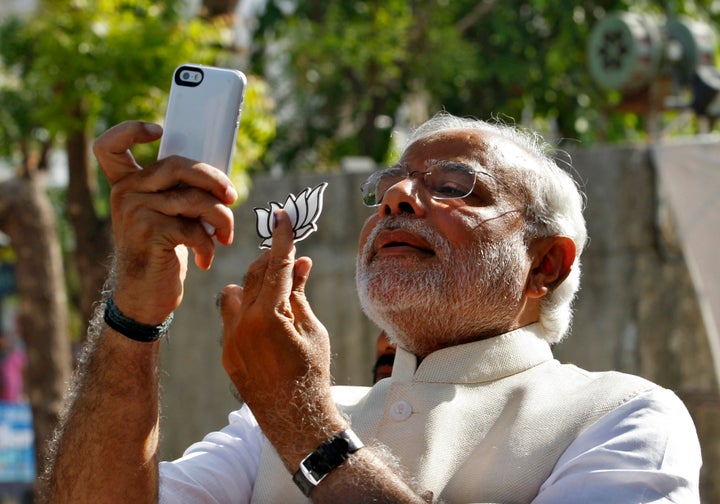 NEW DELHI—On the eve of World Environment Day, the Narendra Modi government has launched a new campaign that indicates that even in its second term, it will continue to choose the optics of environment conservation over implementing any substantial policy measure.
On Tuesday, in his first media interaction after taking charge of the ministry, environment minister Prakash Javadekar said the government wants citizens to plant saplings, click selfies with them and post them on social media.
"We have launched a programme where we appeal to the people to plant the sapling and have selfie with that plant. And that should be sent to #SelfieWithSapling. That will be a great participation because the Modi government believes environment is not only a government programme, environment protection is a people's programme. And in every program we are ensuring people's participation. To that end, this will be a great beginning," he said in New Delhi, adding that planting saplings will help create carbon sink, which will help remove carbon dioxide from the atmosphere.
Cricketing legend Kapil Dev and actor Jackie Shroff will officially launch the programme on Wednesday by planting a sapling, Javadekar added.
This is not the first time the Modi government has turned to selfies to fix systemic issues. In 2015, the prime minister announced a #SelfieWithDaughter campaign to celebrate girl children as part of the Beti Bachao, Beti Padhao campaign. That was inspired by a sarpanch in a Haryana village. This time too, the idea isn't new. Many people across the country have implemented similar campaigns at the local level in the past.
It's unclear how the government plans to solve India's pollution, deforestation and conservation crises through selfies.
The dilutions to critical environmental laws and procedures were so regressive that they repeatedly invited the ire of institutions like parliamentary committees, the green tribunal and courts. In interactions with the media at Javadekar's press conference on Tuesday, ministry officials confirmed that all the dilutions to critical environmental laws and procedures that had been implemented were still being pursued by the ministry. HuffPost India has reported about the efforts to weaken environmental laws, their impact on air and water pollution and the environment ministry's persistent attempts, at the behest of the Prime Minister's Office, to carry these through.
The irony was not lost on anyone when Javadekar said the Modi government is taking the crisis of air pollution seriously, especially given that the United Nations has made it this year's theme.
"For air pollution, we have already launched the clean air mission. And for that also, planting saplings and growing trees is very important," he said.