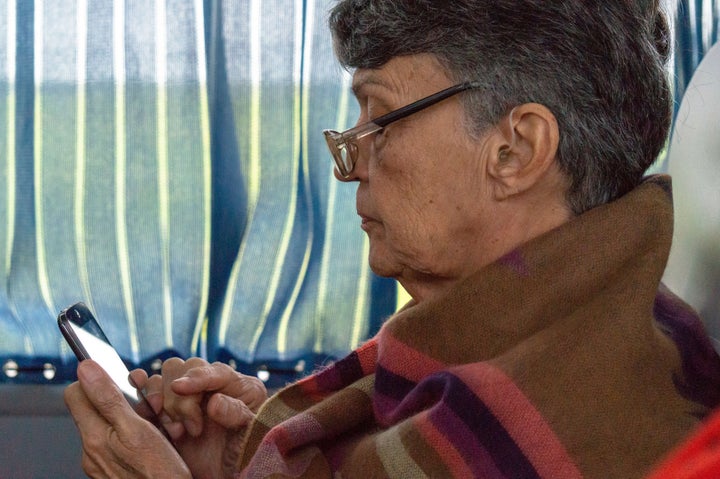 What do you get when you cross an 80-year-old, some high-speed Internet and a smartphone?
"Sanskrit classes," one great grandmother said, over the groans of her grandchildren who also act as her IT support providers (if they can't run away first).
"Music. Music so easy to find," said K. Ramaseshadri, a delighted 90-year-old. A few minutes ago, he had just been yelling 'Ok Google. Play M S Subbulakshmi at UN Conference,' and been thrilled at the results. It had played like magic.
"It is amazing to have access to so much; we grew up with not even a fraction of this," said 60-year-old Kamala Srinivasan, who has hooked up both her octogenarian parents with smartphones and good Internet. "It's a good investment."
The tradition of generations of an Indian family living together in a 'joint family' is on its way out now, and many old people are left on their own. The negative consequences of this are quite clear.
One in every two of the elderly suffer from loneliness, said the Agewell Foundation's 2017-18 Annual Report. Multiple studies have shown that increased loneliness leads to depression and anxiety. In India, the onset of dementia begins at the age of 60, a whole ten years ahead of the age mark in developed countries. The problem with mental health issues here, especially when it comes to older people, is that these are simply not recognized, or worse, ignored.
People who live away from their ageing parents also often face anxiety and guilt about this, leading to more stress in an already hectic life.
That is, in fact, the case with Ruhi Delvi, a Bengaluru based architect whose 75 year old father lives alone with his 84 year old brother across the city. Ruhi admits that she is constantly worried and an everyday commute to them is impossible. In a bid to feel more connected, and less anxious, Delvi did the only thing she could think of — get her father a smartphone.
Where technology comes in
According to an intervention study in 2017, older adults who were trained to use a computer or a tablet showed an improvement in many cognitive capabilities, particularly better processing speed and episodic memory. Using a computer, which is a bit more difficult than using a smartphone, meant better coordination between the brain and the senses. In another cohort study that followed a community of men for 8.5 years, it was found that the risk of dementia decreased with increased computer use. In fact, it has been found that people who are already on the path to dementia generally resist adoption of technology more than their comparatively brain-healthy counterparts.
"I have always found it difficult to leave my house to visit my friends. I have a troublesome knee, and I cannot leave my husband at home without a caretaker," said a 72-year-old based in Bengaluru, who didn't want to be named. "WhatsApp helps me feel less cut off from the world. I even get to see my grandkids everyday"
"The Internet has provided a platform seniors to showcase carefully collected nuggets of knowledge; knowledge that might be incomprehensible or uninteresting to their immediate families."
That is perhaps the biggest boon to this generation - the massive improvement in the quantity and quality of communication.
The millennials of today are more than aware of this.
"We have successfully managed to uproot our parents from their social circle and shrink their world. Given that I have moved countries and taken my parents with me, the smartphone is the only way for them to be connected to their siblings and friends," said Nazreen Mohamed, a Digital Transformation Manager in a leading bank in Dubai.
Learning new things also helps with confidence
Ageing women have always been more prone to isolation, sometimes due to physical limitations, sometimes because of lack of access to facilities.
One eighty year old woman, who wanted to remain unnamed, recalled how she was made to discontinue school because she was a girl.
"My mother unsuccessfully fought for me but later, arranged for clandestine Sanskrit classes from a visiting tutor."
At this age now, her daughter — who herself is 60 — has helped her join a Sanskrit class again.
"She books an auto-rickshaw for us with Ola. There is a WhatsApp group with all my classmates, where we try to speak in Sanskrit and have lots of fun. We even study together using YouTube videos."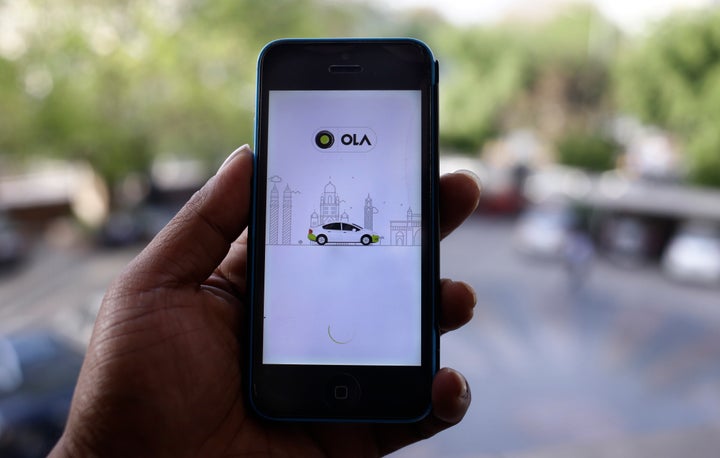 Her daughter, for her part, had noticed her mother's cognitive decline and gradual withdrawal from her surroundings. When her mother refused to acknowledge the situation and wouldn't take her prescribed meds, she realised the need for intervention.
"It isn't the cure to her problem, but she has shown some improvement," she sighs.
There is a sense of independence, from being able to pay bills online and hail cabs that show up at the doorstep. This increases self-confidence — quite important for mental health.
R Krishnan, a retiree, has managed to form a community of virtual colleagues. His social media of preference? LinkedIn. There, he meets new people, talks about his areas of expertise from work and reads up on those topics. His interactions aren't limited to that, though. He also now has the time to delve into those areas of passion he had to forego to life, like science and astronomy. Chithra Viswanathan, at 73 years, is a mild celebrity of sorts, with her recipes being a big hit on a popular online community for Indian women.
The Internet has provided them with a platform to showcase their carefully collected nuggets of knowledge; knowledge that might be incomprehensible or uninteresting to their immediate families.
Potential benefits outweigh the risk of harm
"It is important to note that smartphones cause the same kind of harm to the elderly as with young adults," said Dr Priya Raghavan, a seasoned geriatric counsellor who runs the Healthy Mind Clinic. "Using the phone to alleviate depression symptoms will only cause further isolation"
In addition to acting as an escape, addiction may cause a slip into a sedentary lifestyle. This only increases the predisposition to dementia and Alzheimer's. There is also the problem of fake news and online frauds; it is important to extract these from legitimate information and contacts.
"If you do come across a WhatsApp forward about reducing insulin levels, please don't follow it blindly. It makes sense to note it down and ask your doctor when you meet them," continued Raghavan.
"For some elders, learning new tech without proper mentoring may be a task that goes beyond this stress level. It only increases mental pressure — there is no gratification to the process. So, it is essential to facilitate their learning."
"But the benefits of a smartphone are just too many to simply ignore," she added. "What is amazing is that as fast as technology moves, the young seniors — the ones in their sixties and seventies — are motivated enough to keep up. They seem to be reaping these benefits the most."
To put this into perspective, we created a small survey about smartphone usage, and shared it on two WhatsApp groups. The groups themselves had only a few senior citizens, but even so, within the next two hours, 36 people above sixty years of age had filled it up. They had all reached out to their peers and made themselves heard. The interesting outcomes of this tiny experiment — 70% of them agreed that it helps battle loneliness, and yet only 32% of them wanted to learn how to use their phones effectively.
"There is an optimal stress that comes with learning new things," said Monisha Lakshminarayanan, a psychologist with the Dementia Care team in SCARF. "This optimal stress allows you to push yourself beyond your current abilities. For some elders, learning new tech without proper mentoring may be a task that goes beyond this stress level. It only increases mental pressure — there is no gratification to the process. So, it is essential to facilitate their learning."
Both Raghavan and Lakshminarayanan agree that a robust support system needs to be in place.
"My dad, a retired DGM of BEL who designed radar components, found the smartphone perplexing. But I doggedly helped him figure it out, and sure enough, he now uses it for everything from paying bills to catching up with friends," said Delvi.
So the next time your dad calls up asking how much money it costs to send an email, resist the urge to change your identity and flush that phone down the toilet. Take the time to sit with him and walk him through the many, many apps that could make his life better. If you can't find the time, put him in touch with startups like Empowerji. After all, a self-assured parent is a happy parent.
Popular in the Community