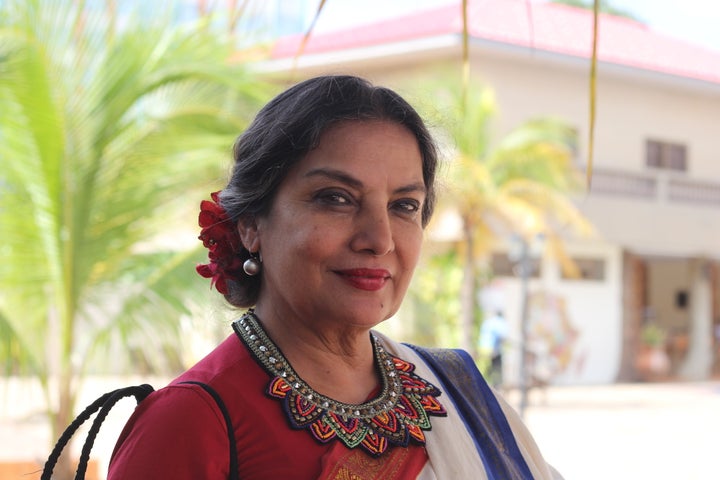 "The shelf life for male stars is as long as their—what do I say—life expectancy. But for women, earlier it was 17 to, say, 21?" Shah said."Now, of course, it's a lot better."
Shah had been cast in a key role in Netflix's Delhi Crime, an indicator of how streaming platforms and new TV were exercising more inclusivity as compared to legacy studios in TV and Bollywood. Neena Gupta and Ratna Pathak Shah, too, had lamented the lack of well-rounded, complex roles for women in the industry.
"They can barely write a good part for Deepika Padukone, so how are they going to write a good part for me?" Shah had said.
That narrative is slowly beginning to change with the explosion of digital streaming platforms.
On Monday morning, news broke that veteran actress Shabana Azmi had been cast as Admiral Margaret Parangosky, the head of the Office of Naval Intelligence, in Showtime's sci-fi show called Halo. The show is an adaptation of the Xbox video game and will be produced by Hollywood legend Steven Spielberg.
"My agent in London got in touch with me for this role. Initially, there was a date clash but thankfully things worked out and I can't wait to start shooting!" Azmi told HuffPost India in an interview. "It's a completely new territory for me as it deals with Artificial Intelligence."
Directed by Otto Bathurst (Peaky Blinders, Black Mirror), much of Halo will be shot in Budapest, Hungary. Azmi will be there in 8 of the series' 9 episodes.
"It's a formidable part, not a small role or anything," Azmi said.
"When my nephew first found out, he went O-M-G. Now, that expression singularly restored my faith in my own celebrity"
In a career spanning 45 years, Azmi has worked with stalwarts as varied as Shyam Benegal, Manmohan Desai, Mira Nair, Deepa Mehta and Gurinder Chadha.
Of late, Azmi has been spending a lot of time with her young nephews, in whose eyes she's suddenly become "hip" after signing up with Spielberg's Halo, a move she sees as acquainting herself with an audience who may not have seen her earlier work.
"When my nephew first found out, he went O-M-G. Now, that expression singularly restored my faith in my own celebrity," Azmi laughed, mimicking the millennial expression of awestruck delight.
"I want to be relevant. I don't want to be a relic in a museum. My nephew and other kids in the family have been helping me with understanding Halo, the video game," she said.
Azmi said she's also following a special diet to prepare for her role.
While Spielberg's association undoubtedly adds tremendous weight to this project, Halo isn't Azmi's first tryst with international television. The past year, the Masoom actor has been working on the British television series The Good Karma Hospital and Next of Kin.
"At this age and stage in my career, I can choose to do a film for whatever reason I feel fit. I'm not bound by anything. It's a very liberating space. And you know the best part? I love flying out to shoot for a film," Azmi said. "You go there without your paraphernalia or a security blanket. You are on your own. Just like a newbie. Staying in a different location and learning from actors and directors from a culture different than our own. It's an altogether different experience."
The actress said work keeps trickling in, but she's very particular about who she chooses to work with. "A good subject or character isn't enough. I am now particular about who is going to direct me. I need to share the director's sensibilities."
The actress, who hasn't shied away from choosing parts that challenged social conventions, said she wants to continue to experiment and explore different avenues that have opened up for artists today.
"In 2005, I did an independent film called Waterborne which was to release only on Google Video. Many people cast apprehensions but I was like, are you silly? This is the future. For an artist to stay relevant, they need to adapt to changing times."
Often heralded as the poster child of '80s alternate cinema, Azmi said she never made a conscious choice to stick only to the independent scene.
"You must remember that I did Fakeera right after starting out with Ankur. Now, that's as commercial as commercial gets. You can't confine yourself to a type. An actor has to have a balance. I want to keep on acting. I want to act until every director in the world gets tired of me. I'll go wherever they need me to. Even Timbuktu."