On Friday, the students of Pune's Film and Television Institute of India went on an indefinite strike as a reaction against the appointment of BJP member Gajendra Chauhan as the president of the institute's governing council, amongst others. Chauhan, who was appointed as part of a brand new council on Wednesday, is best known for playing the role of Yudhishtir in BR Chopra's 'Mahabharat' TV series.
Several students, ex-students, and supporters shared status messages of protest against the move on Facebook, calling Chauhan and other such appointees "dubious" for their associations with Hindutva. The appointments have also been criticised by members of the film industry.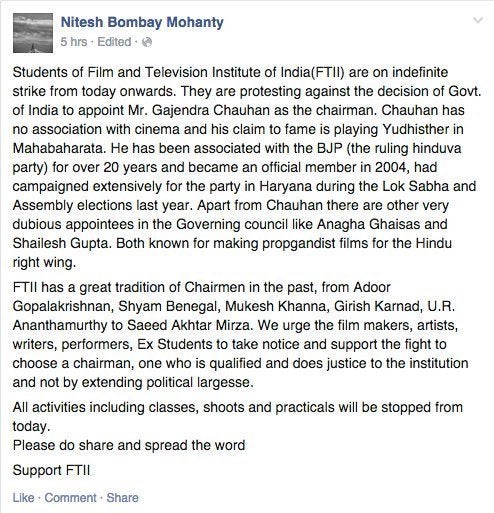 One such appointee, as mentioned in the post above, is Shailesh Gupta, an FTII alumnus. According to the post, Gupta is "known for making propagandist films for the Hindu right wing".
Following the news, a hilariously obsequious short film on the life of Prime Minister Narendra Modi directed by Gupta has surfaced online.



Popular in the Community