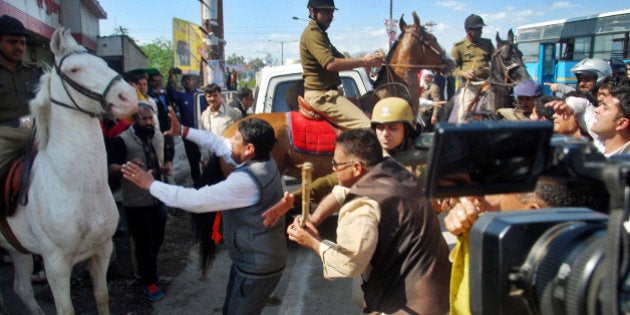 BJP MLA Ganesh Joshi, accused of instigating the brutal attack on police horse Shaktiman during a BJP protest in Dehradun said that his leg may be cut if he was found guilty.
Shaktiman, which had suffered multiple fractures on its hind leg during the protest, died on Wednesday after battling infection and other complications for over a month. The horse had lost its leg after it was brutally beaten during clashes between BJP protesters and the police on March 14.
"I am very sad. I was not at fault, not even 0.1 per cent. If I am found guilty, then cut my leg," Joshi said.
In a sharp reaction, Union minister Maneka Gandhi said, "Shaktiman was a police officer on duty and the person who put him through so much pain and ultimately killed him should be arrested for killing a police officer."
Joshi was arrested after the incident and later let off on bail last month.
"Horses should no longer be part of our police system," Gandhi said, adding,"They serve no purpose and in every crowd engagement they are at the mercy of any vicious person who is too cowardly to do anything but injure the defenceless animal".
"The horse passed away at 5.30 PM. He was suffering from medical-related complications. The exact cause will be known only after post-mortem," IG Garhwal Sanjay Gunjyal said.
Shaktiman's story stirred many across the country after it was seen in television visuals taking multiple blows and dragging its broken, mangled limb in excruciating pain during the protest on March 14.
The 13-year-old didn't respond well to a prosthetic leg brought from the US, doctors said. It spent the past few weeks at the police lines in Dehradun. It was a well trained horse and part of Uttarakhand Mounted Police for years. It had participated in several parades.
"Shaktiman was injured on March 14 after which we had to operate on him. He was later fitted with an artificial leg.
But he was unable to fully recover from an infection," SSP Dehradun Sadanand Date said.
Expressing shock over the demise of the horse, former Uttarakhand Chief Minister Harish Rawat said,"It was a brave soldier of Uttarakhand and died while performing its duty."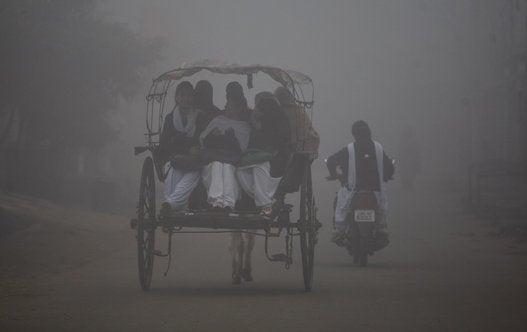 Fog In India
Popular in the Community