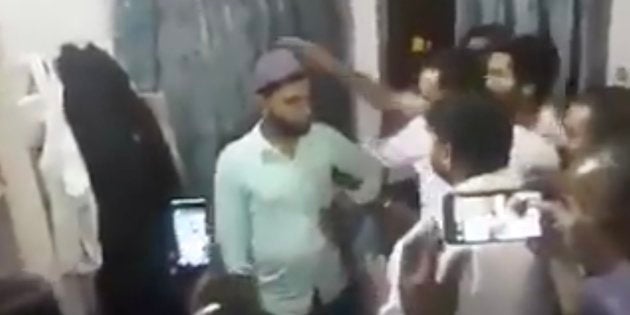 In another horrific story of caste and communal violence, Bajrang Dal activist forcibly converted a Dalit man back to Hindusim in Uttar Pradesh's Shamli on Tuesday after he had converted to Islam on Monday.
A video of Bajrang Dal activists slapping and beating up Pawan Kumar went viral on social media on Tuesday.
Kumar, a welder by profession, was forced to undergo "ghar wapsi" after threats from the Bajrang Dal activists.
While the police tried to reach out to him, The Telegraph reported that the 25-year-old Kumar does not want to go to the police because he fear for his life. He told the newspaper that he converted to Islam because upper caste people don't allow a decent life for Dalits.
However, the video of the incident looks more like harassment than convincing. Kumar is seen being slapped and pushed around before his bear is shaven and his skull cap is taken off.
Another video on Facebook shows Kumar being corners by a mob, and being asked why he converted. One man then slaps him and another person takes off his skull cap.
Shamli SP Dev Ranjan Verma told Indian Express, "We had sent a police team but he was not ready to share details of the cleric who helped him convert. He claimed that he never converted to Islam and had started wearing a skullcap and beard just because he liked it. On Tuesday, some Bajrang Dal men conducted his shuddhikaran (purification). We are keeping a watch on the situation."
Bajrang Dal has denied that they had harassed Kumar and said that Kumar had been converted to Islam forcibly.
The Telegraph quoted Vivek Premi, the head of Bajrang Dal's Meerut Zone, as saying, "Some people had taken him to a religious place and converted him to Islam illegally. We decided not to let this happen at any cost and convinced Kumar to return to his original religion."