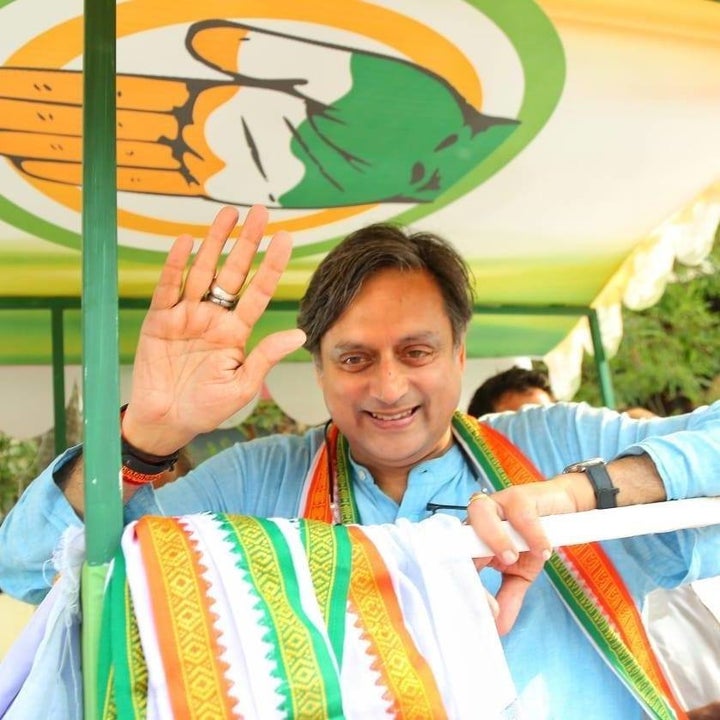 Ten years since he made his political debut with a whopping majority from the Trivandrum Lok Sabha constituency, Shashi Tharoor faces a Kerala that may have changed its colours. Saffron, in particular, is giving the MP, writer and former diplomat a tough time this election season.
This shouldn't, of course, be too much of a surprise—even in 2014, veteran BJP leader O. Rajagopal had given Tharoor a scare before the latter finally managed to win with a reduced majority of 15,470 votes. That was, however, at the height of the so-called Modi wave, which had left Kerala unaffected.
When Tharoor made his political debut in 2009 from the high-profile Thiruvananthapuram constituency, after his return to India from a stint at the United Nations, he was pretty much an unknown entity for many Malayalis. The intelligentsia did know him, though more as a writer and a diplomat.
But Tharoor's eloquence and geniality soon won them over. And, say some voters, his looks.
"I usually cast my vote early. I remember, in 2009, I was waiting for my turn in my booth when I saw a sight I had never seen. Scores and scores of young girls who had dragged along their parents for voting," said a veteran journalist, who wanted to remain anonymous.
Tharoor was hardly the average Malayali; he has had a pan-India upbringing. His father, Chandran Tharoor, was the group advertising manager for The Statesman, and his uncle Parameswaran Tharoor was the man who brought Reader's Digest to India. After finishing school in Mumbai and college in Delhi, Tharoor went to the US to complete his PhD in international relations at the age of 22.
Three months before the 2014 election, Tharoor's wife Sunanda Pushkar died under mysterious circumstances. Though the cloud over this has not settled even now, Trivandrum's voters sent him back to Parliament again in the same election that gave BJP a thumping majority.
Come 2019, that same party now has its biggest chance to open an account in a state that has been oscillating between the UDF and LDF in the Assembly elections for many years. Currently led by Chief Minister Pinarayi Vijayan, Kerala is the last Communist safehold in the country that is still making up its mind whether or not to let the BJP in.
Polls published by two of Kerala's most influential media houses point to this possibility. And, they say, it is Tharoor's seat that might give BJP that historic debut. While Malayala Manorama gave up to 15 seats for the Congress-led UDF, it said that Trivandrum was one of the seats where it could not come up with a decisive winner. Mathrubhumi went a step further and said Tharoor is likely to lose Trivandrum.
Kummanam Rajasekharan, the BJP candidate against Tharoor, was until recently governor of Mizoram. Some of the speeches he made against Christian encroachments in Nilakkal, near Sabarimala, had led to controversy and he rose to statewide attention only in recent years after becoming state president.
But it is likely that the Supreme Court verdict on Sabarimala, and the protests that gripped the state after that, may have prised open a gap for the BJP. In September, the court ruled that women of all ages could now enter the shrine. Thousands took to the streets across the state, expressing their anger at what they said was an assault on their deeply personal faith.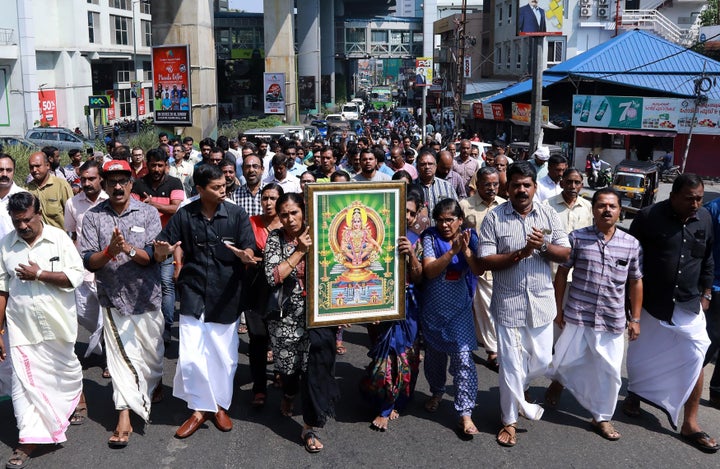 Women who tried to enter the temple or argued in favour of it were dissed as 'feminists' while groups of women elsewhere in the state stopped vehicles at places like the Nilakkal base camp of Sabarimala, asking passengers to get off so they could check if there were women who were possibly trying to sneak into the shrine. Women reporters who were merely doing their jobs were physically attacked and sent back.
All this was new to a state that has prided itself on its progressive credentials.
"Is this really my Kerala? Is this all happening in my Kerala? That was the question that kept ringing in my mind," Anil, a student at the Institute of Journalism. told me while I sat with his classmates on my visit to Trivandrum.
"Exactly!" echoed a few others.
We could not believe this was happening, said Deepa, explaining why she thinks BJP will win the Trivandrum Lok Sabha seat this time. The 'Save Sabarimala' campaign was a revelation to young people like her, due to the sheer number of people out on the road.
"Kummanam Rajasekharan will win, though Shashi Tharoor is a strong candidate," she said.
What's adding to Tharoor's troubles is also the lack of support from the local leadership to his campaign.
"The absence of a leader like K Muraleedharan (who is a candidate himself from Vadakara) this time has miserably affected the campaign. The local-level leadership had a problem with Tharoor even from 2009, when he was parachuted into the party and was offered rightaway the prestigious seat of Trivandrum. Last time the CPI candidate Bennet Abraham was not a prominent figure. The present CPI candidate C. Divakaran is very close to the CPI(M) top brass and so has the support of the party cadre," said Lal Kumar, a Trivandrum-based political analyst.
With Rahul Gandhi shifting base to Wayanad in north Kerala, the Congress's attention has also been concentrated there, leaving few resources for party leaders elsewhere.
The Times of India reported on Friday that Tharoor has complained about uncooperative local leaders.
Tharoor himself, however, dismisses all these reasons.
"Not true, I would not go that far. Yes I miss K. Muraleedharan, who would have been a great asset for me.. but obviously he has to campaign for himself… Sivakumar (Trivandrum MLA VS Sivakumar) has been very much by my side, on my campaign vehicle. Wherever I go, I am greeted by enthusiasm and a genuine amount of energy from the party workers," he said.
Vasanthi Hariprakash is an independent journalist and podcaster based in Bangalore. She tweets @vasanthihari
Popular in the Community